Remember in season one of The Walking Dead where Rick starts noticing the walkers and searching for answers? Well take that and put it in Arizona through the desert and you will have Arizona Sunshine from Vertigo Games B.V. and Jaywalkers for the PlayStation VR and that is a very, very good thing. When I first heard about Arizona Sunshine coming to PlayStation VR I got really excited and for good reason. We finally have a zombie-infested full game in fully immersive VR and the smiles could not be greater.
In Arizona Sunshine, you have the following options to use: the DualShock 4, the two Move Controllers or the Aim Controller and any games that show support for all three and can immerse me into Virtual Reality I am all in for. I also appreciate that you are given options for movement. If you want that flow free move around 360 degrees and spin around you can or if you want to teleport, go for it. These options are what more developers need to incorporate as everyone is different when it comes to VR and I am sure a lot of people, if not all, will appreciate the options.
Now before we get any further, I want to get this out of the way. There are some issues that are being addressed as we speak. I did experience at one time where the gun on the screen would appear at the top of my view that I just had to re-adjust to get it back to normal and a few times just trying to back up seemed difficult. Also, opening vehicle doors or doors to buildings you have to hold and pull back to open. But as I mentioned, as we speak, there is already a patch that is just awaiting Sony's approval that should fix these issues in the coming days.
When you first start the game you are in your cave and you start hearing a voice and I swear it sounds like Daryl from The Walking Dead mixed in with Duke Nukem humor and that had me laughing at times. The one thing I wish that was added here was the ability to use like a knife or something because the ammo that you find is limited. And if you happen to empty a full clip, it's gone. One time I was trying to reload only to empty by accident and here come the zombies and I am left to run. If you find your health getting low, just be on the lookout for hamburger meat that you will have to pick up and hold up to your mouth to regain your health. But my question is..how have the people been gone for this meat to be cooking on a grill and it's not burnt? It's small things like this that had me laughing out loud a little bit.
I know some people have pointed out and put down the graphics and how unpolished other reviewers think they seem. Please keep in mind you are playing in VR and any review that you see with a social aspect on the TV, the graphics are rendered down and does look better in VR. Arizona Sunshine reminded me of some of the arcade laser gun games and I was really pleased with that. The sound is good and I appreciate the degree of 3D sound here as I would know where the zombies would be coming from and that added to that apocalyptic feel. But I also appreciate the little extras that were added such as basketballs and rubber duck among others that can be picked up and thrown. I just wish I could throw something at the zombies that would show some impact, but again, this did not take away from my experience.
On your left hand you will have your watch that shows your health, but not to change any options. To do that you must quit the game and go back to the main menu. So it's a good idea before heading out to the game, that any adjustments you would experiment with are done in your cave or shortly after you exit the cave just to give you a feel and to see how you would like everything that is best suited for you. Like I mentioned, your ammo is limited and this can be a good thing depending on your play style. I don't know how much fun it would be if you had unlimited ammo, but instead, you must "Make Every Shot Count". You do have some help as you will find 35+ different weapons including grenades and barrels that can explode helping you take out more zombies that are close together.
Speaking of zombies, you will find all kinds here, from the slow and steady to the runners to even the jumpers and I really appreciate the variety that is given here. Along the way, you will find some puzzles, but nothing too difficult. For example, you will see a car and you try to open a door, but you don't have the key. So you must then find the key all while trying to not get attacked and this leaves to some amazing fun times. And I appreciate that fact it's not an on-rails type of game as much as it's open in a sense and I am thankful for what the developers did here. The campaign which is around four hours has a single player, but can also be played co-op. The Multiplayer options allow you and up to three others to race to number one on the leaderboards. But there is only one map that is shooting range and I hope more maps come in the future.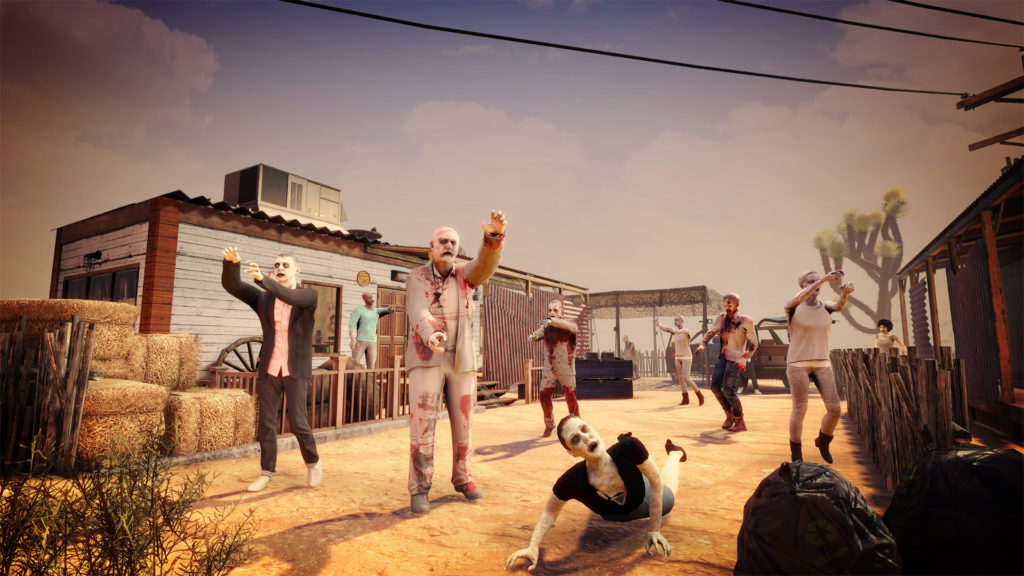 With all this said, Arizona Sunshine for the PlayStation VR is fun. Does Arizona Sunshine deserve to be in your collection? Yes, it does! Is it worth the $39.99 or at least the first week of the launch you can get it on sale with a 10% discount price tag? That's going to be a personal decision. Even though a review code was given, I would have bought Arizona Sunshine simply because killing zombies along with the sense of humor that it provides and the go-to point A only you need something at point B and then go back to point A to progress all while getting around zombies with limited ammo is fun and challenging and I love all things VR (plus you also get a dynamic theme when you buy the game). Also remember there is a patch coming that should fix the issues I addressed above and if nothing else, there is nothing like holding the Aim Controller in VR while shooting zombies on the PlayStation VR.
Arizona Sunshine is out now PlayStation VR, Oculus Rift/S and Oculus Quest on the Oculus Store, Steam, Viveport, and the Microsoft Store.
To learn more about Vertigo Games, please visit their site and make sure you like them on Facebook, follow them on Twitter and subscribe to their YouTube channel. To learn more about Jaywalkers Interactive, please visit their site and follow them on Twitter.
In case you missed the trail, please enjoy. Until next time I got more zombies to kill.
Mr. PSVR, June 28, 2017, theplaystationbrahs.com