Presidium. It's the city where I am. The city is right in the middle of the mining colony known as moon N-351. But it seems that we are trapped here, or at least that is what they want us to think. And they, I mean the Caldera corporation. Me, I am a rouge, a mod-courier some may say that it might be too dangerous, but for me, it might not be dangerous enough. But I won't be in this city forever, I just can't. There is a way to escape, and that's the "Thoroughfare", an expressway around this complex. My name is Mina, and I am a runner. There is no holding me here and I will escape by any means necessary.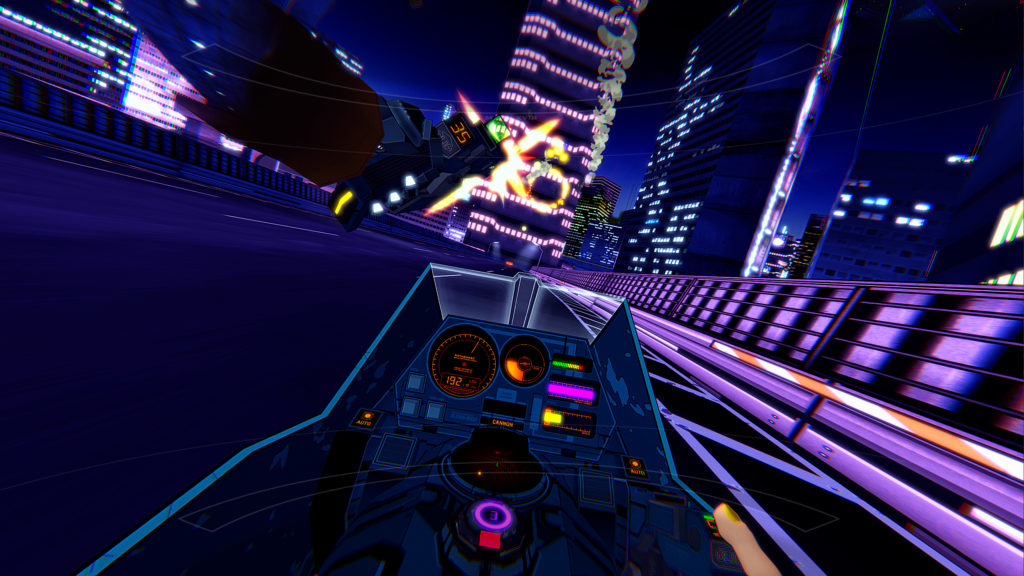 Features include:
Visceral first-person driving game play that embraces the unique visual style of late 1980's prestige anime.
Take control of your motorcycle as you weave in-and-out of traffic at breakneck speeds while fending off waves of enemy attackers.
Action punctuated by an original and dynamic music system set to an incredible throwback soundtrack composed by Fat Bard.
Autonomous vehicles including motorcycles, UAVs, sniper quadrupeds, hunter-killer tanks, and covert assassins vehicles.
Larger than life bosses.
R.U.S.H Mode allows you to take advantage of Mina's cybernetic focus, slowing time to a crawl and allow for enhanced sidearm accuracy at high speeds.
R.U.S.H energy is awarded for taking risks and performing dangerous maneuvers.
Customize the look of your bike with unique paint and lighting combinations.
Multiple vehicles to unlock with each with its own unique traits and handling.
VR settings are fully customizable to tailor the intensity of the experience to your preference.
Can you handle the intensity? Will you be able to escape? Are you ready to be the Runner? Find out when RUNNER comes to PCVR and PlayStation VR 2.
Until then…please enjoy…