Back in December of 2021, a game was released that allowed you to take to the streets and try to make a name for yourself while trying to earn respect or beating someone to get it, called Down and Out that came out for the Oculus Rift/S and PCVR. Now, it looks like the streets are opening up just a little bit more for you to take the life of a fighter, take on all sorts of enemies, shoot some hoops, or even take time to pet a dog. And by the looks of it all, we won't have long to wait as the game is coming to more platforms.
Features include:
Be ready for the fight of a lifetime – Forced to live on the city streets, your story plays out through a series of meticulously planned story quests that will take you from being a poor nobody to being powerful and infamous. Discover the lives of the characters you meet on the streets, and choose how your own tale will play out!! Can you fight tooth and nail against the dangers of the big city fighting rings, where only your strength and cunning will keep you safe?
A brand-new combat system, custom-made for VR -Tired of mashing buttons and wiggling joysticks? In Down and Out, you literally get to call the shots with our new combat system, developed especially for the game's VR experience. Every punch you throw will be your own, using movements inspired by real-life fighting styles and integrated seamlessly into your motion input. It's the closest you'll get to actual streetfighting.
A Success Story to Remember – You might start on the streets with empty pockets, but Down and Out's engaging story quests will let you advance to the ranks of the wealthy and powerful… if you survive the fights along the way.
Unique gameplay with bold visuals – Down and Out's immersive visuals blend a catchy mix of realism with the pop and pizzazz of your favorite comic books, bringing the city to life as you navigate streets full of color, lights… and deadly enemies who would like nothing more than to break every bone in your body.
Smarter than ever before – Down and Out's AI will challenge you like very few games have done before. The game's AI adapts to your moves, and no two enemies will fight in the same way. Your opponents will analyze your techniques and learn from your mistakes- so make sure you do the same, or your story will be over before you know it! If you want to rule the streets in Down and Out, you'll have to take on wave after wave of enemies- each one tougher and smarter than the last. But remember, each victory brings you money and fame, and one step closer to your goal.
Tired of fighting? Take a quick break –  Fighting for your life and money can get a little intimidating-so Down and Out offers a host of activities on the side, for when your fists need some rest! Explore the city freely, do side missions, ride bicycles, and shopping carts, and check out the many activities and minigames that wait for you on the streets.
Mark out your territory –  The city is your canvas- and your kingdom. Design your own personal graffiti and use it to claim your territory- but be wary, because your rivals won't just sit there and let you take over their streets. Be ready to defend your turf, and yourself.
Play Ball –  Prove your basketball skills by shooting hoops around the city. Take a break from the fighting and make a quick buck by showing us some sick 3-pointer throws! Maybe you're the next LeBron James and just haven't realized it yet.
You're not alone in this – Life on the streets is harsh and unforgiving, but it needn't be lonely. Adopt a stray dog in the game and he'll always have your back. Keep him happy and well-fed, and your new furry friend will be there for you no matter what.
Diamonds in the rough – As you walk the streets in Down and Out. Everywhere you go has helpful items waiting to be picked up and used, even in the most unlikely places like dumpsters and garbage cans. From food to transportation to even improvised weapons, Down and Out is full of goodies ready to be snatched up as long as you keep your eyes open. But remember, take too much and too often, and it'll attract unwelcome attention from the authorities.
Flaunt your hard-earned cash – at the in-game store selling a variety of items to make your life just a little bit easier. Whether you need to heal after a particularly brutal fight, or just want some new swag to look good- we've got you covered.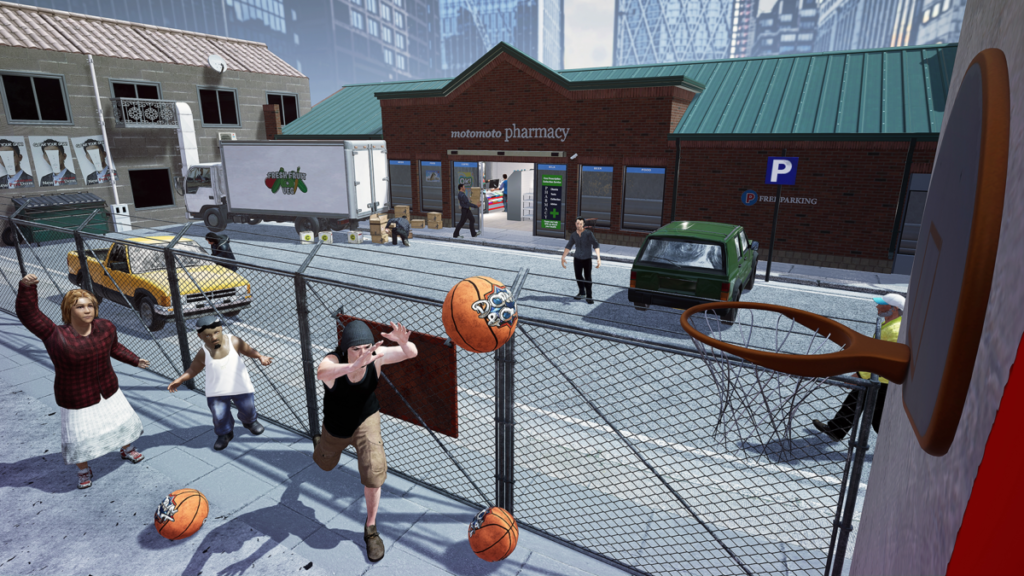 Will you make a name for yourself? Will you earn the respect? Are you ready for the fight? Find out when Down and Out comes to Quest/2/Pro on the Oculus Store and PlayStation VR/PlayStation VR2 on the PlayStation Store on September 14, 2023, and is also available for the Oculus Rift/S on the Oculus Store and Steam VR.
Until then…please enjoy…