The Oculus Quest 2 is a fantastic headset in its own right. Yes, you can opt to get the official accessories such as the Oculus Quest 2 Elite Strap to add comfort, balance, and support or even upgrade to the Oculus Quest 2 Elite Strap with a built-in battery that includes a carrying case to stash your Oculus Quest 2 when it is not in use or if you plan on taking it with you on the go. But because it is wireless, it has to be charged. But I think we can all agree that it deserves care and it deserves to be on display all why being able to be charged so you are never out of charge. But wouldn't it be awesome if you could display it and charge it at the same time? Well, no need to wonder or hope anymore as Anker has released its new Oculus Quest 2 certified Charging Station Stand Set and this thing look pretty fantastic. Looking like what could be a smaller soundbar is actually a display holder for the Oculus Quest 2 and both Touch controllers. I know what you are thinking, what about the batteries that once they die (which is a long time between uses)? Anker has you covered as it comes with rechargeable batteries with custom covers so there is no need to pop open the covers as the batteries and to top it off, it includes high-speed charging.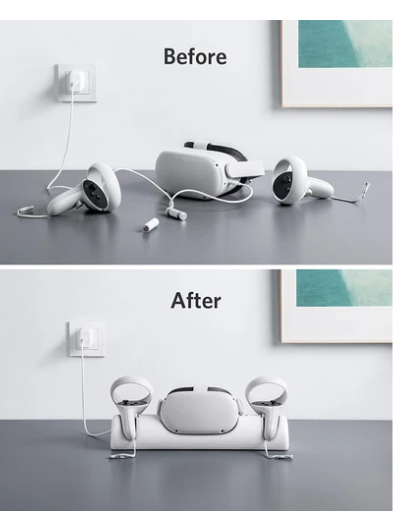 Features include:
Effortless Charging: Simply place your Oculus Quest 2 headset and Touch controllers onto the dock to charge.
Officially Certified: Oculus Ready certified to work flawlessly with Oculus Quest 2.
High-Speed Charging: Fully charge your headset and controllers in just 2.5 hours.
Switch Less, Play More: Don't waste time swapping out batteries. Use the included rechargeable batteries and custom covers to keep your controllers charged up.
What You Get: Anker Charging Dock for Oculus Quest 2, USB-C to USB-C cable, USB-C wall charger, 2 battery covers, magnetic USB-C headset connector, 2 rechargeable AA batteries, 18-month warranty, welcome guide, and friendly customer service.
Since I never take my Oculus Quest 2 and only use it at home, mine has been in the carrying case that came with my Elite Strap with built-in battery, but this is something that I would love to have as it would be on display, charged at all times, comes with a 18 month warranty, and my experience with Anker products has always been top notch.
You can pre-order the Anker Charging Dock for the Oculus Quest 2 now at Amazon, Anker's Site, and on the Oculus Quest Store as it looks like it will be released towards the end of January 2021.