Pixel Ripped 1989 is a game that brought retro fun into Virtual Reality and now it looks like it's ready to get a little more physical thanks to ARVORE and Perp Games this August with a special edition.
The extremely limited Pink Cassette Physical Edition that includes:
Retro Style 1980s Game Box.
Pixel Ripped Physical Copy.
Pink Cassette USB.
Digital OST.
Digital Wallpaper/Art.
Signed Postcard from Ana Ribeiro, the creator of Pixel Ripped.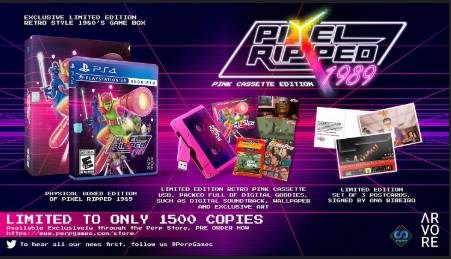 So you may want to hurry as there will be only 1,500 copies available and these will go fast so you might want to pre-order now.
You can also get the standard physical edition now…plus you gotta love the price.
So get ready when the physical editions of Pixel Ripped 1989 comes to from the Perp Game Store on August 25, 2020.