The corporate world. You wake up, get into traffic, go to work, leave, get into traffic, go home, eat, sleep, and repeat. Day after day…week after week…month after month, and year after year. It's the same thing…over and over. But does Publisher Oasis Games and Developer Red Accent Studios take the thoughts of escaping the workforce of entrapment and allow that to be represented in Virtual Reality? Let's find out with Salary Man Escape for the PlayStation VR.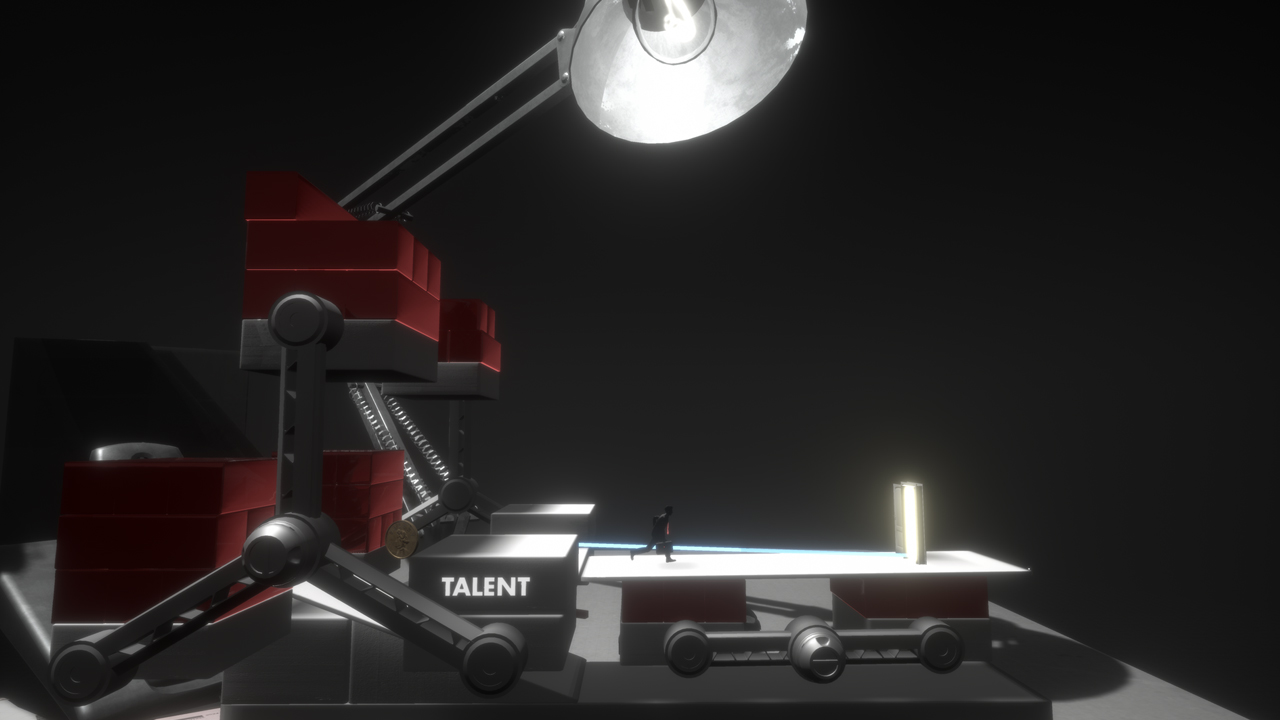 Salary Man Escape is a puzzle game, but not the type you might be used to. This is a physics puzzle game and it plays in VR beautifully. Like many in the corporate world, you have meetings, deadlines, being pulled here, being pulled there. It's as if you don't seem to matter. All these computers, desks, phones…you dream of it…you need it…you must escape. And this is what Salary Man Escape is about…the entrapment. Being what seems like you are shrunk down to an almost representation of how one's life might be, subconsciously on the same level of our groundhog day lives. I am sure many of us can relate to this in some form regardless of what you may do in life.
But before we continue let's talk about the controls. You can use either a Dualshock 4 or a Move controller. Part of what really works with Salary Man Escape is the controls. You are able to bring the level close to you or make it further away and even rotate the level. I highly recommend everyone rotate the levels so that you can see where the red blocks are. Depending on the controller you use, you will see a timer that shows how long you have to complete the level. If you run out of time or accidentally kill Salary Man, you get the option to restart the level. You are also given the option of restarting the level and even changing controllers with the options menu.
Using the Dualshock 4 controller, you point at the block and use the right analog stick to move the block. The Move controller uses the trigger button to move the blocks and the move button to move the level close to you as well as rotate. It really is going to depend on what is best for you and the controller you would like to use. I tried both and both just work, but I do love the option of switching the controller in-game.
Your job is to help "Salary Man" escape is normal life by leading him across blocks to the exit door within the time limit. Now you will not be able to control the movement, so make sure those blocks are almost aligned perfectly. You can help extend this time by reaching the checkpoints that look like a cup of coffee. But it's not going to be a straight path as that would be way too simple and probably boring. No, you will have blocks to move. The gray blocks with words represent your job, your work responsibilities if you will. You can only move the red blocks. The red blocks with words represent your passion, hopes, dreams…basically everything to keep you afloat in life so you are not submerged by the everyday work life.
At the start of each level, pay attention to the names of the levels. They each have a different work affiliation such as vacation and promotion. And before you start, take time to appreciate what the workplace is saying about each level. For those that work in the corporate world will really appreciate how "management" is trying to care. I couldn't help but laugh out loud at some of these. So thank you Red Accent Studios…thank you.
At the end of each level, if you look at the monitor, you will receive some real-life words of wisdom. That I will say is a nice touch of keeping gameplay both positive and motivated. This comes in handy when you may get stuck or worse when you move a block that then causes death to Salary Man. Honestly, I felt bad, because I felt like a piece of me died on the inside. But then I was rewarded with a trophy followed by wise words after I passed the level, so it was all good.
The one thing you will have to be aware of is that you simply cannot take a red block and lift it. So many times I thought "if I only I can move this block here, then Salary Man would be able to have a more enjoyable life that much sooner. You will also see big coins on the levels. You do not have to collect these, but doing so will result in unlocking more levels which is always a good thing.
I mentioned earlier how Salary Man can die. Yes, he can die by blocks crushing him or pushing him off. But there is another way he can die and that is by crushing his dreams of escaping. Those exit doors can be crumbled by the blocks as well. So please be very careful as you examine each level and strategize the best possible outcome. I mean would you want your dreams crushed by careless block removal?
As you progress, the levels start to get harder and making you think a little bit harder. From moving blocks to have the weight balance and allow the platforms to move to conveyor belts to even add more Salary Men to the mix as when the first Salary Man enters the exit door, the timer will start its countdown where the other Salary Men must exit within the time as well. And when you add levels that can break depending on the weight to even levels where there are men you must not be in contact with (just start screaming Stranger Danger and it might help in these times).
Immersion wise, Salary Man Escape you really get a sense of scale. From what it would be like sitting at a desk to running across the desk. Not once did I feel this was an overbearing attempt on any one thing. It really has this nice balance of gameplay, content, thinking, and sound. Speaking of sound, the more I played, the more I started to really enjoy the songs and the music that went with each level. If you don't like the music, you can turn it off, but some of the gameplay may start to feel out of place.
Now there was something that I experienced that can easily be corrected. I noticed that on some levels that when I used the Move controller, that they didn't move as smoothly as I would have liked. It was almost like something was battling with it. But I would switch to the Dualshock 4 controller and it worked and vice versa. Again this can be fixed with an update, so don't let this stop you, cause again it didn't happen every single time on every level. It was more sporadic if anything. Some may feel that some levels may be frustrating earlier on compared to later or more frustrating later on compared to earlier. Keep in mind everyone is different and everyone may go to physics puzzles differently.
Salary Man Escape brings a representation of what many experiences on a daily basis and allows Virtual Reality to show us what life can become. I really love how the gray from the blocks to the phones to even the desk represents your life. The red pops with your life's ambitions. And when you start to remove more of your life for work it starts to show how sometimes work can become an obsession and like many obsessions whatever they may be, can start to take over your life leaving you alone. Then you start to realize that maybe you need more balance in your life so that the things closest to you can start to show their real importance and the true meaning of life and isn't that what we are all looking for?
Salary Man Escape is out now on PlayStation VR and is also available on Steam and Viveport. A review code was provided.
To learn more about Red Accent Studios, please visit their site. To learn more about Oasis Games, please visit their site and make sure to like them on Facebook, follow them on Twitter and subscribe to their YouTube channel.
In case you missed the trailer, please enjoy. Until next time, I have more escapes that need to be made.
Mr. PSVR, July 5, 2018, theplaystationbrahs.com