If you were in a middle of a war with the enemy firing at you, how well do you think you could actually hide? Do you think you could use the shadows to strike when it was the least expected? If you had a target of someone who your country thought was a serious threat in your sight, do you think you could actually do what you thought you could do or would there be a hesitation where your mind and your heart have all the signs saying don't and not help change history so your family and future generations would not have to go through what you did? Most of the time we can say what we think we would do, but it's until we are faced with that life-changing moment, that we may have other thoughts. So when I heard that Rebellion was bringing one of their franchises the immersion treatment, I had to know more. So I reached out and the Assistant Head of Design, Steve Bristow was happy to talk about their newest game, Sniper Elite VR, as well as talking about Virtual Reality.

_____________________________________
Interview with the Assistant Head of Design, Steve Bristow
_____________________________________
Welcome to THE VR DIMENSION. Could you please introduce yourself and what you do at Rebellion?
"I'm Steve Bristow and I'm Assistant Head of Design at Rebellion. My role includes overseeing the design of some of our projects including Sniper Elite VR which is being produced in partnership with Just Add Water and Coatsink. Day-to-day, I try to help people more talented than myself to do their jobs with as little friction as possible."
Rebellion has been part of some amazing games, comics, books, and tv & film with both developing and publishing with such titles as Zombie Army, Arca's Path, and the Sniper Elite series to name a few. What can you tell us about Sniper Elite VR, is this a remake or a brand new title in the franchise?
"Sniper Elite VR is a brand new addition to our legendary series which brings the authentic sniping experience that underpins the title into VR for the first time. We've created an entirely new campaign in which you'll step into the shoes of an Italian Partisan, defending their homeland from the Nazi invasion of 1943-45, and reimagined the genre-defining features of Sniper Elite from a new perspective."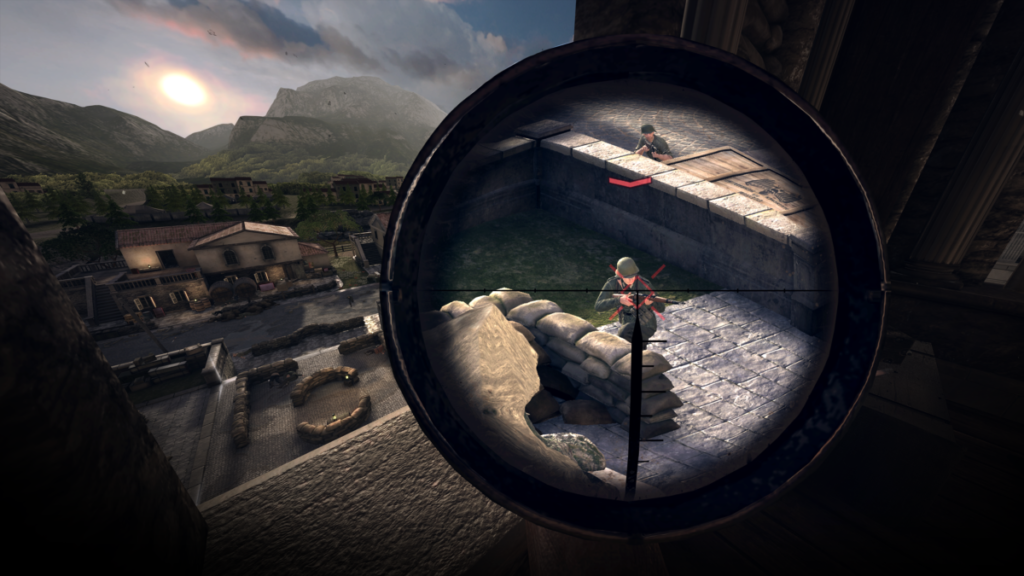 So the game is a free range and not an on-rails experience?
"Tactical positioning, observation, and creative initiative are hallmarks of the Sniper Elite games, so free movement was a design pillar of Sniper Elite VR from the beginning. We've got a suite of comfort preference options to allow players at all levels to express their tactical choices without compromise."
When I think of the word sniper, I think of looking down the scope and hitting the target. With PlayStation VR, Sniper Elite VR will have full Aim Controller support, correct?
"Sniper Elite VR can be played with Aim, Move, and DS4 controllers. They're all pretty different experiences and each offers different strengths. I think players who have the option are going to enjoy replaying the game with each of the supported controllers."
What can you tell us about some of the weapons in the game?
"We've added a range of weapons that are appropriate to the period and have put a lot of work into balancing authenticity with the fluidity of use. My personal favorite is the Carcano, which was a venerable weapon even in the 1940s but its idiosyncratic side-mounted scope feels comfortable and novel to use. In addition to sniper rifles, we've got a number of SMGs and pistols that feel really cool to handle in VR. You can even dual-wield them all if you're using Move controllers and feel like lighting things up."
Can you tell us more about the X-Ray Kill Camera feature?
"The Sniper Elite X-Ray Kill Cam is one of those systems that are so iconic, it's identifiable as the source of similar interpretations in other games. Of course, it had to be a major feature in Sniper Elite VR. We've found a way to maintain the rush, crunch, and impact of the original without compromising the user's comfort. At least, the only discomfort you might feel is intentional!"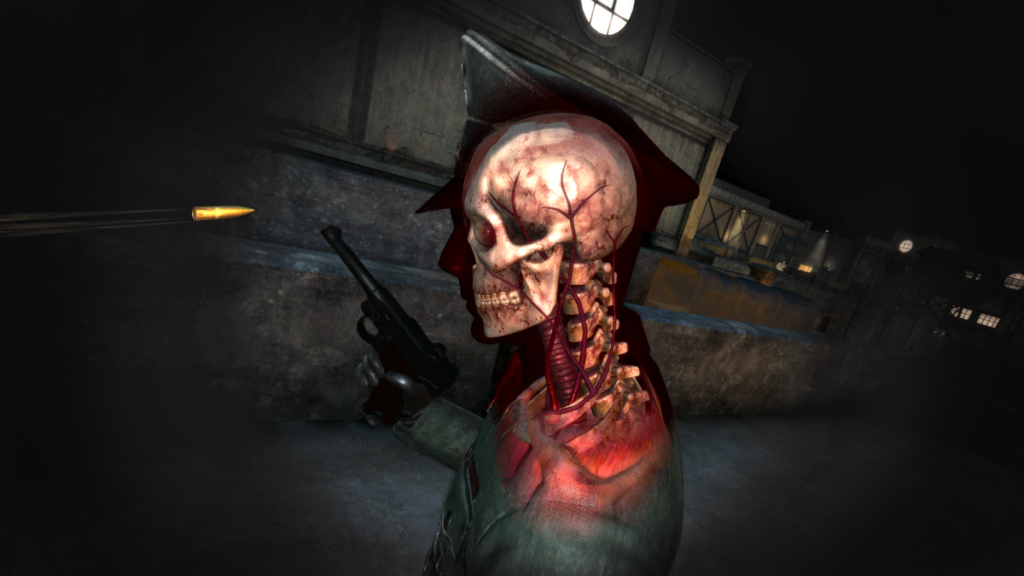 When developing Sniper Elite VR for headsets such as the Oculus Quest 2 and PlayStation VR, what did you find was the most surprising?
"I don't know if I'd call it a surprise because it was a lot of work and took time but I'm still delighted by how well the scope works. It feels natural, maintains the sense of depth, and encapsulates the physical, visceral sensations of the game perfectly. I've played the game for hundreds of hours and I still get a kick out lifting the scope to my eye and readying a shot."
When it comes to the lighting in the game, is there something that you are the proudest of that you cannot wait for people to see?
"We've got missions set at various times of day with exteriors as well as interiors. The atmosphere is captured really well and lighting plays a massive part in that. Moving in shadows will make you harder to spot and it's amazing how natural and intuitive it is to seek the hidden routes to get the drop on a patrolling target."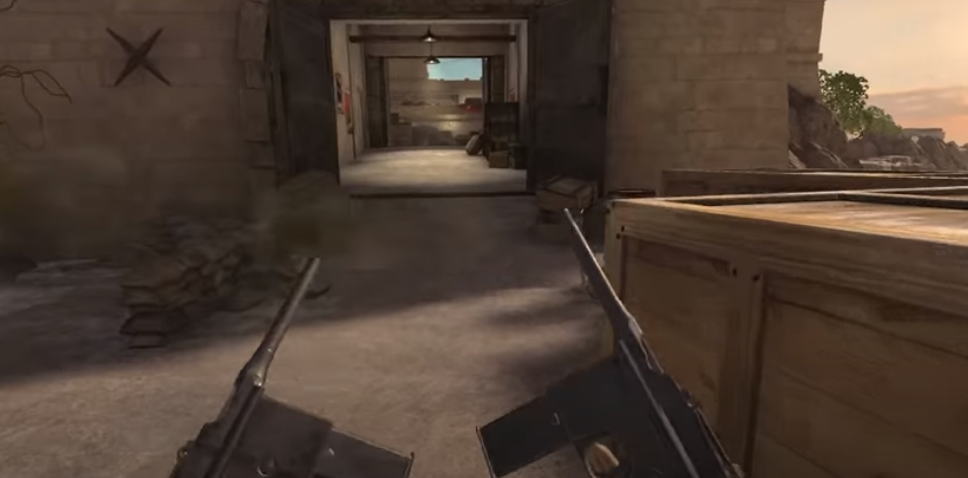 When it comes to sound, what do you feel is the most important when trying to capture the realism and bring it into Virtual Reality in a way that truly immerses the player?
"You realize how intrinsic sound is to your spatial sense when you can literally tip your head to isolate the source of a noise. We use a blend of diegetic and non-diegetic sounds throughout the game to achieve both a natural soundscape and the kind of informational sound that we sometimes use to communicate important gameplay information to the player. These are tuned to feel immersive and to enhance the dramatic atmosphere of the campaign."
Has there been any game that Rebellion has made that you have thought would be great in VR other than Sniper Elite VR?
"There are a bunch! We've got a lot of VR experience in the studio now; we created a release title for PSVR called Battlezone. VR is a proven space for gamers now, but Rebellion has supported the various platforms from the beginning because of the unique experiences we can bring to our fans."
What aspects make a game work well in VR?
"Immersion is a word you hear in every conversation about VR, and it's a quality that we seek in all games that can be taken to another level in VR. Even in the early stages of Sniper Elite VR's production, the sensation of having bullets smacking into the wall around you or the gritty kick of your return fire really delivered that immersion. You get these moments in game development where you realize that what you're doing is going to work, and when I found myself physically flinching and ducking behind cover then peeking to line up a shot, it was a great feeling. The tension and focus of that moment is when I knew we were onto something special."
What would be your top three tips you would give your younger self?
"Exercise more. Stick with the piano lessons. Don't bother arguing with the careers advisor about getting a job in computer game development."
What would you say to someone who was looking for that "must-have" VR moment on why they should experience Sniper Elite VR?
"Whether you're using Aim, Move or DS4 controllers, the first time you find yourself literally holding your breath, bracing your elbows against your body, settling your aim and squeezing the trigger, you'll be experiencing the feeling we wanted to capture when we first set our sights on developing Sniper Elite VR. It's a game that you can play in a conventional 'loud' way if that's your preference, but it really comes alive and finds its true identity when you start playing into the full-body physical simulation that it offers. It's the kind of gameplay experience that's unique to VR and makes the game worthy of the Sniper Elite title."
I want to thank Steve for taking time out of his schedule and for giving us a closer look at Sniper Elite VR as well and for talking about Virtual Reality.
Sniper Elite VR is coming to the Oculus Quest/Quest 2 and the Oculus Rift/Rift S on the Oculus Store, PlayStation VR, and Steam on July 8, 2021.
To learn more about Rebellion, please visit their site, like them on Facebook, follow them on Twitter, and subscribe to their YouTube channel. To learn more about Coatsink, please visit their site, like them on Facebook, follow them on Twitter, follow them on Instagram, join their Discord, and subscribe to their YouTube channel. To learn more about Just Add Water, please visit their site, like them on Facebook, follow them on Twitter, follow them on Instagram, and subscribe to their YouTube channel.
In case you missed the trailer, please enjoy.