If you could be a bounty hunter from space, what do you think your day-to-day operations would be like? Do you think you could just go to any alien planet to collect your bounty without putting up a fight or would every mission have you thinking it would be your last one? Would the challenge of it all be enough or would collecting as much money as you could be your driving force? Either way, the action, and thrill of the experience of it all just might be enough to get some people through the day just so they know that they are still alive. But when I heard that developer, Gamitronics, was allowing us to become an alien bounty hunter in Speedy Gun Savage, I had to learn more. So I reached out and the CEO, Rajat Ojha, was happy to talk about the game and also to talk about Virtual Reality.

_____________________________________
Interview with CEO, Rajat Ojha
Interview with CEO, Rajat Ojha
Welcome to THE VR DIMENSION. Would you please introduce yourself and what you do at Gamitronics?
"I'm Rajat Ojha and I'm the CEO of Gamitronics. As a CEO, my core responsibilities to ensure that the team sticks to the overall vision of the organization and I act as link between inside the organization and outside of clients and markets. Apart from typical CEO job, I take up roles of a Game Designer and Producer quite often depending on projects, availability and interest."
Growing up was there that special game that really made an impression on you where you knew you had to work with games?
"Very clearly DOOM had a massive impact on me. Doom was the game that established the fact that I had to make games in my life. I was a pro in Doom but it's not just about playing that game but living it, I knew each and every enemy, their occurrences, and levels by heart and used to see them everywhere and not just inside my computer. I created unlimited WADS using Doom builder. India never had a rich culture of playing games but I was lucky as I grew up playing Pac-Man, desert falcon, joust, etc, and played on every console since Atari 2600."
Gamitronics has really pioneered with robotics, game development, and even Theme Parks. What can you tell us about some of the projects that the company has been a part of?
"Let's start with theme parks: We designed and executed one of the most pioneering and world's first video game theme park in Dubai, called Hub Zero. The park hosts attractions around Battlefield, Resident Evil, Plants Vs Zombies, PES Soccer, Asura's Wrath, Final Fantasy, Dragon's Age, etc. Apart from this park, we contributed to Bollywood Park and several other parks for media and ride systems. Another park we are very proud of is our Rainwater Harvesting Theme Park which is a very significant as it addresses an important issue. Rainwater harvesting is an important subject and kids must learn it as early as possible in their lives but at the same time, it's so boring. When our state government approached us, they just wanted it to be fun for kids and I was clueless. It was a lot of responsibility as the government had approached us so they definitely believed we could do something about it. We thought for a day or two and presented the plan and got an absolutely free hand to do whatever. The park hosts robotic stuff, holographic projections, VR rides (where you travel with water droplet), multiplayer games to save water, sensor-driven musical fountains, etc. More than 800 executives have arrived from UN and today it's considered a model theme park. We went on to develop two more parks and already working to do three more including one in South Africa. Our intention is to have one such park in each smart city.
In robotics, we are working on a smart clock for kids to stay disciplined without nagging them. A very fun loving friend of yours who is always by your side and educating you but you don't realize that. The prototype is fully ready but pandemic has put our production plan at a bay for the time being.
Another amazing patent-pending technology our robotic team has developed is a sensor-based soft toy. Check all electronic soft toys, they either feel electronic or soft but not the combination of both i.e. they have crude machinery inside and doesn't feel natural to kids. Our tech can make any soft toy smarter with such a small factor that it can't be witnessed at all. Once the tech goes in, the toy responds to various touch, gestures, and motion and it's still a soft toy. We already started the production of this toy."
Your newest game, Speedy Gun Savage recently released as a Steam Early Access game. What can you tell us about the game?
"There's a very interesting story behind this. When we were kids, my brother and I used to play Wolfenstein 3D in speedrun mode i.e. keep running and shooting till you die. Whoever clears maximum levels, wins. I was living in the US and I was with my creative director Troy Dunniway when I thought of making a mobile game around it, I quickly prototyped and showed it to Troy and he confirmed that this will do good in the market. Temple Run & Subway Surfers were doing great but I had guns which people love so I asked my team in India to start working on it, we made a mobile version but traditionally we were PC/console guys and had no clue how to deal with IAP and other monetization techniques so we suspended it. Our theme parks and arcade business was anyways booming so we started working on an arcade edition for Speedy Gun Savage and installed it in 143 arcades, it was an instant hit. The current game is from the same lineage but the arcade audience is more forgiving so we worked really hard to bring it to consumers and released it in Early access to keep fine-tuning it. I took inputs from the creators of Destiny and John Romero himself at various phases of the game. Speedy Gun Savage is the story of an alien bounty hunter, Wolf who's accompanied by 3V4n (Evan). It's a first-person cover & shoot game. The game has a lot of pop culture references like Indiana Jones, Star Wars, etc."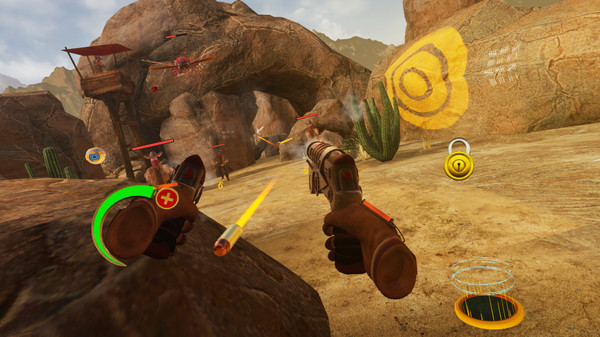 You play as Wolf who is an Alien Bounty hunter. Can you tell us about him and what type of bounties he will be collecting as well as your sidekick?
"Wolf is not your typical hero who's out there to save the world or anything, he's a drunkard but his sidekick 3V4N keeps him on his toes. Wolf thrives on booze and blood. Currently, he earns points as bounties which can later be used for buying specific guns and other related items. We are working on those features right now."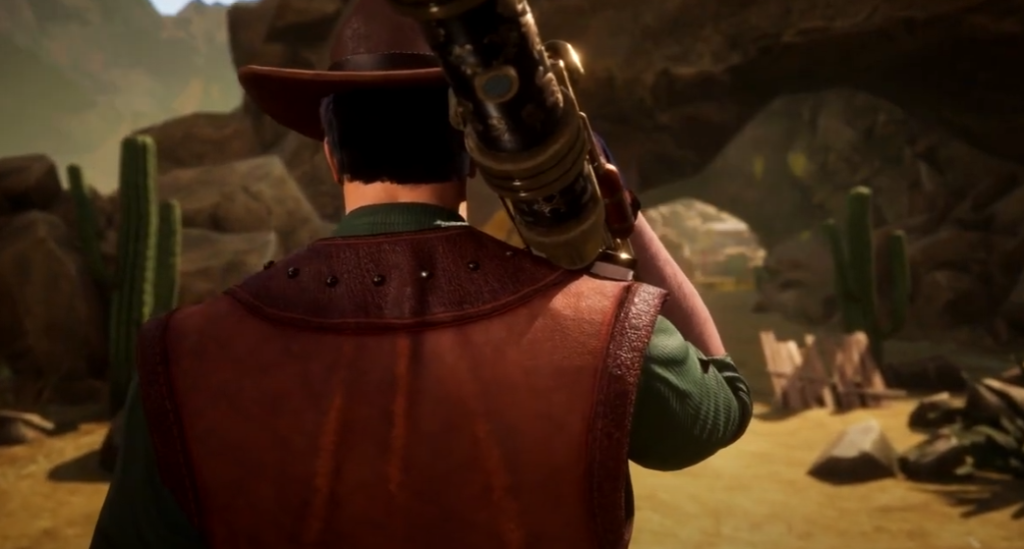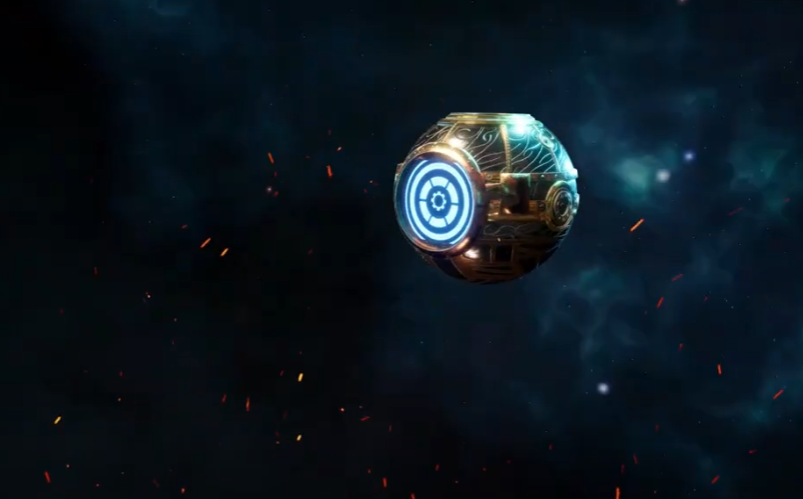 In playing the game, it almost feels like Speedy Gun Savage is taking you on part of a theme park ride itself and trying to shoot and dodge your way to the final bosses. Was this always the intention of the game or were there different ideas in the beginning?
"Ever since the game is designed and planned for arcades and then consumer edition, this was pretty much our idea. We played around with various locomotion techniques and figured the current point and move mechanic is perfect. Shoot and dodge, mine carts, etc were definitely part of the plan from day one."
What can you tell us about the weapons in the game and how the player can use them to their advantage?
"There are three guns right now. You have a pistol that has long-range but less impact, a shotgun that has short-range but high impact, and a machine gun that has a mid-range and mid impact. Depending on the enemy type and distance of the enemy, you should be really smart to switch weapons. Initially, we kept weapons on your body and you could pull different ones but then we realized it was useless to do when you are supposed to carry guns all the time anyways.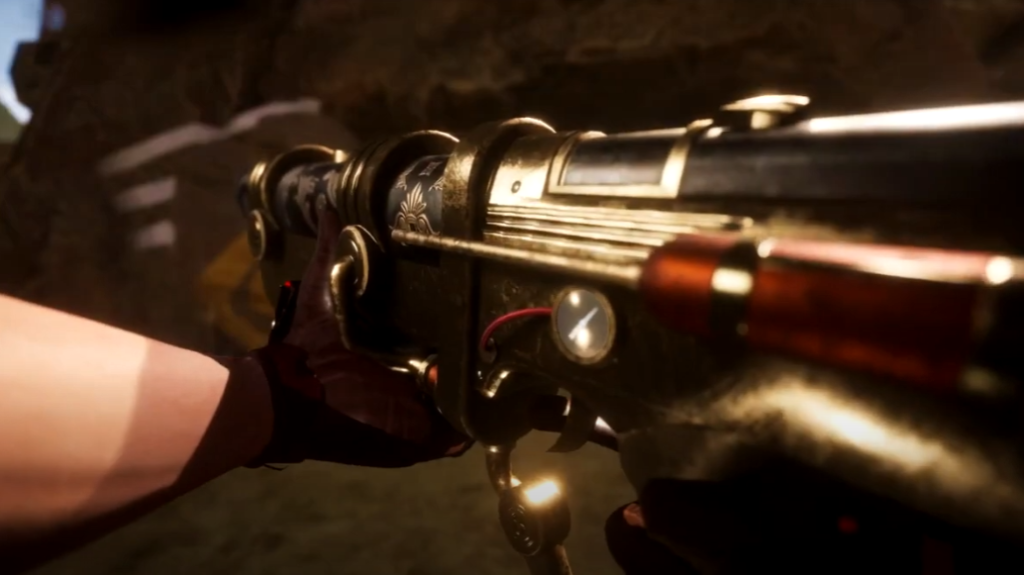 Was there ever a thought about adding leaderboards into the game?
"Leaderboard is linked with Steam right now. We are bringing it inside the game option now."
Speedy Gun Savage is also coming to PlayStation VR. Do we have a release date and will the game have Aim controller support?
"We are aiming for July, but the pandemic is causing a lot of nuisance and we'll be lucky if we can maintain this release date. It'll definitely have aim controller support."
I do like how each bounty has its own theme. Do you see adding new bounties and places in the future?
"Absolutely. We have decided next two bounties and places already."
When developing the game, was there anything for the sound or graphics that you tried to get perfected, but found to be both challenging and surprised by how well it worked?
"3V4N voice. We thought it was a little more robotic than what it should have been but we are constantly getting feedback about how the tips provided by 3V4N were so useful. Also the dialogues, those were largely pop culture dialogues and gags but worked so well.
Also the 3rd and final planet in the game, without disclosing much here the level is way too different from the first two and even the locomotion is different. I was personally never convinced but my level designers and gameplay programmers were sure that it'd work and seems it did."
When developing a game for VR, what do you feel is the most important to make sure the experience is as immersive as possible for the player?
"The most important thing according to me is to use your surroundings within the game. The environment design and enemy placement should be used in such a way that the player is compelled to look all around and that's where VR shines. Of course, games like Beat Saber completely defies it but there the usage of your body along with the controller takes the cake. So in totality, whatever can make you feel natural inside a game will make a great VR game."
If you could enter a door to the VR dimension, but not know where you would end up, but only know that you would become Wolf, where do you think you would end up, and how do you think you would do?
"I'll end up where beer is and hope 3V4N doesn't find me as he'll force me to go to my next mission."

So what's next for you and Gamitronics?
"We will continue to support SGS for times to come. Our next two projects are already in a very advanced stage. Unfortunately theme park business is not showing any sign of movement so we'll continue in the consumer space. Our next project is due for launch in Aug 2021 and will be something way different and is not in VR space. The one after will focus on a very important social issue and will have VR and non-VR version both."

With the library of VR games continuing to grow, what would you say to someone as to why they should experience Speedy Gun Savage?
"Speedy Gun Savage gives you retro game vibes like no other and this is one game which will give you the joy of a theme park and gun-blazing like Doom in one single package. With new challenge modes and multiplayer being added, we'll ensure hours of fun inside SGS. Did I forget to mention how cool neon planet will look like when Wolf lands up there 😀 :D"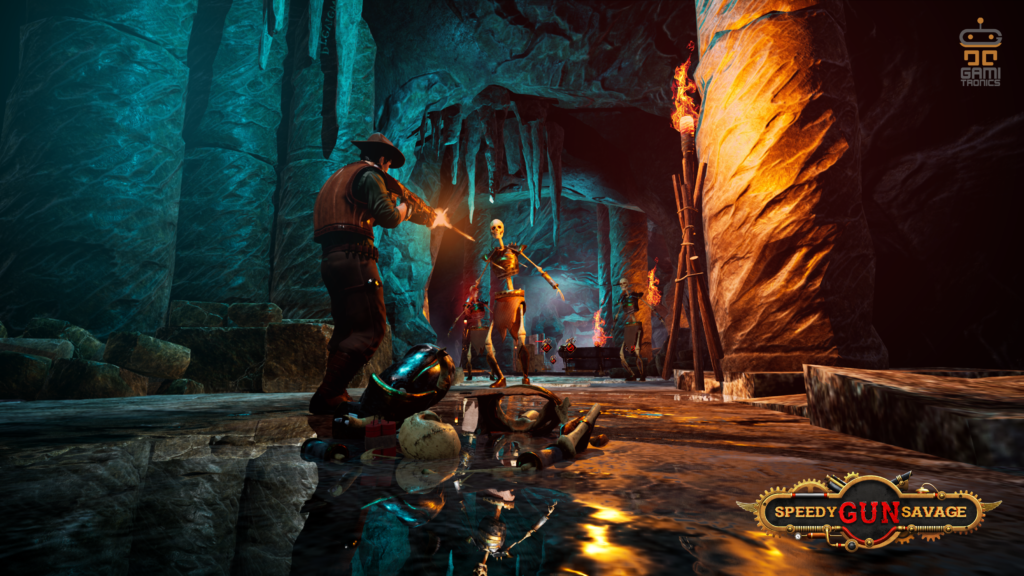 I want to really thank Rajat for taking time out and giving us a closer look into Speedy Gun Savage and for also talking about Virtual Reality.
Speedy Gun Savage is out now on Steam and coming to PlayStation VR.
To learn more about Gamintronics, please visit their site, like them on Facebook, follow them on Twitter, follow them on Instagram, and subscribe to their YouTube Channel.
Also, check out the Speedy Gun Savage review.
In case you missed the trailer, please enjoy.