When there is a war, what is the first thing you think about? The destruction? Maybe you think about the way the world will respond. I am sure there are more questions than possible answers. But take a step back from it all and what if the war in question was not by people, but by some other living element? Would you have a different outlook on the situation? War can mean many things to different species of life. But when I heard that developer, Cactus VR Studios, made a game about war, not with people, but with Cacti, I had to know more. So I reached out and the founder, Gregor, was happy to talk about their latest game, Cactus Cowboy: Plants At War as well as talking about Virtual Reality.
_____________________________________
Interview with the founder of Cactus VR Studios, Gregor
_____________________________________
Welcome to THE VR DIMENSION. Would you please introduce yourself and what you do at Cactus VR Studios?
"Hi, I'm Gregor the founder of the Cactus Cowboy Game Series and Cactus VR Studios. I usually claim that the Cactus VR Studios are a huge global conglomerate but it's actually just me doing things."
Growing up, what were some games that inspired you to start making games?
"I say the very first one I ever played was Prince of Persia on an IBMx86 but what really got me going was later on the UT99 Q3 and Half-Life modding scene. There are so many but ever since Wolfenstein 3D, I got stuck with first-person shooters. However, what really set everything you today in motion was Pavlov! In 2018 I discovered the Pavlov Modkit and began making my first maps. Eventually, I the moment where I realized "Wow, I can make a game". I do have an IT background though, but I started learning to code, a bit 3d modeling here, and a bit of audio design there.

The most interesting part of my journey was becoming a one-man powerhouse. I know a bit of coding but nothing about 3d modeling (you can still see that) and everything else. like marketing games and such. It's been quite a ride last year :D. After 4 years of hard work in my free time, I ended up with Plants At War. But to this day, I frequently come back to Pavlov. See you there!"
Cactus VR Studios has a series going with Cactus Cowboy that includes Cactus Cowboy Land, Cactus Cowboy Portal, Cactus Cowboy 3 – Fully Loaded, and Cactus Cowybow AR – Emilios's Adventure. This is a two-part question. First, I am curious about why you chose Cacti, which is fantastic by the way, and second, what can you tell us about your newest game, Cactus Cowboy – Plants At War?
"When I started making my own games, I had really very little knowledge of the matter (read: none). The original Cactus Cowboy Land had the working title "A VR FPS" but I somehow failed at making a human hand. So many bones. However, everything I made turned out to look like a cactus more than a hand, and with a window lit full of cacti I went with it. All my cacti have names like Emilio, Sancho, etc., and that's how it all started.
For the second question, Plants At War isn't new, it saw the day of light in April 2022 for Quest and PCVR. From there it made its way onto other stand-alone headset solutions like the iQiyi Dream and, even though I still can't fully believe it, it is coming to PlayStation VR2."
What can you tell us about the character you play and do we need to play Emilio's Adventure to fully understand who Emilio truly is?
"Emilio is the first Cactus I had when I moved out back in the days and he's still here sitting in my window. No, Emilios Adventure was the result of a competition I participated in (and won). If possible, I'd like to have everyone with an AR or VR headset be able to enjoy my games."
In watching the trailer, there are houses that can break, traps are going off, and vehicles are all part of the fun. Do players get to control any of the vehicles or set traps of any kind?
"No, Plants At War is a very old-school linear story shooter with scripted events in it. This is probably a weak point for the game, but at the same time, it's just one person working on it. The main focus was to have a story-based shooter for VR that lasts longer than 3 hours."
What types of weapons are in the game?
"All of them. You can throw grenades (Stick and Egg), 2 Pistols, 3 SMGs 3 h. machine guns, rocket launchers, and flame throwers. All of them with halfway realistic manual reloading. Ah, you also have a melee attack with your cactus fist, but that should only be your last resort."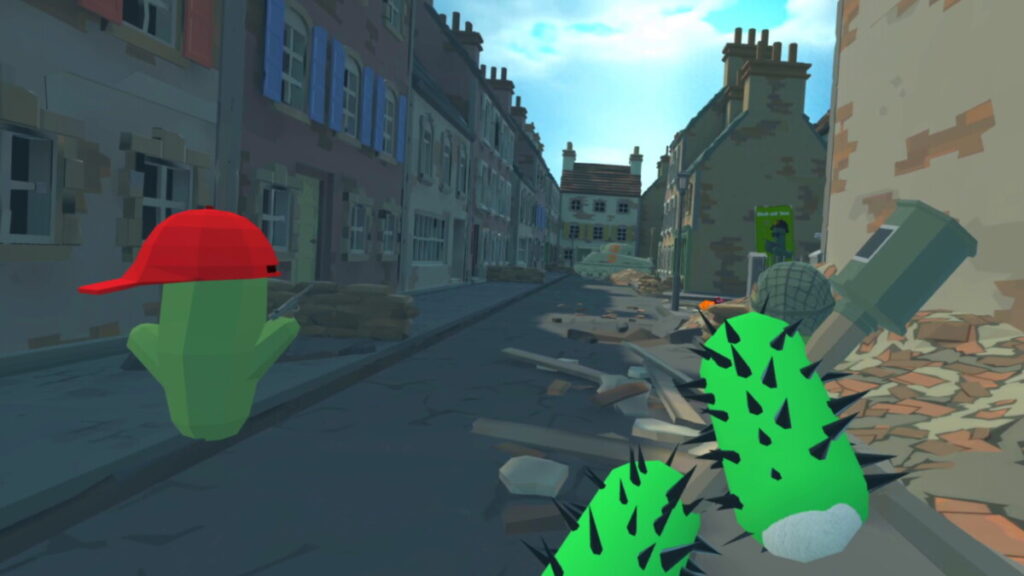 Cactus Cowboy – Plants At War has been released previously for Oculus App Lab and Steam VR. Now, it is coming to PlayStation VR2. First, I want to say congratulations on the achievement of having your game released on day one of PlayStation VR2. And second, can you tell us a little bit about the process and how happy you are working with PlayStation?
"I still cannot fully fathom that I pulled this one off. There was probably an insane amount of luck to it but I really like being a part of this launch. My very first VR headset I got my hands on was the PSVR1 back in 2016/17 and it blew me away. Now coming back to PSVR2 but with my own title is more than an honor."
PlayStation VR2 has some incredible features built in such as haptics and eye-tracking, how have you used these features in the game to make sure it's the best experience the player has and the best version of the game?
"I always tried to make use of every haptic feedback possible. The Oculus as well as the PCVR version, for instance, support the full bHaptics suit as well as the extra force feedback of the ProTube/ProVolver. Of course, I had to implement the adaptive triggers and the headset vibrations. Each gun behaves differently with it. You can actually feel the trigger and played my own game for quite a while, and I could probably tell you which gun the player holding just by pulling the trigger. The same goes for the headset vibration. You can feel it when staying too close to explosions or getting shot by enemies. I'm really fond of those features."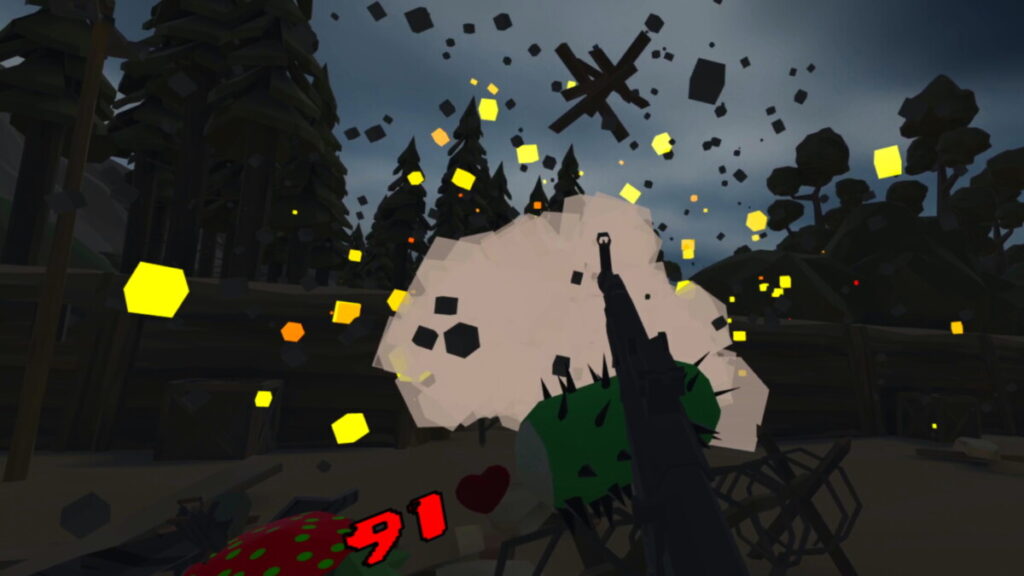 Sound is an important part of immersion. For players that may have a headset such as the Pulse 3D, have you adjusted the sound to take full benefits of the 3D audio and headsets?
"A VR game where you cannot locate something when it makes a noise does something wrong. I do not take the full benefits though. You can tell that grenade exploded right behind you."

Visuals also help with the immersion and with the PlayStation VR2, having 4K HDR is going to be big for Virtual Reality. When you compare the game version that is on Oculus and Steam VR, how much of a difference did you notice and did it put a smile on your face and seeing any of the differences?
"Since I cannot hide the Quest origins, the color vibrance is definitely a great part of it. Plants At War does not support HDR but squeezes everything possible out of the headset and framerate that was possible. The game looks much sharper and more alive on the PSVR2 than on Quest. For Stream, it probably depends on your headset. Even though I added some extra effects for the PSVR2 version, graphics are not the main focus for me. Gameplay is!"
Do we know the price as of yet?
"I would feel like a total ***** charging PlayStation owners for something others will get for free! Yes, Plants At War will remain a free title. The development started in 2020/21 as a hobby project after work and I see it as my coming out title."
What is next for you and Cactus Cowboy?
"Cactus Cowboy – Desert Warfare is currently in development and it is planned to be released later this year on Quest, PC, and of course PSVR2. This will be the first big paid Cactus Cowboy title. I'm putting every free minute into this project that I have. Given, the development of the PSVR 2 of Plants At War delayed it a bit, but it was totally worth it! However, I want Cactus Cowboy to become a real-deal VR franchise and it will happen if I work hard enough on it!"
If you walked through the door into THE VR DIMENSION, but it was in the world of Cactus Cowboy – Plants At War and you could pick anyone from any time period to be the main character and Emilo, who would it be and why?
"Duke Nukem and Emilio would probably get along really well together."
With the library for Virtual Reality continuing to grow, what would you say to someone as to why they should experience Cactus Cowboy – Plants At War?
"Despite looking cute, Cactus Cowboy is a real deal hardcore VR shooter that is targeting experienced VR players that are up for a challenge. The gold trophies are hard to collect too. All the games of the series are known to be very difficult and if you can enjoy a long story with lots of explosions, and some edgy humor, and are up to a challenge this is your franchise! But I also want to address that I always focus on gameplay and the series can cause severe motion sickness to new VR players! This has to be mentioned and new players should probably stay away from this game for a while to build up some VR legs. VR has offered so many possibilities for new games that I'm excited to see what else will come in the future."
I really want to thank Gregor for taking the time out of their schedule to give us a closer look into Cactus Cowboy: Plants At War and for also talking about Virtual Reality.
Cactus Cowboy – Plants At War is out now for the Quest/2 via Oculus App Lab on the Oculus Store, Steam VR, and coming to PlayStation VR2 on February 22, 2023.
To learn more about Cactus VR Studios, please visit their site, like them on Facebook, follow them on Twitter, and subscribe to the YouTube channel.
Also, check out the Cactus Cowboy: Plants At War review.
In case you missed the trailer, please enjoy.