When we last saw Dick Wilde, we got to experience our exterminator dreams. You see good old Dick Wilde has always been in pest control for his entire life. If anyone had any problems, they knew who to call. If you had a mutated gator problem, you call Dick. If you find that there is a shark infestation, you call Dick. Even if some seagulls ate some bad fish and it made them have Angry Seagull disease, you would call Dick. Dick knew how to take care of any problem in the swamp and he did it real good. But as good as Dick is, what would happen if things got even more out of control on even a bigger scale? Does Publisher PlayStack and Developer Bolverk Games show us that there is still life and fun to be had? The simple is yes, but let's find out more with Dick Wilde 2 for the PlayStation VR.
I am going to start by saying this now. Like the first Dick Wilde, Dick Wilde 2 allows you to either use both Move controllers or what I would suggest if you have it, the Aim controller and it works here extremely well. So thank you Bolverk Games for keeping this feature. So once you have decided on your controller of choice, let's continue.
Dick Wilde 2 has us this time on the adventure. You see, good ol Dick must have been doing so well for himself in his Pest Control profession, because it seems that Dick Wilde is basically running his shop and creating new weapons for you to test out and if successful, he will then sell so said weapons in his shop or so he says. Somehow Dick Wilde has used some sort of reverse psychology and you get to help him out by clearing the river of a toxic outbreak that has somehow mutated the wildlife that surrounds it. But you are not just going to stand to help clear out this mutation….nope. You get a first-class ticket on a raft that is made of the utmost finer things in life and built like a tank (at least I hope it is).
Since you are moving down the river and not just standing, at the beginning of some levels you are given a choice of which direction you want to go. I really like this addition as certain paths will have golden keys for you to try and collect to unlock new levels. Some may find that repeating some levels to earn the keys that will help unlock new levels may be a chore, for me, I thought of it more like a small goal to accomplish and just had some fun. So if you are one to like to try and collect everything, this is something you can attempt to do, but keep in mind you will need to replay some of the levels to do so. Along with moles, octopuses, frogs, piranhas and other angry creatures that are trying to stop you, this time around there are some bosses that you will need to try and takedown. Oh, don't forget to dodge and move out of the way if need be.
Each level will allow you to earn money by shooting the mutation creatures as well as obstacles that are in the water that you can in return, use to purchase new weapons and other items such as health and energy drinks. Many of the weapons are original in design and have that Dick Wilde modification to them. But I think my favorite is the triple sawed-off shotgun.
There is one thing that the first Dick Wilde gave us and that was leaderboards. In Dick Wilde 2 we get some real fun with cross-platform co-op play with Rift and Vive, and I have to say that playing co-op is a total blast. Not only is fun to see if you can beat your friend with more cash that can be earned, but the rewards of hats for your avatar that can be added is a pretty fun bonus as well.
Let's talk about the graphics. I love the cartoon style of Dick Wilde 2 and it works very well in Virtual Reality. I love how the colors pop from the trees to even the way the lighting hits the water just adds to the atmosphere of being in the deep south. Seeing the detail of the different weapons and the thought that went into the design of them, you can tell Bolverk Games was having fun and it came through nicely and that is what I had was some good fun.
The sound is fun. Hearing Dick Wilde with his southern humor even at times when it maybe just a tiny repetitive, just put a smile on my face. Hearing the water flowing as you are shooting things from within the water as well as out of the water is a nice touch and was able to be heard just enough that it did not overshadow anything else. The music has that deep south bluegrass music playing that gives it that southern appeal. I decided to stream Fade to Bluegrass a Tribute to Metallica by Iron Horse while playing Dick Wilde 2 and had some additional fun. But I never once experienced any glitches or sound distortion during my playthrough as everything just seemed to flow as it should.
There are a few things I wish were added here. Going down the river and when you look at the sides, I would love for there to be some power-ups to either add to your cash level or even replenish your health if need be. With the first Dick Wilde, we had leaderboards and I would love to see them return here at some time. I know we get the trade with the cross-platform co-op, but it still would be nice to have. And last, I would love to have the ability to design our own weapons just to add more fun to the mix.
When we first have a concept and put it out there for the world to see, we get to see what works and what doesn't. But it's when we do the research to see what additional fun and benefits that can be added off the idea that we originally had, is when we get the satisfaction of the work and time we put in.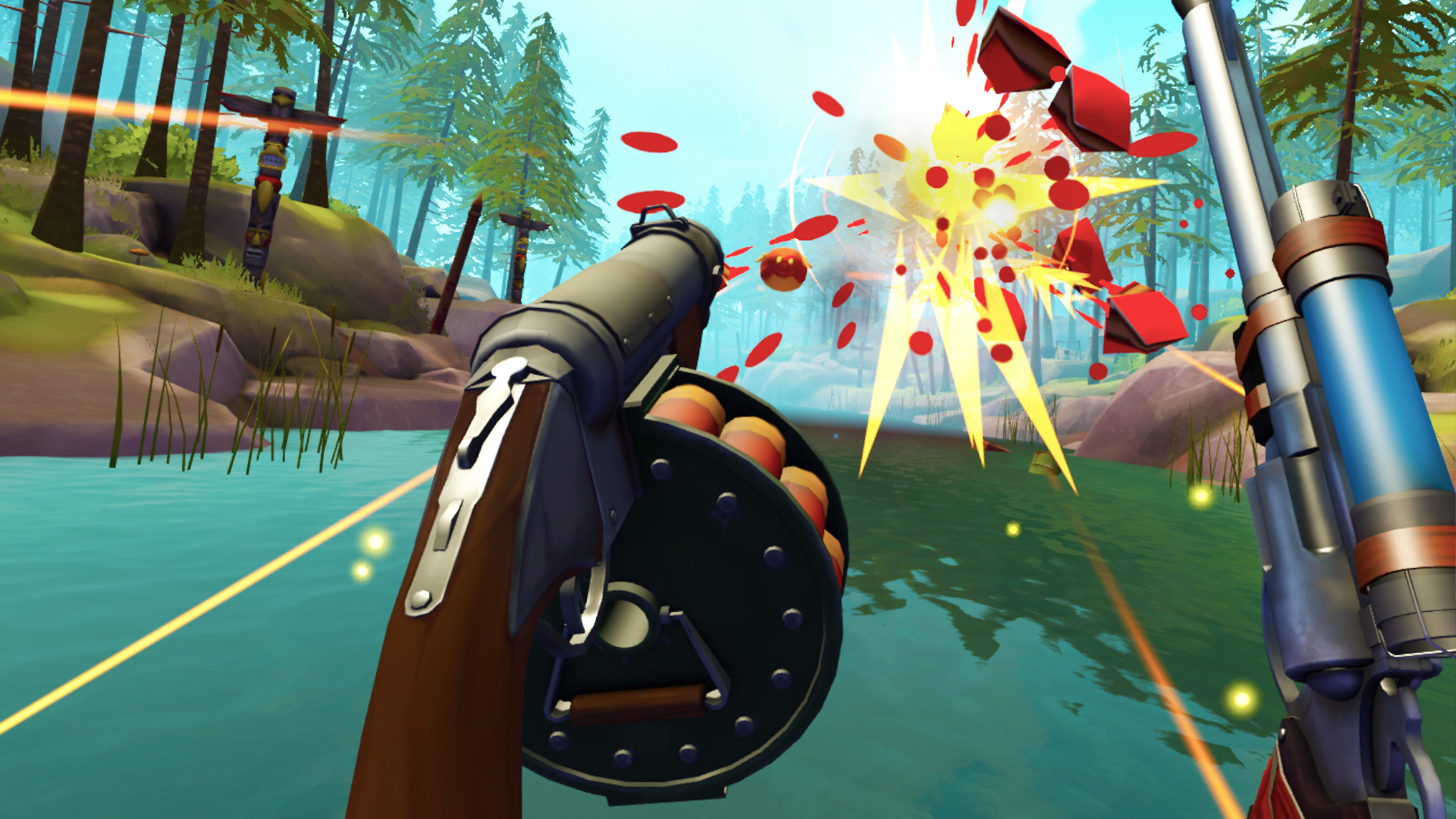 Dick Wilde 2 is out now on PlayStation VR and is also available on the Oculus Store, Steam, and Viveport. A review code was provided.
To learn more about Dick Wilde, please visit the site, like them on Facebook, and follow them on Twitter. To learn more about PlayStack, please visit their site, like them on Facebook, follow them on Twitter, and subscribe to their YouTube. To learn more about Bolverk Games, please visit their site, like them on Facebook, follow them on Twitter and follow them on Instagram, join their Discord, and subscribe to their YouTube.
Mr. PSVR, March 6, 2019, theplaystationbrahs.com