You have read about the combat of these warriors. You cannot get the sound of that clashing steel out of your head. You have studied the ways of these warriors in hopes that one day you can prove that greatness comes from within and show the world what a champion should be. That day you have been training for is now and today is going to be your day.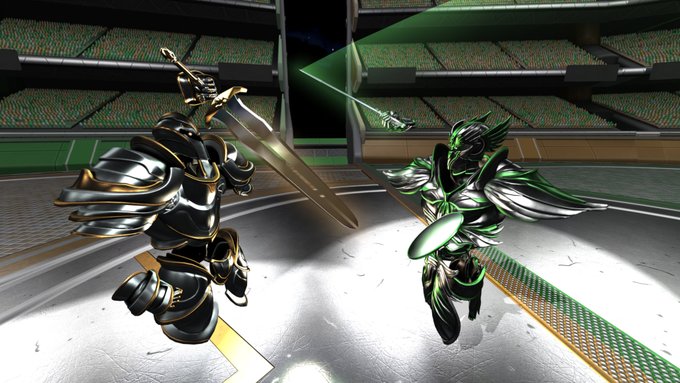 Features include:
Skillful, fluid combat – Get ready for carefully designed as you go back and forth with every strike. Slashing will not work when you battle other players, so it is always best to try and study your opponents so you know when you place those fatal attacks.
Different Fighting Styles – You have five classes (with possibly more coming in the future) to not only master the physics of the weapons but your class as well. Select from:
Knight with the two-handed greatsword.
Monk with the powerful staff.
Ninja with dual Katars.
Crusader with both a flail and shield.
Duelist with the Rapier and Buckler.
Mechanics – Not only is the class important, but also, the mechanics as well.
Physics-Based Weapons – All weapons have weight and momentum to them so you get that right feeling when in combat.
Time Slows Down – Slow motion will also be a factor as time will slow down so that in order to have the best optimal control of your weapons, you will need to move your body when time starts to slow down.
Weapons Will Not Last – After each hit, your weapon will "shatter" so not allowing any disconnect between your controller and your weapon.
Asymmetrical Melee – During the melee combat, only the attacker can do damage as the defender can only block.
Energy Meter – If you had hopes of unlimed energy think again. You need energy to attack, so it is limited. This is where you will need to study your opponent and think about your next move.
Are you ready for smooth and consistent battles? What class will you choose? Will you be able to block your opponent and make your strike count or will you be the one praying to the Gods? Do you have what it takes to become the Le Champion? Find out when Ironlights comes to the Oculus Quest and Oculus Rift/S on the Oculus Store and Steam on April 9, 2020.
You can also back this project now!
Until then…please enjoy…