It seems that the World of Kooring is expanding to new adventures and that is a good thing. Developer VRANI Inc, has released a road map for the new adventures and it looks like some good VR fun. First, they released Kooring VR Coding Adventure which allowed the learning of coding and mixed it with VR in a way to help Kooring and stratagize a plan in hopes all can come together. The plan is simple enough as you will need to pick the planet and then the stage which need to be in order. Check the path and then just hope your coding was correct in order to gain those cheers of scucess.
Features include:
Learning Mate – Consolation and cheering, even when it's difficult! From the beginning to the end of learning, Kooring will be there for you as a wonderful learning partner.
Storytelling – Double the fun with the comical behavior of your characters! Improve your concentration of learning with cartoon-like stories.
VR Debugging Learning System – From easy to difficult! A step by step system which focuses on systematic concepts through incremental repetitive learning.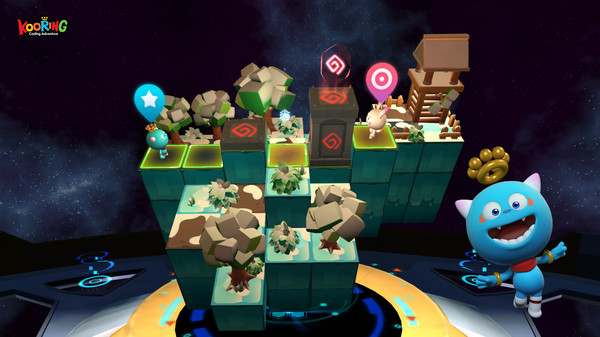 Will your coding be correct? Will you hear the cheers? What will you learn? Find out with Kooring VR Coding Adventure out now on Steam and Viveport.
Until then…please enjoy…
But it seems the journey continued with Kooring VR Wonderland: Mecadino's Attack that contained separate experiences that could only be experienced with kids and family in Virtual Reality. Those experiences included:
Petit Pig and Pepper – Attack the enemy by tickling the pig's nose with pepper and feathers on both hands.
Dreamy Heart Castle – You can freely climb the fortress wall and ride the hot air balloon.
Mirrorland's Saber – Play while enjoying the music of Mirrorland's Saber!
The Mock Turtle's Magic Shield – Block the flying arrows with your magic shield! Remember which order the arrows or bombs fly in and block them accordingly.
Tooring Stole The Tarts – requires concentration and situational judgment as you should aim correctly in sequence to attack and defeat enemies.

Kooring's Koorobo – Needs accurate detection of objects moving along the guidelines from the top view to the bottom!
Features include:
Perfectly optimized for kids & family!
Funtastic VR interaction for 6 mini-games in the package!
Will your accuracy be on point? Do you have the concentration to defeat the enemies? Find out with Kooring Wonderland VR: Mecadino's Attack out now on Steam and Viveport.
Until then…please enjoy…
But it seems that Wonderland still has some wonder and adventures await. After some time and a missing friend, Kooring returns to Wonderland, not alone, but with a warrior. As they search for Koorin's dear friend Tooring, from the spell of the evil bad Red Queen and her card soldiers.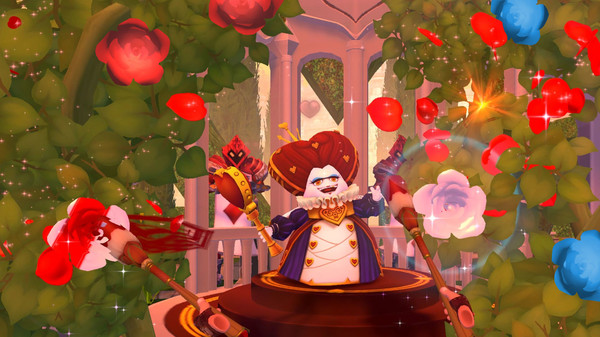 Features include:
Perfectly optimized for all age groups, especially family!
Funtastic VR interaction for each mini-game in the package!
Collect the gold medals, and become the medalist!
Can you help and save Tooring? Which interesting characters will you meet? Can you defeat the Red Queen and her card soldiers? Find out when Kooring VR Wonderland: Heart Castle Crush comes to Steam in March of 2021.
Until then…please enjoy…
And it looks like the adventures will continue in Wonderland with KOORING Wonderland VR: Red Queen's Black Magic is coming to Steam in 2021.