Life is hard when you are on the streets and sometimes you just have to prove yourself not only for those around you but for your own self. But you do have one thing going for you, fighting. Even with nothing, you have something. But in order to make it here on the streets, you can't just do anything, you will need to make a living. And sometimes that living comes with challenges as well as a price. So get ready to get out of your down and out way of thinking and get ready to make it to become the king of the streets.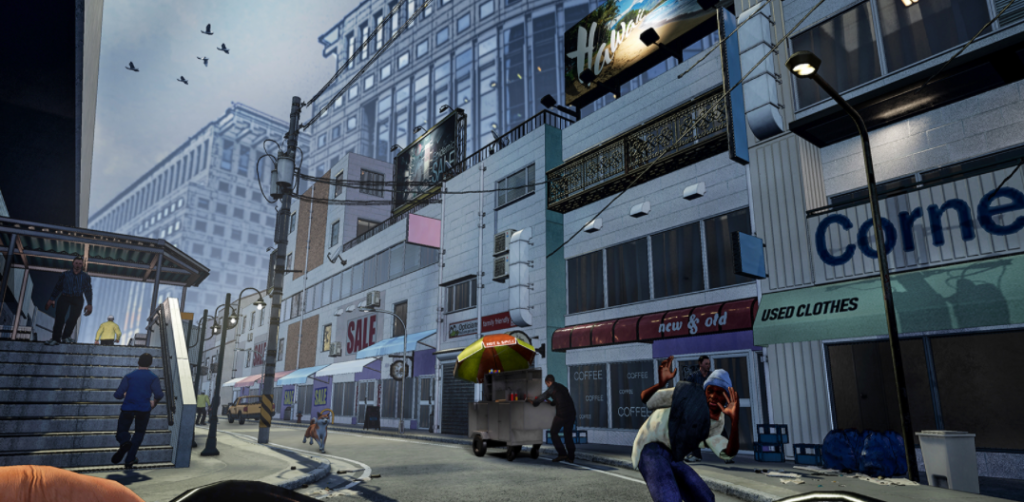 Features include:
Experience the life of a homeless fighter without a penny to his name. Take a glimpse at life on the streets, as you live out the life of a vagrant fighter. Forced to live on the streets, your story plays out through a series of meticulously planned story quests that will take you from being a poor nobody to being powerful and infamous!
A unique story with bold visuals. Enjoy the immersive visuals of Down and Out, a catchy mix of realism and comic-book aesthetics, augmented through VR. Discover the stories of the characters you meet on the streets, and choose how your own tale will play out!!
A brand new combat system, tailored for VR. Experience Down and Out's a fresh new take on the fighting game genre: a realistic combat system, based on real-world fighting styles, seamlessly integrated into VR.
Relentless enemies, glorious rewards. Face an AI that will challenge you every step of the way! Learn to adapt and evolve your techniques and strategies, because no enemy will fight you the same way. Fight a variety of enemy types as you progress through the game, each with their unique strengths and weaknesses. Every victory earns you money and reputation, taking you one step closer to your goal of ruling the streets!
Mark out your territory! Use your own specialized graffiti to mark your claim on the streets. But be warned- you'd better be ready to defend it from rival fighters!
Need a break from the action? Explore the highly interactive city and discover its secrets through a variety of side activities and minigames ranging from playing basketball or annoying innocent bystanders to cycling around the city or befriending a loyal furry friend and keeping him happy.
Diamonds in the rough: Search for items and bonuses in the unseen corners of the streets, even in dumpsters and garbage- you might find something useful! Even if it isn't, many of your finds can still make for an improvised weapon in a fight.
Spend your hard-earned cash wisely: An in-game store provides even more items- from consumables that help you during fights, to cosmetics that make you look cooler!
So will you gain the reputation you deserve? Will you overcome the desperation? Will you get the respect you deserve? Find out when Down & Out comes to the Oculus Store, PlayStation VR, and Steam in 2021.
Until then…please enjoy…