As long as I can remember I have been fascinated with the stars. Wondering about the constellations, the stories behind them, and what it must be like to see the stars from different parts of the world and even at different dates. I remember every time that I would go to the museum, I couldn't wait to get inside the planetarium be taking away, to learn all that I could. It was a really special time in my life. It allowed me to be free, to become something, to this day is still pretty amazing, the stars. So does The Pocket Company finally allow us to do something we normally could not? Let's find out with HOMESTAR VR for the PlayStation VR.
But what is HOMESTAR VR really about? It allows us to experience the sky in a new and refreshing way, through Virtual Reality and brings us to the world of 2,500,000 crystal-clear stars. All you will need is a Dualshock 4 controller and your PlayStation VR headset. Before really starting, I appreciate the tribute to Takayuki Ohira, the Planetarium creator.
Once you have everything ready, its time to visit the stars. I am going to suggest that you select English. My controller hit the floor and displayed a different language, which is fine, but this is what will happen.
While I enjoyed the music, more on this later, I wanted to fully embrace what HOMESTAR VR had to offer. So once I selected my language preference, I had this…
As you can see there are three different modes. So let's start with World Sky Time Travel. This is really cool on what has been done here. You pick the day, month, year as well as a place on Earth. Being able to move and rotate the Earth made me feel like I had a globe in my hands. You even have options such as adding the constellation names, lines, and pictures. I thought it was very personable the way these options were included and the ability to have all of them or some of them on or all turned off. It really is how you would like to Time Travel the World Sky. So as I was pretending to be in my own time machine, I decided to see the sky was 16 days before Marty McFly and Doc Brown traveled to the future.
The next mode was VR Celestial Museum. This is the planetarium experience I have always hoped for. Here you can have the actual planetarium experience. It is played out into four parts. The Spring, Summer, Fall, and Winter Skies. Make sure you listen all the way to the end of each. More on this a little later. Each of the seasons tells about which constellations are out at that time of the year. You learn about the names and how they came to be. See science can be educational as well as fun and entertaining.
Now you could experience the Classic Planetarium Mode and sit in a seat, have the lights dim and sit an relax. I mean that is what you are used to and it's what you know. But my friends it is time to break that barrier…it is time for you to get off that chair (you don't have to, but for the motivation of Science and for the shiver with the thrill of wanting and needing to be engaged to put you in the middle of it all) and experience Full Celestial Planetarium Mode. Having the seats gone, having the stars surround you in full 360 degrees is like nothing I have experienced. It is essentially going to a planetarium, finding out it was in Imax and then they turn on BEAST MODE.
The last mode is the Starry Sky Collection. Here you get a chance to visit some of the best locations to stargaze. Earlier I mentioned the music and how you might to want to experience each of the seasons until the end of The Celestial VR Mode. By staying until the end of each season sky is not only educational and fun but by doing so allows you to unlock other locations. I mean being able to look at the stars from Mt. Fiji or even Easter Island is really breathtaking. It's just you, the night sky, and the stars.
It honestly gives you the ability to really escape, breathe, and gives you your own hideout to really think about things and help clear your mind all while being able to select some music to match or if you like to turn off the background music and just enjoy the silence. You just need to find one that really speaks to you and go relax at Matterhorn.
At times where things that go on in the world that we may not agree on. Where times may not want to be a part of, there is something that has never left us. The stars, the planets, and the constellations have always been there to help guide us and even wish upon that star when we most need it in life, even if we sometimes take it for granted. Sometimes it's beauty and all that surrounds it and within it is covered up by the lights of the cities around the world and some may forget what's up there and some seem to overlook it by the convenience of technology. The Pocket Company aims to change all this by providing a path and showing us the way to something we already have had access to. But sometimes we just need to be shown the window to be able to see what we may have been looking for all this time, has been around us and all we have to do is take the time to look.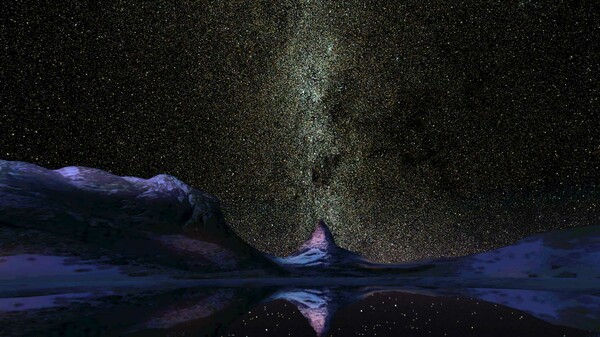 HOMESTAR VR is out now on PlayStation VR and is also available on the Oculus Rift/S and Oculus Go on the Oculus Store and Steam. A review code was provided.
To learn more about The Pocket Company, please visit the site and follow them on Twitter.
In case you missed the trailer, please enjoy. Until next time, I have to get back to my starry getaway.
Mr. PSVR, July 12, 2018, theplaystationbrahs.com