Your dream job of working at the grocery job was everything you wanted it to be. You get to pack and serve all the glorious produce without missing a beat…except for the mutant fruit that wants to end your dreams.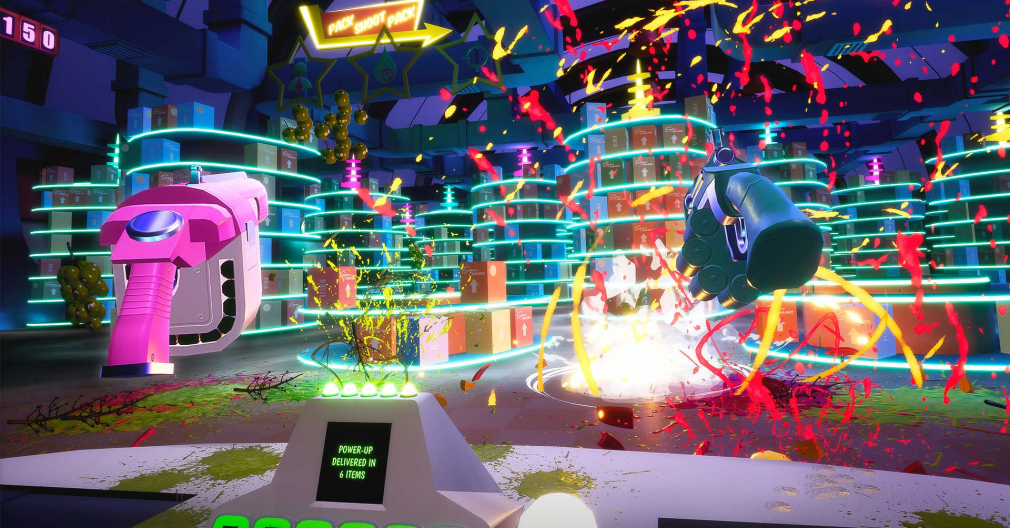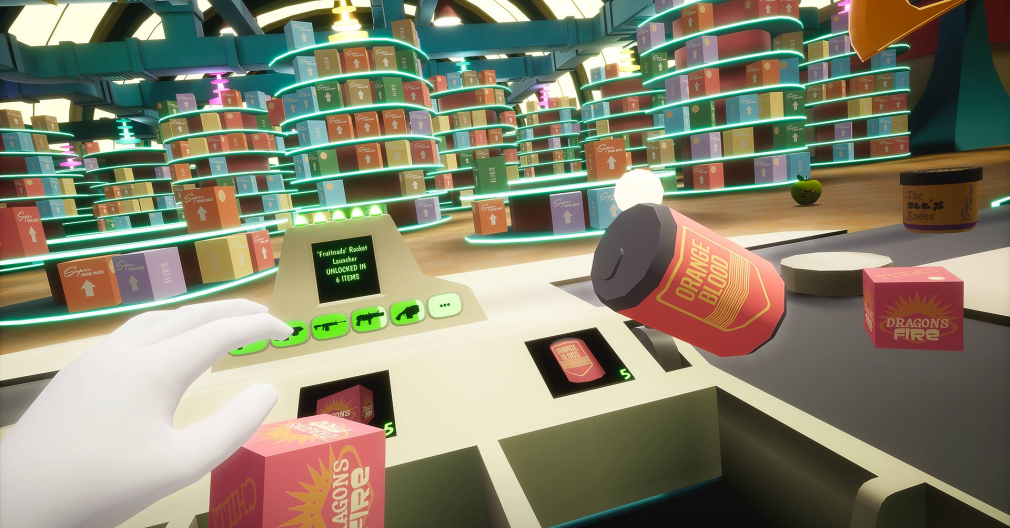 Features include:
Now Hiring! Join Our Multiskilled Workforce – Work through a career of different scenarios and challenges whilst fending off an orgy of deliciously murderous fruit. No task is too dangerous for a minimum wage warrior, including scanning produce at the checkout, serving food in the canteen, and more! Blip blip! Bang bang!
A WHOLESOME RANGE OF BALLISTIC WEAPONRY! – Become a human blender! Arm yourself with a military-grade arsenal of fruit-killing guns and berry-bursting explosives, including revolvers, shotguns, and bomb launchers. Gain access to increasingly absurd ballistics and customize your loadouts in the staff room across your melon maiming career.
OUR FRUIT IS 100% GENETICALLY MUTATED! – Tons of vicious and nasty fruit to shoot into pulpy pieces. Unload round-upon-round of high octane ammo into their ripe, fleshy bodies. Then, when that isn't quite enough, use ridiculous power-ups to pulverize them in other juicy ways.
IT'S NOT JUST NEW, IT'S VR NEW! – Completely brand shiny new "shoot and serve" multi-tasking gameplay that isn't just made for virtual reality, it's only possible using a VR headset, two motion controllers, and an optional supermarket tabard. It's like the future of work, but right here and now!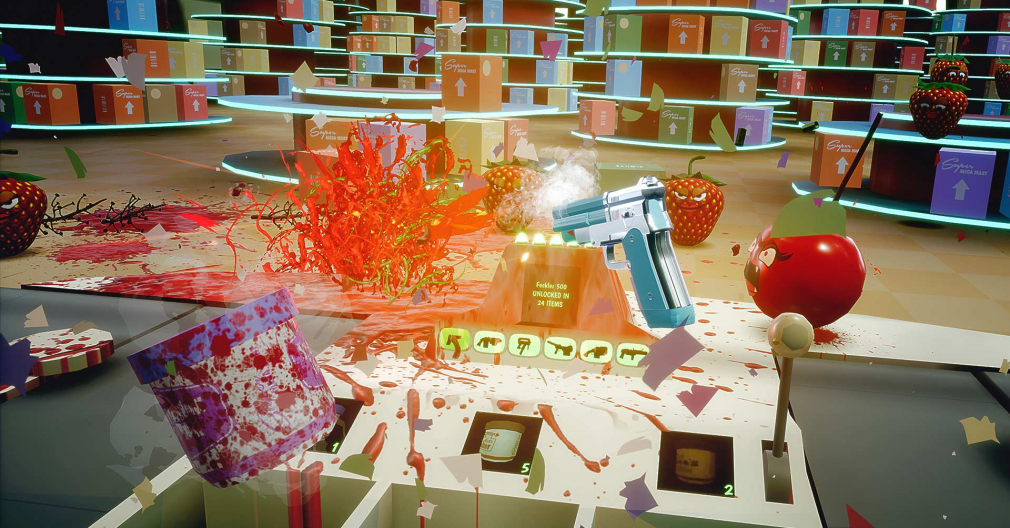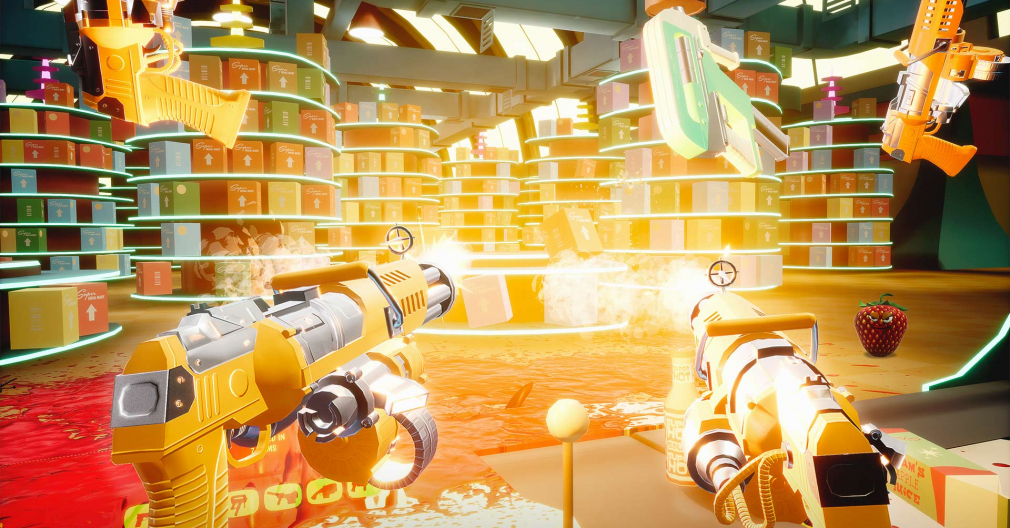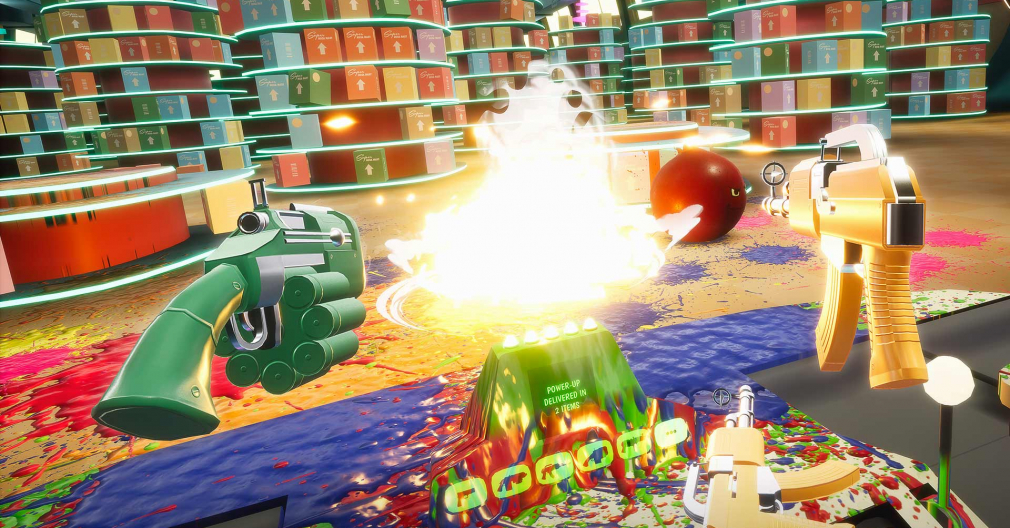 So will your job as a produce serving and packer king be challenged? Will you show those mutated fruits who is boss? Who's going to clean up those aisles? Find out when Shooty Fruity comes to the Oculus Quest on August 27, 2020, and is also available on the Oculus Rift/S on the Oculus Store, PlayStation VR, Steam, and Viveport.
Also, check out the review.
In case you missed the trailer, please enjoy…