Think about some of the most memorable action scenes. What comes to mind? Would it be something that came out of a superhero movie, maybe it was something you saw on a T.V. show or maybe it was from a story that you read. Action in Virtual Reality allows us to become something that, for most, would not attempt in real life. But when given the chance in VR, well almost without hesitation take the energy with guns blazing and try to let our inner action hero come alive. So does developer, Cloudhead Games throw us into the action and then step it up with an encore of us wanting more? Let's find out with Pistol Whip for the Quest/2, PlayStation VR, and PCVR.
Pistol Whip is an action-rhythm VR game as you journey through a cinematic bullet hell powered by a breakneck soundtrack that features arcade-style scenes, story-driven cinematic campaigns, and a style system for endless ways to play to become the ultimate action hero legend. So before you go in and try and rule the world, there are a few things that you will want to make sure of. First, clear some space. You don't want to hit a wall, a person, a pet, or any equipment. Second, stretch. We get it, you may be the leanest person out there, but it is still good to stretch. Plus, you don't want to be injured and then try to make up some fantastic story to back up your injury. Third, make sure your controllers are charged. You don't want to be mere points away from getting the highest score on the leaderboard and your controllers die because you forgot to charge them or replace the batteries. With all that said, let's continue…
Now, when it comes to action, there is one thing Pistol Whip wants you to do and that is comfortable with your time. Well, only at first, but the thought is there. So if you have never played before, you will want to make sure you go through the training. The name of the game may be Pistol Whip, but you will be shooting, punching, ducking, moving, and of course pistol whipping your way through each scene to the different songs while trying to survive as enemies are shooting and coming out you from the different directions. Firing the weapon(s) could not be any easier than just pointing and shooting. Accuracy of course is very important when it comes to shooting and playing on the Quest 2, Cloudhead Games did a great job with this. Reloading is easy enough by moving your hand(s) down. There will be obstacles that come will be coming in your direction that you will need to either duck or step to the left or right to make sure you do not have any energy taken away, so this is why it's important you have some space when you play.
Once you are through with training, you are put into the game's hub. To your left, is where you can pick your favorite weapon as well as customize it, to the right is the leaderboards, and strait in the center is where you have the Arcade, Campaign of 2089 and Smoke & Thunder, Challenges, Training, as well as some new features that have been added with the Encore Update (more on this shortly).
In the 2089 campaign, you play as one John Asimov as you try and survive a world of killer robots while you try and figure out the mystery behind their upbringing and violence. In the Smoke & Thunder campaign, it's duel-wielding in the wild west. I have to say, that I kept coming back to Smoke & Thunder as it, like the rest of the game, was a total blast to keep playing. There is just something about the music and the setting with enemies on horses that even Billy the Kid would be happy with.
But it's even after playing the campaigns, that there is just so much more. Playing the different scenes such as The Grave to The High Priestess just brought everything that you would want to be in an FPS with a popping soundtrack to like and it's honestly here. Then when you bring in your favorite weapons and favor if you want to use a weapon or even Dev's Choice into the mix, you really can't go wrong here.
But even though some may have played Pistol Whip before, it's what Cloudhead Games keeps bringing to the virtual table that will keep you coming back for more. In the latest free update called the Encore Update, there were two new scenes added that increased the number of songs which include The Way Home which is featured at the end credits of the 2089 campaign, and the western-themed Fist Fight which comes from Smoke & Thunder. But not only that, Party Mode is introduced where you can challenge the people around you bypassing the headset of everyone's favorite scenes and modifiers and trying to top the Party Mode leaderboards. But just when you think there could not be any more to this update, let's throw in some new weapons, the 357 Python, Hippo, and 39 special, and add some new modifiers to add to the mix and it truly is the encore we all have been wanting. But even though some may have played Pistol Whip before, it's what Cloudhead Games keeps bringing to the virtual table that will keep you coming back for more.
Let's talk about the graphics and sound. Each of the different scenes makes you feel like being inside a computer program like if this was Tron and The Lawnmower Man for example and at least to me, having something fresh to play. Scenes like Full Throttle with the digitized palm trees in the background and even when you pistol-whip someone and just watch the images change colors just really is something that has to be seen. When it comes to the sound, there will be some that may feel that the music may be too much in your face. But this is part of the fun of Pistol Whip. The electronic sounds of the music mixed in with the gunfire just have this right amount of balance that is as much fun listening to as it is visually playing in.
There are just a few things that I would like to see addressed. For one an option for sitting. Yes, Pistol Whip is best while standing, it would be good to see an option for sitting. There are players out there with disabilities that are limited and may not be able to stand for long periods of time, if at all, but would get a kick out of playing the game Second, an option for adding your own music. Yes, there is a way to alter the files to play your own music, but what about adding a feature to where the scenes go along with your music? It would add even more replayability to what is already here. And last, and this is more of a hope than anything is that Cloudhead Games keeps adding and adding to Pistol Whip.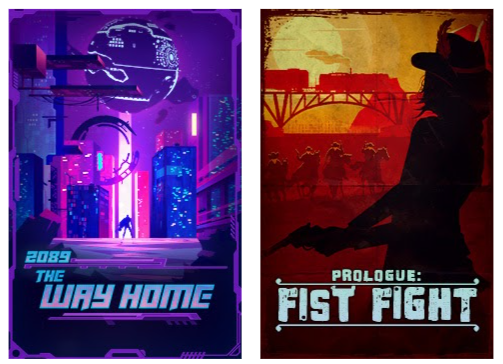 Pistol Whip has come a long way and seeing how the game initially launched and what it all it has gone through shows that not only does the developer care about the experience they made, it shows that they listen to its players so that they care as well and that is a very powerful thing to have. Sometimes in life, we get excited about something that it turns into a passion, but it's when we have a passion for something great that inspires us and the others around us that allows us all to become better than we started that can be the greatest gift of all.
Pistol Whip and the Encore Update is out now for the Quest/2 on the Oculus Store, PlayStation VR, and Steam VR. A review code was provided.
To learn more about Cloudhead Games, please visit their site, like them on Facebook, follow them on Twitter, follow them on Instagram, join their Discord, and subscribe to their YouTube channel.
In case you missed the trailer, please enjoy. Until next time, I have some music to experience and some leaderboards to climb.