America is the land of the free and home of the brave. There was a movie back in 1998 called Pleasantville. It was about two siblings who were trapped in a 1950's TV show where their attempts to try to fit in and become aware of social issues. But what if instead of being trapped in a show where everyone was pleasant, everyone was pleased with guns? This is what it felt like when playing The American Dream from Samurai Punk for the PlayStation VR and glad I got to experience it.
When I first heard about The American Dream and saw the trailer, something drew me in. Was it the style, the cardboard cutouts, the comedic approach? Could something so amusing about the simpler times really work in VR? I am happy to say yes to all of this and much more.
Before you start, please make sure your Move Controllers are charged, put on your PlayStation VR headset, and get ready to be transported back in time. In The American Dream, you will be playing through different phases of life. From a baby to getting married and having a family of your own. So in essence, it truly is the real true dream of America. But you will be living the dream with the use of guns.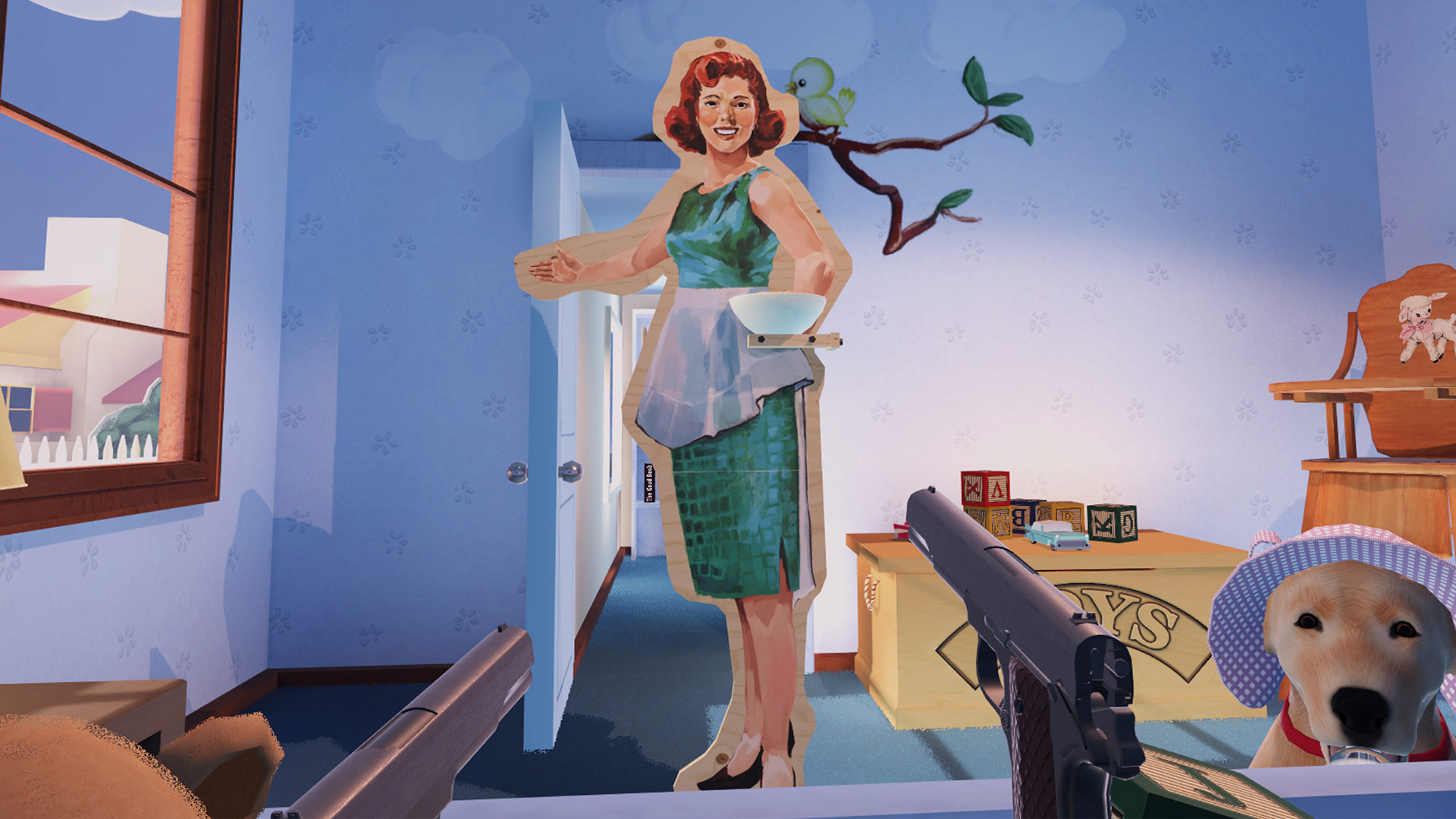 Before I continue, I know some people have a strong feeling towards and against guns. The American Dream is not in any way, shape or form trying to make one side of for or against. What it does is have fun by showing how some in America is obsessed with guns. I do have to say that I appreciate the humor aspect greatly and there were times that I just busted out laughing.
In The American Dream, we get introduced to Buddy Washington who is your best buddy who happens to be a Golden Retriever with a speaker in his mouth…yes, a speaker. Buddy is going to lead you on the coaster ride throughout stages of your character's life and you will be interacting using…class…anyone…Beuller…Beuller…yes, guns. From cleaning your room to catching balls with Dad to proposing to your girlfriend to even changing diapers. Yes just pull the trigger to shoot your way through progression.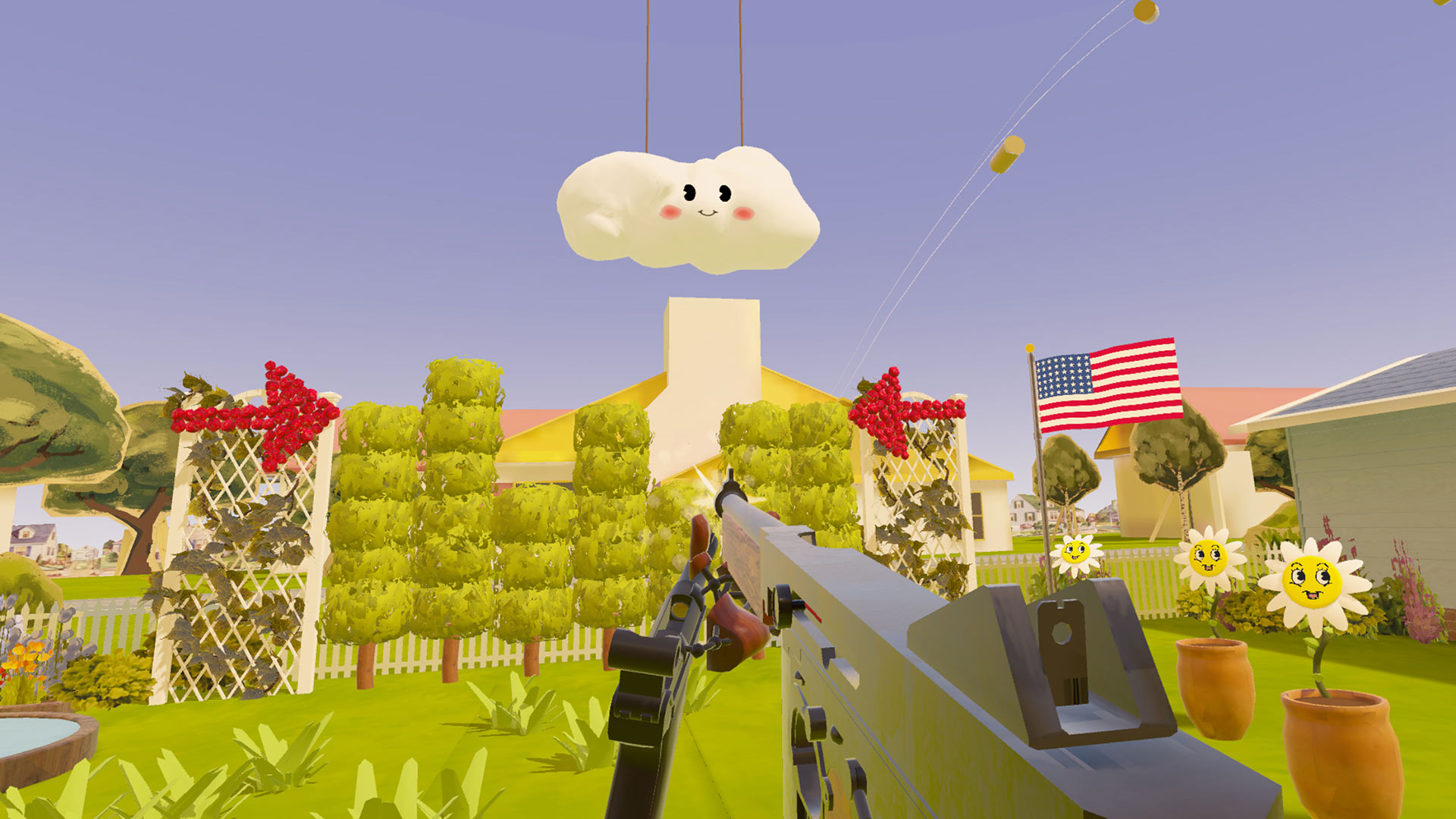 I bet you didn't know you could flip burgers with guns and bullets, did you? Did you know you can also clean cars without scratching the paint with bullets? Geez, they don't make car paint like they used to.
I am going to say this now…The American Dream has the best reloading that I have seen. Hit the button on the side of your seat and out pops a new magazine for your gun and you can rotate your gun so you can catch it to reload it. And it does it in slow motion. It's pretty awesome. But depending on how well you do, after each level, you are awarded money which you can then use to purchase different guns. Fancy a gun with a scope, then go ahead and purchase away.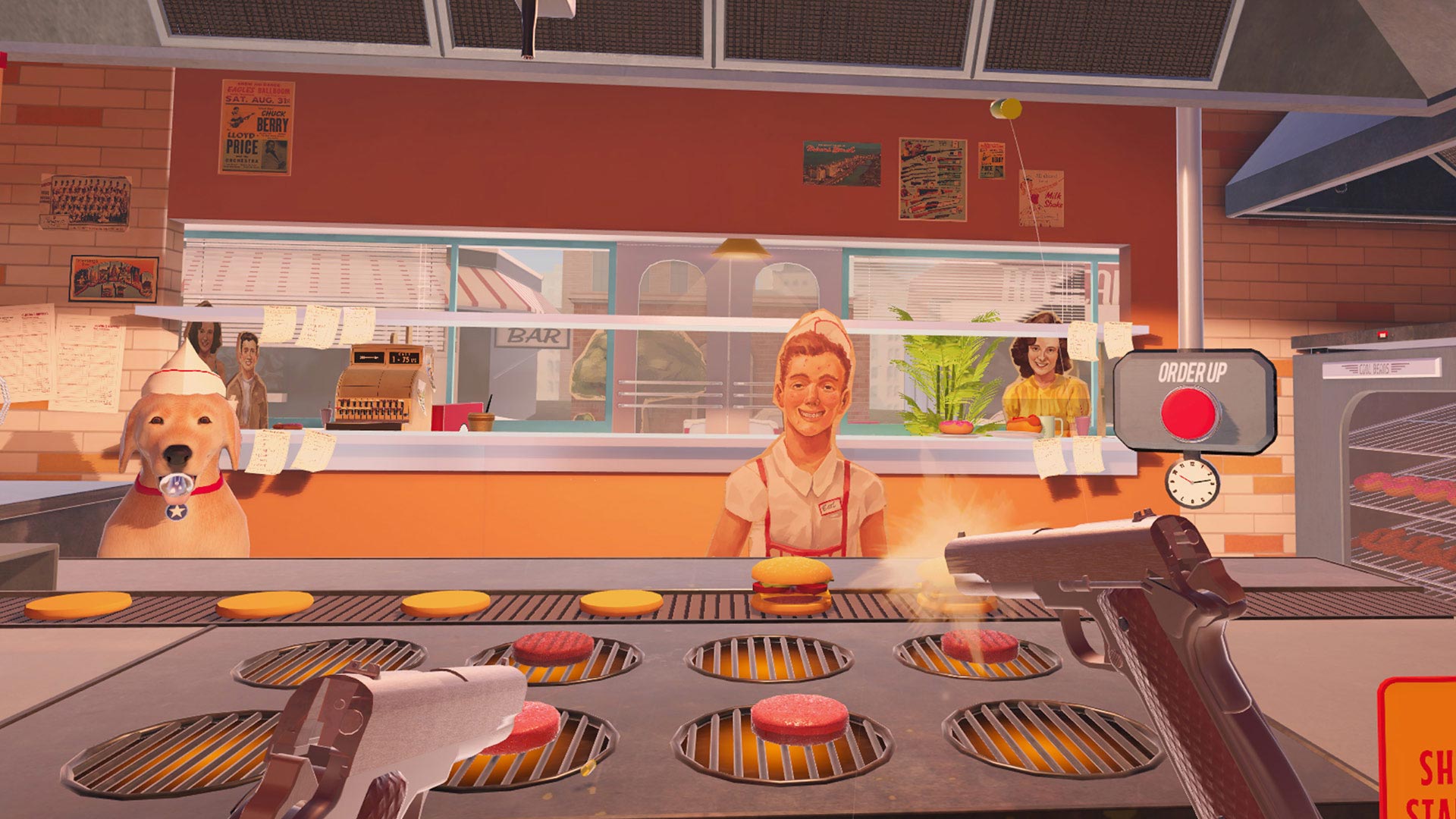 For the sound, Samurai Punk has nailed the 50's era with the music. The stage at the dance, I was hoping Marty McFly would bust on through and playing the guitar. But there is just something with the music and narration that made me feel like I was there. I mentioned earlier how you will progress through the stages of life. So be warned that if you have kids or family members around, just be careful what can be heard or you just might be explaining where babies come from. Graphically I really enjoyed the cardboard cutouts and how each stage is well themed, that I felt like I was in the '50s. I really love the art style that is used and brought out in a way, that I almost wish they would sell The American Dream art kits.
Each of the different levels and guns had its own specialty to it that I really appreciate it. I love the comedy of the narration, the progression, and the art style. What some may not appreciate are the guns and how they are used and represented. Yes, this is a game that takes a controversial subject, spins it, and is trying to lighten the tension of the matter by having some fun with it and it shows. I want to applaud Samurai Punk by taking a chance with releasing The American Dream. No matter if you are for or against guns, Samurai Punk has done something very courageous. They took the subject matter of gun control, turned it into a game that allowed us to escape through the magic of Virtual Reality, and allowed us to see a different perspective view of an already controversial subject at an already controversial time.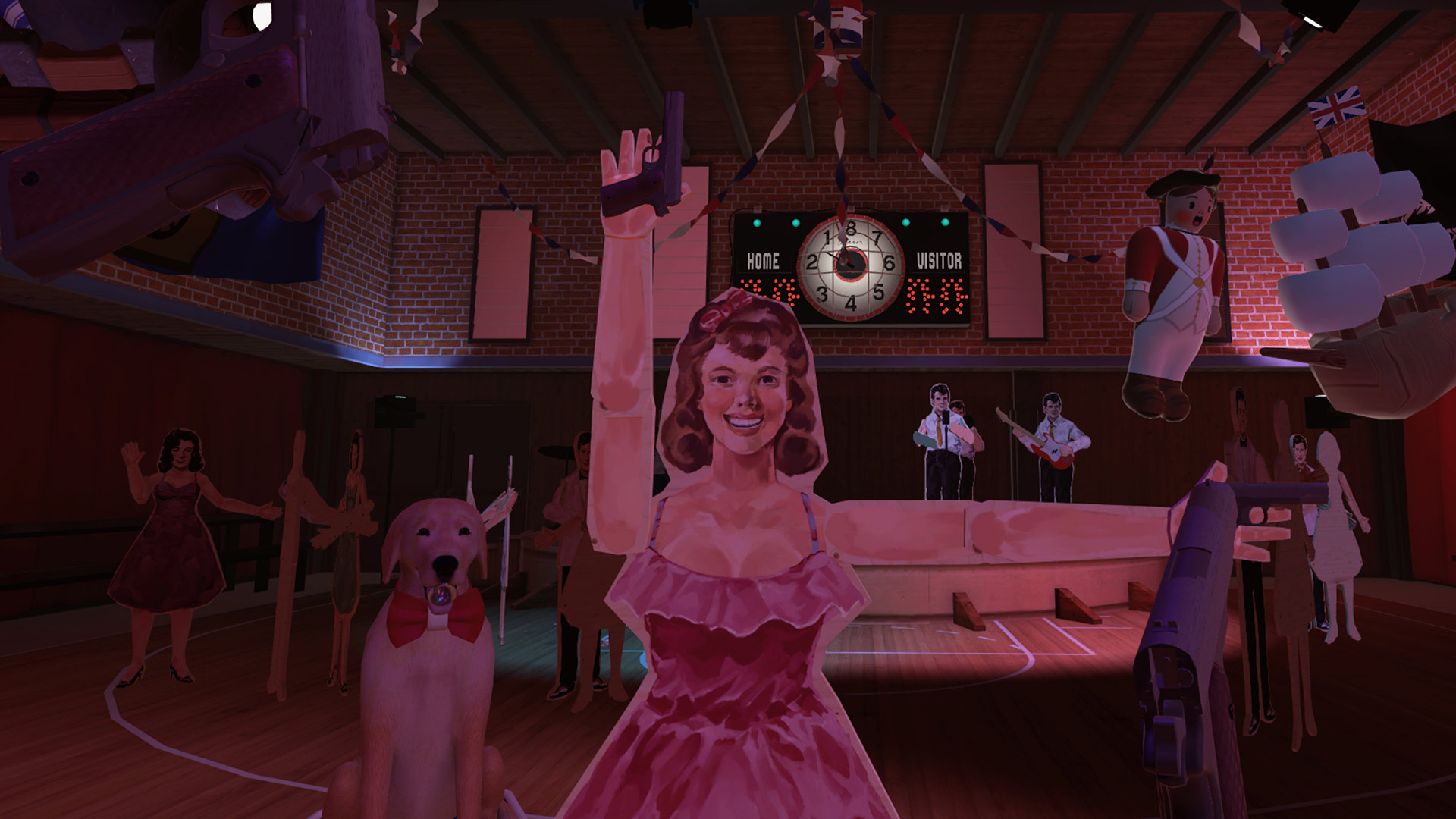 The American Dream is out now on PlayStation VR and is also available on the Oculus Store and Steam. A review copy was provided.
Also, check out the interview with Samurai Punk.
To learn more about The American Dream, please visit the site. To learn more about Samurai Punk, please visit their site, like them on Facebook, follow them on Twitter, follow them on Instagram, and subscribe to their YouTube channel. To learn more about Michael Dobson, please visit his site and make sure you follow him on Twitter.
In case you missed the trailer, please enjoy. Until next time, I am going to see how much more money I can earn this next round.
Mr. PSVR, March 23, 2018, theplaystationbrahs.com