Think about the Old West where there were not any electronics, the congestion of things like traffic, and a simpler time of life. How do you think you would handle this era of time? Would you try to survive the way of the land or help and try to progress it? But what if this era was part of the gold rush where everyone was trying in the hopes to strike gold? Things could get hetic, where even a war could break loose. Things sure could get out of control. But when I learned that developer, Red Horizon was making a game set in the Old West during the gold rush era where you get to play the sides of a bounty hunter and a well respected warrior and try to change the fate of war, I had to learn more. So I reached out and the game designer and co-founder, Burak Tekin, was happy to talk about their newest game, Black Trail and Virtual Reality.

_____________________________________
Interview with the Co-Founder and Game Designer of Red Horizon, Burak Tekin
_____________________________________
Welcome to THE VR DIMENSION. Would you please introduce yourself and what you do at Red Horizon?
"Hi, my name is Burak Tekin, I am the game designer and one of the co-founders of Black Trail. Since our team is a small one with high expectations, each of us work in an interdisciplinary manner. Therefore I've been involved in nearly every aspect of the development process.
When we started our journey, we created various VR projects for different industries like psychology and marketing. However, we are gamers on our core, and shifting to game development was inevitable for us. We love what we do now and plan to create more games that we would love to play."
Growing up, what were some of your favorite games to play, and what was that one VR moment that really made you want to do more with Virtual Reality?
My personal favorites were probably Max Payne and the Diablo series. The constant flow of action in these games always made my skin crawl. That being said, my teammates have a variety of tastes, from RPGs like Fallout and Deus Ex to strategy games Total War and Age of Empires.
We are one of the initial backers of the Oculus Rift headset. I think the most amazing moment was the first time we tried on the headset and thought, "wow, this is the future of gaming and entertainment". The plethora of games we played afterward only fueled our passion for VR."
Your newest game has an Old West setting during the gold rush era called Black Trail. What can you tell us about it?
"Black Trail is a story-driven, action VR shooter for PCVR. Set in the old west, you take on the role of both a native warrior and a cowboy, use historic weapons and change the fate of war while uncovering the powers of newly discovered artifacts.
The game is designed in such a way that you experience a different weapon & item combination in every chapter, making each one unique and mechanically different from the rest. For instance, in one chapter, you try to defeat all enemies with a lever-action rifle; while in another, you try to sneak your way back into a mansion. Not to spoil anything for our players, but even there are times when otherworldly elements take hold!"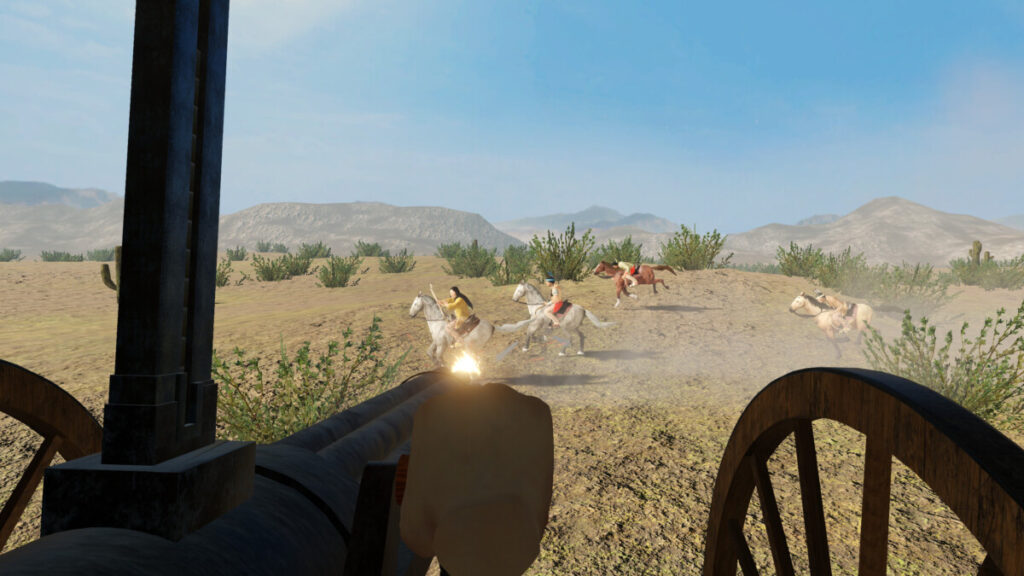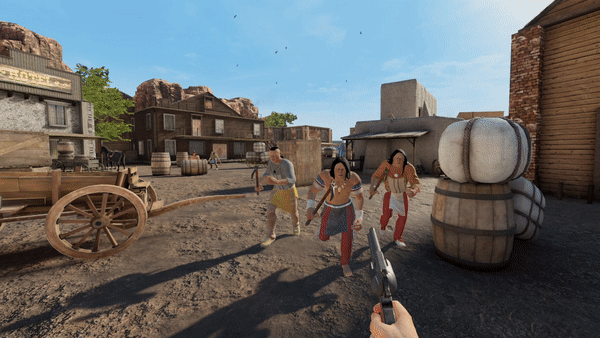 In the game, you play as two different characters and see their sides of the story. Can you tell us more about Jack and White Eagle and what artifacts are they looking for?
"White Eagle is a respected war band leader and a loyal warrior. A hero who would gladly fight and sacrifice himself for his tribe. Jack, on the other hand, is a careless bounty hunter whose only priority is earning big cash and drinking his time away. White men built a mine on Snake Canyon which was forcefully taken from the natives. During the excavations, they discover an ancient chest hidden in a cave, containing two mysterious artifacts. Before they have a chance to discover their powers they are attacked by native warriors who want their land back. Both factions chase these newly discovered artifacts to possibly get an advantage in the war and the conflict between the two factions begins. We will witness both White Eagle's and Jack's side of the story as they discover more about these artifacts."
Will the player get to switch between the characters at any time?
"Each chapter focuses on one character's side of the story, depicting their perspective. Character switching will be done between chapters automatically as the main story progresses."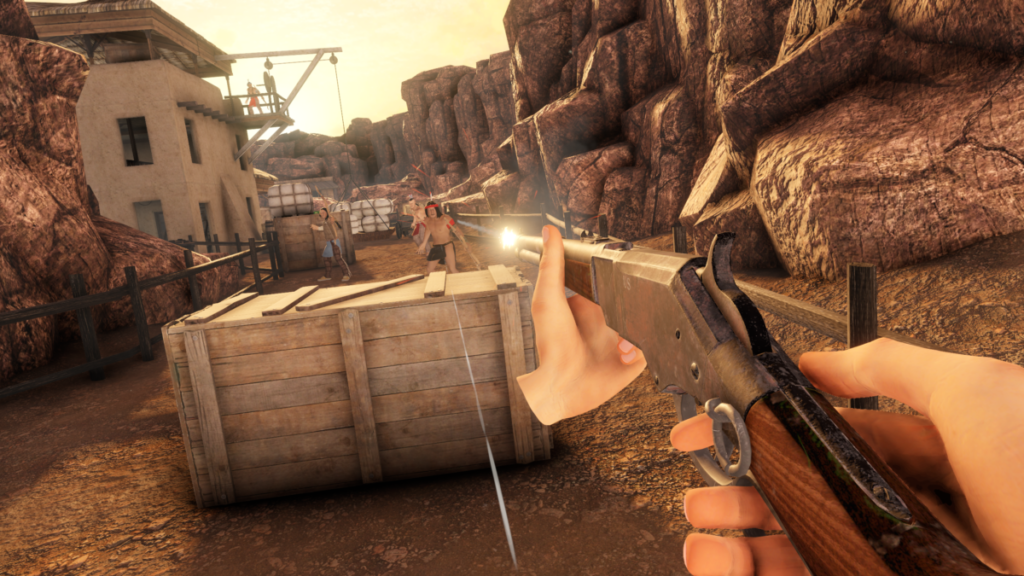 I really love the setting that Black Trail is in. What can you tell us about the different weapons in the game and are they historically accurate?
"One of the reasons we chose the old west era as the setting was the different weapon mechanics that one is able to experience. In Black Trail, we created a wide variety of weapons with very distinctive gameplay styles. The different weapons players will use throughout the story include a revolver, a throwable tomahawk axe, a lever-action rifle, a bow, a Gatling gun, and a blowpipe. None of them feels the same which converts every chapter into a unique experience. We also have some surprise weapons but I can't tell more about them not to give away spoilers.
We thoroughly tested our weapons with various details for reloading, throwing, emptying, etc. And we chose the most impactful details which wouldn't break the immersion and/or action. Our weapons will feel both historically immersive and awesome."
Watching the trailer, there is this sense of anticipation of conflict that will happen. Without giving away too much, are there any moments in the game that will give players that wow moment that they would not be suspecting?
"Apart from little "wow" moments like dodging an arrow or an axe using slow-motion in a western, the story includes a lot of twists and turns. I can't give much information since it will contain some story spoilers but there will be wow moments, you can count on that."
In the trailer, there is a part where you are in the mines and on a train. Do the players get to ride in a mine car and because this is the Old West, will the players get to ride on horses during the action?
"Because of motion sickness concerns, we decided not to include such mechanics in our main storyline. However, we are aware that the most hardcore VR gamers have no such issues and we have plans to release extra content with bonus chapters in the upcoming months. And those plans include horse and cart riding as well as group battles and co-op play."
When it comes to immersion, VR really can bring you into the world that you are in. Was there anything special that you did to make sure the player really felt immersed in the world of Black Trail?
"Creating an epic western experience requires an immersive, living old west world. To achieve this goal, we designed realistic looking environments, an intelligent AI with human-like behavior, mechanically accurate weapons, and a minimal UI which blends in with the environment. Each and every weapon, interaction, and environment was thoroughly researched and discussed, sometimes even variantly prototyped before production."
When it comes to working with Virtual Reality, what surprises you the most, and in what areas do you feel Virtual Reality still needs work?
"The immersion feeling of VR is like no other, however, there are still some challenges that need to be overcome for more people to adopt this technology. I see motion sickness, bulk headset design, and performance limits as the three main areas that VR still needs work."
With working on Black Trail, what are the top three points that you will make sure are used for any future products?
"We believe Black Trail separates itself with its story driven nature and non-zombie enemies from many titles on VR. We would like to continue this pattern for our next game. Bullet time would be my third pick, it is extremely fun to use and I would love to see more of it."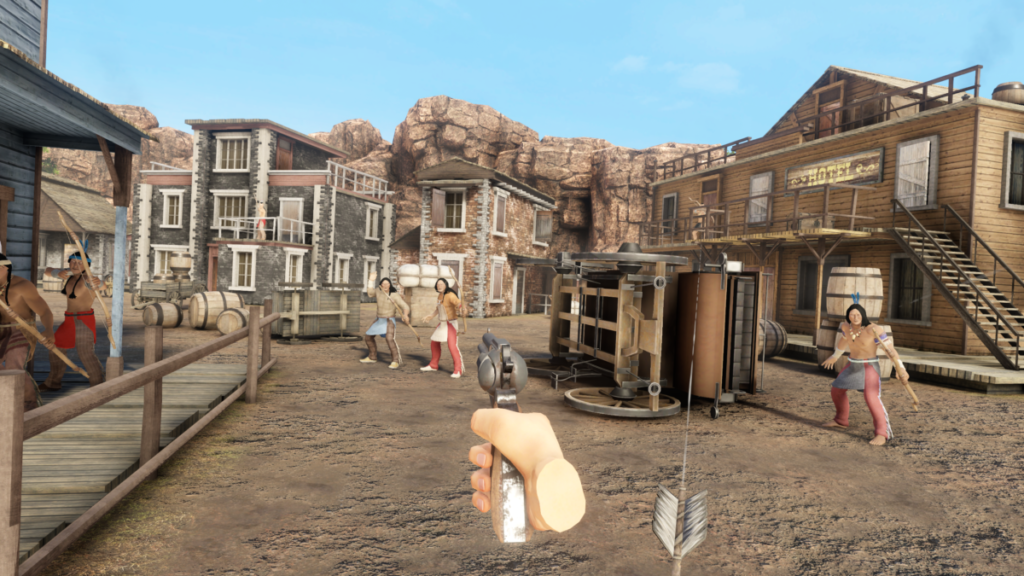 The game is coming to The Oculus Store and Steam VR. Do we have a release date and are there any plans to bring Black Trail to PlayStation VR/2 and Viveport in the future?
"Our release date is planned for late summer 2022. We certainly have plans to release Black Trail on PlayStation VR/2 afterwards. For Viveport, the process will be relatively easier, so you can expect it to happen in 2022."
If you walked through the door into THE VR DIMENSION and had to be either Jack or White Eagle, but you could pick anyone from any time period to be the other, who would it be and why?
"Well, I would definitely choose to be White Eagle. Experiencing Native American culture and lifestyle would be a thrill. And I highly respect native warriors' bravery and fighting styles. For the other, I think Clint Eastwood would be my pick, with his iconic western charisma (not that Jack is any less charismatic)."
With the library continuing to grow for Virtual Reality, what would you say to someone as to why they should play Black Trail?
"When we first started to play VR games, we lacked a good, story driven, single player game with an epic setting. We believe that we created a unique, immersive western experience and that people will love exploring its story, mastering its gameplay and wandering its old west inspired environments."
I really want to thank Burak for taking time out of their day and to give us a closer look into Black Trail and talking about Virtual Reality.
Black Trail is coming to the Oculus Store and Steam VR in late Summer of 2022 with plans to come to PlayStation VR/2 and Viveport as well.
To learn more about Black Trail, please visit the site, like them on Facebook, follow them on Twitter, follow them on Instagram, and join their Discord.To learn more about Red Horizon, please visit their site, follow them on Twitter, follow them on Instagram, and subscribe to their YouTube channel.
In case you missed the trailer, please enjoy.