Back in the Old West, when there was a problem or problems that needed to be solved, usually either talking would hopefully be the end-all, sometimes there was a brawl, and sometimes you might have been challenged to a duel. A one vs one where one walks out and the other either would maybe be ok or be measured for a tombstone. But fast forward to current times and with all the violence going on in the world, it's better to settle any differences online in gaming. So when I heard that Developer Resolution Games was bringing Blaston to Virtual Reality where we can actually duel and have some fun while doing it, I had to know more. So I reached out and Matheiu Castelli was more than happy to discuss their newest title and also about Virtual Reality.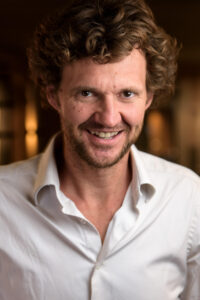 _____________________________________
Interview with Chief Creative, Mathieu Castelli
_____________________________________
Welcome to THE VR DIMENSION. Could you please introduce yourself and what you do at Resolution Games?
"Hi – I'm Mathieu Castelli and I'm the Chief Creative at Resolution Games."
For some who may not be aware, Resolution Games has brought some fun games such as Bait, Angry Birds VR Isle of Pigs, and Wondergalde. What are some of the other games and experiences that you have been a part of?
"I joined Resolution in 2019 and Blaston is my first endeavor in the company."
Your newest game Blaston recently released on Oculus Quest. What can you tell us about the game and what has the feedback been like?
"Blaston is a fiercely competitive PvP combat game from Resolution Games that calls for a combination of skill, strategy, and speed – along with an incredible arsenal of futuristic, high-tech weapons – to rise the ranks and become champion in this game of cyberpunk duels.
The feedback to the game has been extraordinarily positive, which we are of course thrilled about. It's currently ranked among the top games in the Oculus Quest store."
So with Blaston being a dueling game, I take it there will need to be some space for all the ducking and dodging the player will be doing?
"Yes, you are confined to a 5-foot diameter platform that is 5 feet from your opponent's platform, and you must unleash as much damage on your opponent as possible while ducking, dodging, and weaving the incoming onslaught from them."
Are the rounds the best out of 3 and is there a lobby so players can take on the current champion?
"Matches are best 2 out of 3. Max Round duration is 120s, but often ends much sooner."
So I guess the number one key tip is never to stay still?
"Definitely never stay still, but also explore the capabilities of the game to discover your strengths and weaknesses. While the game is very intuitive, there are also several surprises that players will find along the way. The longer you play, the more you will come upon things like the fact that when your gun is out of ammo, you can then throw the empty gun at incoming bullets to stop them!"
What can you tell us about the different weapons and powerups that can be used?
"At launch, there are 21 weapons, including everything from lasers and grenades to guns and shields."
Will there be seasons in Blaston?
"Yes. Their role will grow. Right now, it's to reset the last tier players' rank points so that newcomers have a shot at the top spot every season."
By the looks of everything, you can tell the avatars have different features about them. Is there a set number of characters or is the player allowed to customize their avatars and weapons?
"At launch, there are 8 avatars/skins to choose from. They are the same in strength and skill, and it's up to the players to customize their experiences to actually become the bot they want to be in Blaston.
As for customizing and unlocking weapons, Blaston gameplay is the ultimate way to unlock weapons. The game is structured so that the grind is tuned so players have enough earned credits to redeem the weapons once they are unlocked as you advance through the game (the only way to unlock them is to play). Different weapons are unlocked at different levels of gameplay, and you've got to put time into the game to unlock the advanced weapons. For example, you cannot immediately purchase a higher level weapon when you first start the game; you've got to earn it."
Blaston looks like it was designed for the Oculus Quest and with the Oculus Quest 2 just releasing, did you do anything to prepare for the new hardware?
"The main goal was to deliver a superior experience on the Oculus Quest since that was what was available during development. Our game will of course work on Oculus 2, and optimization for that headset will be coming in future updates."
When it comes to developing for the Oculus Quest and then other headsets for PCVR and then PlayStation VR, what have you found to be the most surprising and most challenging when developing for different hardware?
"The most challenging part of developing for different platforms is that they all have different specs and requirements. We have to make sure that the game runs smoothly and flawlessly for all platforms while also customizing some features based on how powerful the hardware is. The most surprising part is that if we set up a project properly, we can develop and update the game for different platforms fairly easily."
When Blaston is released on other VR platforms, will cross-play be enabled so that eventually there can be a true champion as well as an Oculus Quest, PlayStation VR, HTC champion of the world?
"We hope to enable this. It would be really fun to find out who the ultimate champion is!"
Do we know when Blaston might release on the other platforms?
"We announced already that Blaston will be coming to Steam, Rift, and arcades in the coming months.
As for other platforms, we're happy to update you with details as they come. You can also follow the Blaston Facebook page or Twitter for updates and sign up for email updates here. "
What have been the top 3 tips that you have been given in life that you follow to this day?
● To be happy is to make sure to take pleasure from the small things.
● Time is on your side, nothing will resist consistent, daily, dedicated efforts, even if it's 10 minutes.
● Don't do to others… and include the planet in 'others'.
To this day what still surprises you about Virtual Reality?
"How natural it feels."
Any other tips you can give us before stepping in the arena?
"There is so much to this game that makes it fun and challenging at the same time. I'd suggest that players really get into the game and truly experience it because once you get in there and explore the weapons and the environment and how they can strategically be used, you're in for a wild ride."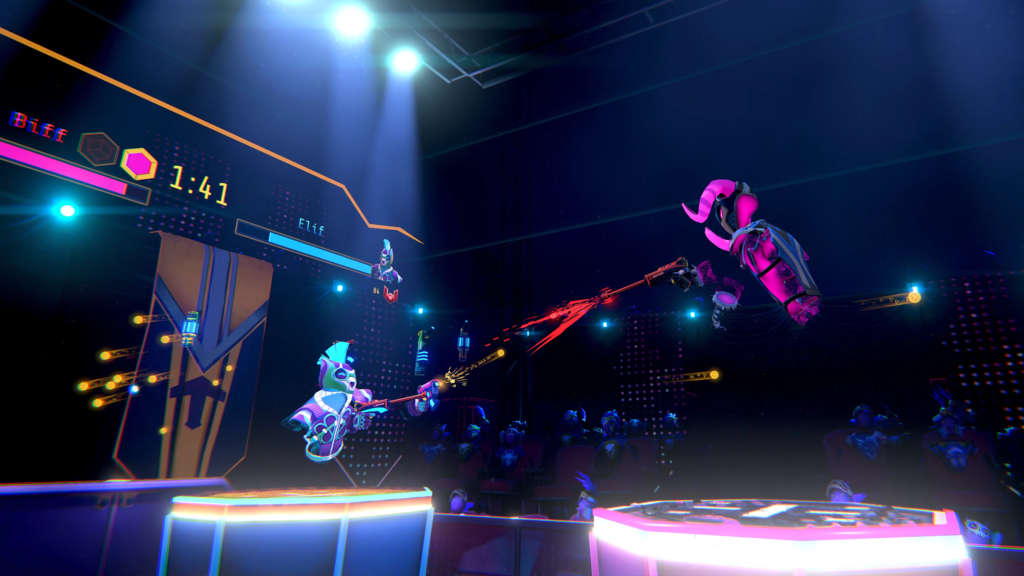 For someone looking for that one game to draw them into VR, what would you say to someone on why they should experience Blaston?
"We've heard several times that Blaston is very much a Resolution Games game. We are so proud that that means that this game is really appealing to everyone. Never played an FPS game? No problem, it's super intuitive once you get in there (everyone knows, for example, what a shotgun does, so you grab and shoot. If a bullet is flying toward your head, you duck. Etc.). Are you a hardcore gamer that wants to spend 30+ hours battling to champion? Let me challenge you to a duel and teach you a thing or two!"
I want to thank Mahieu for taking the time from his day and to give us a closer look into Blaston as well as talking about Virtual Reality.
Blaston is out now for the Oculus Quest on the Oculus Store and coming soon to Steam.
To learn more about Blaston, make sure you like them on Facebook, follow them on Twitter, and sign up for any updates here.
To learn more about Resolution Games, please visit their site, like them on Facebook, follow them on Twitter, and follow them on Instagram, and subscribe to their YouTube channel.
Also, check out the Blaston review.
In case you missed the trailer, please enjoy.