You are the star of the movie. In fact, you just got the script to your very own blockbuster that only you can play. In this scene, goons are going to be sent your way to terrorize your village. Everyone in the village will be looking at you, the star, to take them down, save your village, and most importantly, impress the critics so that you can continue your stardom and not be a one hit wonder of talent.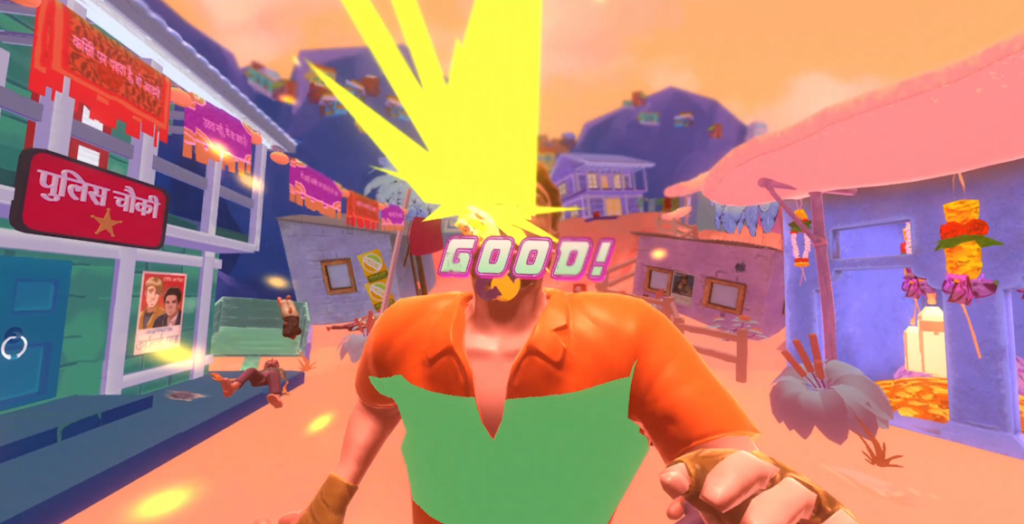 Features include:
ACTION PACKED GAMEPLAY
Battle waves of over 100 goons as you protect the village and its residents from the terror of the local don
Feel the music as your punches generate beats that correspond with sections of the song, making the combat a tool to create an audible crescendo
Encounter a variety of enemies that will challenge you to change up your strategy and keep you on your toes
A DESI WORLD
Immerse yourself in a beautiful village that feels like it was ripped straight out of a Bollywood classic
Watch enemies destroy the environment around them as they slam into walls, crash into nearby objects, and more
Try to find all 10 of the easter eggs and references to Bollywood hidden throughout the world
BE THE BEST HERO YOU CAN
Play repeatedly to improve your rank and see how the critics review your performance, with 8 possible responses
Boost your score by aiming punched enemies towards bonus explosives spread across the level. Every great action movie needs that visual flare
Watch your hands come alive with fire as you unleash epic combos
Are you ready to be the star of this movie? Can you find all the Easter eggs? Can you save the village? Find out when Beat the Beat Up! releases on Steam in May 2021.
Until then…please enjoy…