One of the things I enjoy at theme parks is rollercoasters and rides where you can ride and shoot targets at the same time. Sometimes the rides are just there with no real type of theme, but for the ones that do have the theming, it really can help tell the story of the ride you are about to go on. But with theme park rides, most of the time there is that wait which may or may not make the decision to skip the ride and try again later. When it comes to Virtual Reality, there is no waiting around. You always have that front of the line experience to be immersed in. Virtual Reality is no stranger to having the ability to experience rollercoasters but does Developer Creative VR 3D bring the fun of a rollercoaster along with the thrill of shooting targets and bring the theming? Let's find out with Darkness Rollercoaster – Ultimate Shooter Edition for the PlayStation VR.
As the name suggests, Darkness Rollercoaster – Ultimate Shooter Edition has you riding not just a rollercoaster, but other experiences as well. Now with a name like Darkness Rollercoaster, you can expect some obstacles that will get in your way and this is where you will want to tilt your head to try to avoid any that may come your way. But it's not just experiencing the ride and avoiding obstacles, you will also need to use either both Move controllers or Dualshock 4 controller (as well as being 3D Rudder compatible), as you can use shields, slow down time, and also use the special vision to see all the enemies which after riding some of the rides, I with the special neon vision as almost felt like a different experience.
Now, before you start jumping in to go on a ride and shoot everything you possibly can see, I would suggest going through the practice portion to get used to tilting your head as well as trying to get used to the shooting, slowing of time, vision, and using your shield. Because you really don't want to have what you think is a perfect score only to come up with being hit at the last minute and then realizing that your score could have been higher on the leaderboards then what it actually is. So practice makes perfect.
Once you have the feeling or at least you think you have it all down, you will want to be on the lookout for any targets and as I previously mentioned, using that special neon vision to find some targets that you might miss. You really want to try and do your best so that you can unlock the next level. Besides the experiences, there is a Spectator Mode that will not give you the action of shooting the targets that like to shoot back at you but really allows you to just enjoy the ride that you control the speed of. Also, there is a mode that will randomly combine two of the experiences into one. Of course, shooting targets with your wand is fun, but you can charge up that wand to make more of a destructive shot. But just shooting targets would not be enough and that is why you will have boss battles at the end of each experience to try and defeat. This is where your skills of shooting, charging those shots, aiming, using your shield, and slowing down time all come together nicely.
The world of Darkness Rollercoaster – Ultimate Shooter Edition is broken by different stages that are Fantasy, Adventure Land, Space Land, and Binary Land. So each stage does have its own theming to reflect the stage which I really do appreciate. I will say besides just trying to get the highest score, be on the lookout for targets that will allow you to go on a different path, which is fun in trying to see where everything is so you can try and climb up those leaderboards. So if being the best is what you are striving for, before and after a stage, you can see what your rank is. For me, that gave me some motivation to repeat some of the stages and try to do the best that I could do at them. I will say that probably my favorite stage was Binary Land and the reason for this is it made me feel like I was riding Tron's light cycle and somehow went past a grid barrier to the other side and ending in this cyberpunk type of city. I replayed this stage many times as being immersed in it just felt awesome.
I will mention that there is a special bonus stage that has a familiarity with it that some will find enjoyment in and I did play more than once.
Let's talk about the graphics. Some stages popped while others may find just ok. Some may find that models that were being used might be a little outdated while others may feel that it helps give the stage character. Selecting the different stages did feel a little off as you either had to move back and forth, side to side, or even diagonally. I think it would be helpful to add some different options such as using the Triangle, Circle, Square, or X buttons to be able to turn more effectively. Also, there were some parts when I would try to avoid a few obstacles that I still collided with them which could be a life or death situation depending on how much damage you take. This should be able to be fixed with an update that I hope the Developers do add. I also enjoyed the music that seemed to fit well with the theming of the stages. Nothing too loud and out of place, but some stages did have more bass than others where it needed to.
If there is anything that I would love to be added is additional stages and experiences. The Developer is already working on additional stages that I hope will either be a horror one or would love to see some type of underwater stage in the mix and. Second, adding new type of coaster experiences would be a nice touch. And lastly, I do love that there are leaderboards as that is always nice to come back to and see if someone beat your score, but if there would be a way for us to design our own track, targets, and paths, then being able to share that while keeping the leaderboards would be a blast.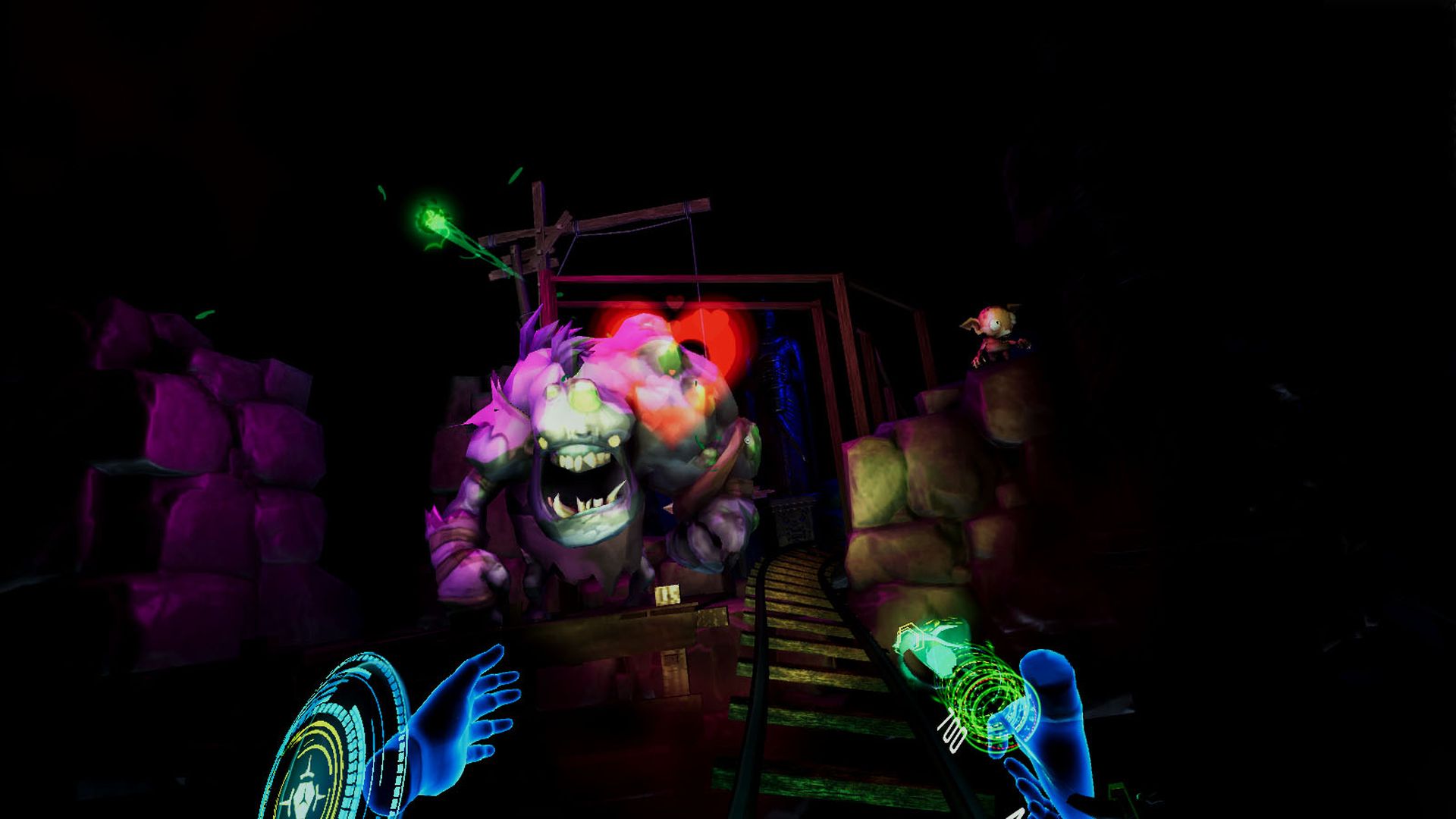 Overall, I had some fun with Darkness Rollercoaster – Ultimate Shooter Edition. It gave me my fix of riding some coasters, being able to shoot at targets while on the move and did pretty well with the theming. Not once did I feel nauseated which is a plus when in VR and having movement such as with a coaster. When the times are crazy like they are and having to stay inside like a lot of us are, it's nice to be able to have that fix that some of us may be missing right about now.
Darkness Rollercoaster – Ultimate Shooter Edition is out now on PlayStation VR. A review code was provided.
To learn more about Creative VR 3D, please visit their site, like them on Facebook, follow them on Twitter, and subscribe to their YouTube channel.
In case you missed the trailer, please enjoy. Until next time, I have some leaderboards to climb.