Road Trips can be a lot of fun. Time with friends and family as you travel to new places and make new memories. But what if you could build your own roads the way you wanted. How do you think it would turn out and what do you think would be the responses from your passengers? Would there be determination or would it be a comedy showcase just waiting to happen? Either way, road trips can be a lot of fun regardless of who you take the journey with. But when I heard that developer, Late Stage Interactive was making a construction-comedy adventure, I had to know more. So I reached out and the game directors, Zach Flores and Ezra Robinson were happy to talk about their newest game, Detour Bus and Virtual Reality.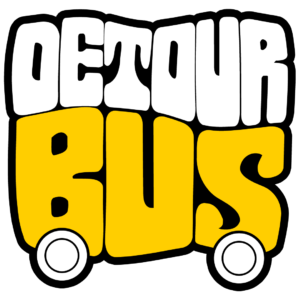 _____________________________________
Interview with Game Directors of Late Stage Interactive, Zach Flores and Ezra Robinson
_____________________________________
Welcome to THE VR DIMENSION. Would you please introduce yourself and what you do at Late Stage Interactive?
Zach: "I'm Zach Flores, a game director and lead engineer at Late Stage Interactive."
Ezra: "My name is Ezra Robinson and I'm one of the game directors at Late Stage Interactive. I also write and produce."
For those who may not be aware, what have been some of the projects you have been a part of?
Zach: "I've shipped a number of VR titles, including Fujii, Ollie, and the just-released Virtual Virtual Reality 2."
Ezra: "Before moving into the VR space with Detour Bus, I worked in tabletop gaming at Prospero Hall. Some of my projects there were The Fanny Pack Game, Disney Villainous, Nosedive, and The Funkoverse Strategy Game. My time in tabletop heavily influenced how I think about the relationship between games and toys, and made me value experiences that could be shared across age groups, both of which influenced Detour Bus a lot."
Growing up, what was the one game you could base your life on, and what was the one VR experience you had that made you want to work more with Virtual Reality?
Zach: "Guitar Hero 3 was my favorite game growing up, it was the first game that I remember spending lots of hours on, and it started my interest in music. For me, playing Accounting+ inspired me to dive deeper into virtual reality. The interactions and jokes in that game made me start thinking about all the options you have available in VR. I think it captures a lot of the things that make VR so interesting to design and play.
Ezra: "LEGO Star Wars was the defining game of my childhood, but Zoo Tycoon comes a close second. It was actually the creative space of small prototypes we and our friends were making that made me want to develop for VR full time, more so than any major titles."
Your newest game is about a psychedelic road trip across post-infrastructure America called Detour Bus. What can you tell us about it?
Zach: "Detour Bus is a casual, virtual-reality, construction-comedy adventure, where players build ridiculous winding highways around themselves, to take the Flowers family on a road trip across post-infrastructure America. The game combines a goofy core mechanic – snapping together inconvenient road pieces – with a road story about family and evil tunnel oligarchs, told through dialogue that reacts to how you're building.
Ezra: "Accessibility and approachability are also big priorities of ours. Detour Bus was created to explore what accessibility can look like in VR, both mechanically and aesthetically."
So it really is construction-comedy?
Zach: "Yes! A lot of construction or building-centric games are all about efficiency and planning out systems, but we wanted to channel construction as a purer creative force in Detour Bus, one full of joy. So randomness will make Detour Bus players build ridiculously inefficient roads, embracing the wackiness and learning to go with the flow."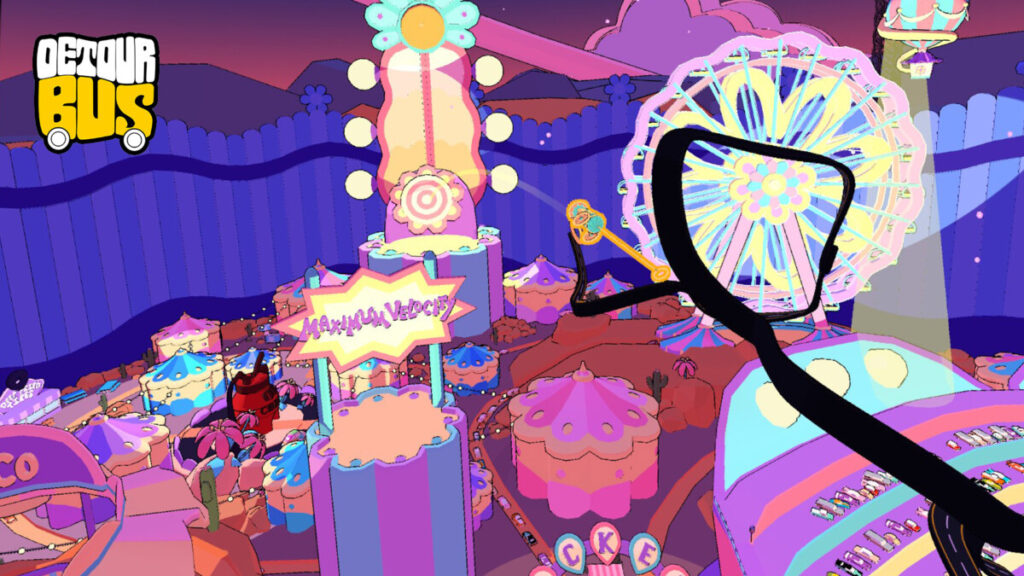 What can you tell us about the Flowers Family and are they based on anyone you know?
Ezra: "In writing, you obviously always draw from your own experiences, and we've joked in the past that the Flowers are Zach's family, hence the last name, but when creating the characters we weren't looking at any real people in particular. Because, like all road trip media, the game is an exploration of the conceptualization of the United States, the main characters were actually born from examining five American political perspectives."
What are some of the landmarks that the player will come across and are the controls easy enough that anyone can pick up and play?
Ezra: "Players will get to visit places like the Mt. Busmore Monument, The Busstock Festival, Yellowbus National Park, and the Heart of the Buscano. Are you sensing a theme?"
Zach: "The controls are designed to be super easy to pick up. You place roads just by positioning your controllers and lock them in place with the triggers. That's the only button you'll ever press. Even once you unlock special pieces with more powers later in the game, they still follow these rules.
The rest of the buttons on the controllers are reserved to provide accessibility options for those who need them: things like artificial locomotion, one controller mode, a no-reach mode, and even a mode that doesn't rely on controller tracking at all."
One of the things that caught my eye is how the voice-over from your passengers responds to how you build? This seems where some of the comedy will come into play. What more can you tell us about this?
Ezra: "The very first demo of Detour Bus we showed anyone already had voice-over in it, we knew it would be really important that players got to know and care about the characters they were helping. The different family members on the bus all have their own interests and wants, in addition to developing an indirect sassy repartee with the player. We have a stellar cast, with a couple of names you'll recognize, who all killed it."
Without giving too much away, what is one of the secrets that players will be able to do in the game that has not been mentioned yet?
Zach: "Go fishing."
When it comes to VR, being able to be immersed in VR is always a strong point for the player. What do you feel are the top three things that make for the best immersive experience for the player?
Zach: "We've found the most important factor for immersion is multi-level feedback on all player actions – that's visual, aural, and haptic responses to everything you do. Employing all three available senses in VR ties people into what they're doing, and is far more important than any measure of fidelity."
This is a two-part question. The art style looks like it could really come alive in a way that may not have been seen in VR before. What can you tell us about the style being used? And when watching the trailer, there is something about the sound that just seems to really fit with everything. Can you tell us more about the sound that was used in the game?
Ezra: "The art style was developed by our Art Director, Quiana Dang. The main 'character' being a microbus from the 1970s and Daddy Flowers' nostalgia toward that era, led her to explore psychedelic art, particularly concert posters, the Yellow Submarine movie, and illustrators like Peter Max.
The sound is anchored by an original score composed by Luca Mendoza and recorded live by some amazing funk and jazz players. He approached the levels more like songs on a record than as background music, and they also draw influences from all across the 1970s, involving rock, classic country, disco, and of course psychedelia. The rest of the audio design is also super grounded in reality, using almost entirely real recorded sounds and foley."
Was there anything that you find challenging when making a game like Detour Bus for VR?
Zach: "We're subverting a lot of tropes that have become expected in VR, the main one being that you don't have hands in Detour Bus – no grabbing or holding things – you interface directly with the road pieces, another being the miniature scale of the world relative to the player. Getting our controls perfect for our game required a lot of rigorous playtesting because there aren't many examples to draw from."
The game is coming out for Quest and Steam VR. Do you see it coming out for other platforms such as PlayStation VR/2 and Viveport?
Ezra: "With the small development team we have, we're focusing on getting the game out into the world on Steam VR and Oculus, but we would love Detour Bus to reach as many people as possible down the line."
If you walked through the door into THE VR DIMENSION into the world of Detour Bus but had to be people from other time periods, besides yourself, who are the other members of the Flowers Family that you are going on this road trip with and why?
Zach: "Kermit the Frog and Fozzie Bear are the first and only people who come to mind as road-tripping buddies. I don't think you could pack more positivity and a better road-tripping experience into a bus than them. Everyone in the Flowers Family could benefit from having them around."
With the content for Virtual Reality continuing to grow, what would you say to someone as to why they should experience Detour Bus?
Ezra: "Detour Bus is a VR game you can share with everyone you know, no matter their age, experience level, or ability. We hope its unique mechanics can spread the magic of VR to those previously unlikely or unable to put on a headset, as well as offer current VR fans a relaxing, story-rich option in a marketplace dominated by high-action."
I really want to thank Zach and Ezra for taking the time out of their day to give us a closer look into Detour Bus and talking about Virtual Reality.
Detour Bus is coming to the Quest/2 via Oculus App Lab and Oculus Rift/S on the Oculus Store and Steam VR in the Summer of 2022.
To learn more about Detour Bus, please visit the site, follow them on Twitter, follow them on Instagram, and subscribe to their YouTube channel.
In case you missed the trailer, please enjoy.