You know you are having a bad day when it's just you and three others are sitting around a table in a saloon playing for some high stakes. In fact, those high stakes are your own life. The rules are simple, draw some cards and if you survive, you get paid not only $1.00, but you still have another minute to think about your hopes and dreams as you try and take out the other player. However, if you don't succeed, the money, life, and your hopes and dreams might as well be six feet under.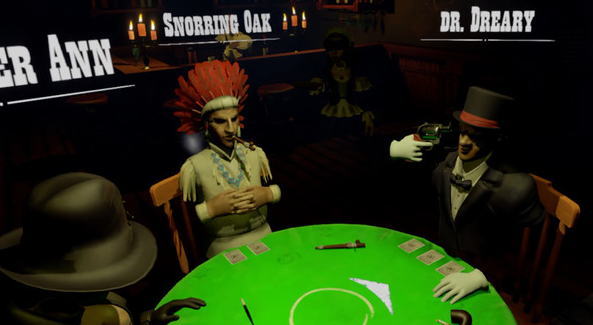 Features include…
Opportunity to play with AI, where each AI has its own behavior.
Sticky gameplay brings out adrenaline and fear of self-shooting.
Great replayable abilities.
Six game characters.
Three NPC you can interact with (shoot them! Everyone loves to shoot).
Atmospheric location – players find themselves in a secret old bar.
Irritating piano music (a good reason to kill the pianist!).
Many cards can change the rules of the game.
So will you be lucky enough to survive? Will roulette be in your favor? Are you ready for the highest stakes of them all? Find out with Bullet Roulette, out now on PlayStation VR and Steam.
Until then…please enjoy…