So you have your favorite VR headset that you have just received or have had since day one, and you love it, you embrace it, and it is your new reality. But what do you do when you need to give your Virtual Reality headset a way to display it or add to your experience? Sure, you could click on the first ad that you see or look into a reliable source you can trust. All you know is that you want the best at what it does without any comprises or shortcuts, that is why I am here to discuss KIWI design. Not only do they have quite a bit of accessories selection for the Quest 2, such as Head Straps, but others such as fans for the Valve Index. Some of their products you may have seen and others, you may not have known about them.
I would like to talk about three of their products that get the job done. I will say that when the PlayStation VR2 headset was about to release, I was looking for a stand. I didn't want anything fancy, just something that would display the headset and keep it off the floor or the box that it came in. So I looked and I found it, the KIWI design VR Stand. Not only does it display the PlayStation VR2 headset nicely, but it also has a place to hold the cable, Sense controllers, and the Pulse 3D Audio headset.
KIWI design VR Stand
What you will notice about the stand is how simple, yet effective it is. Not only is it very simple to put together, but it has everything you would need to display your headset, controllers, cables, and audio headset. At the top where the headset would rest, has this non-slippery surface so you know your headset is going to be safe while it is displayed and will not scratch it.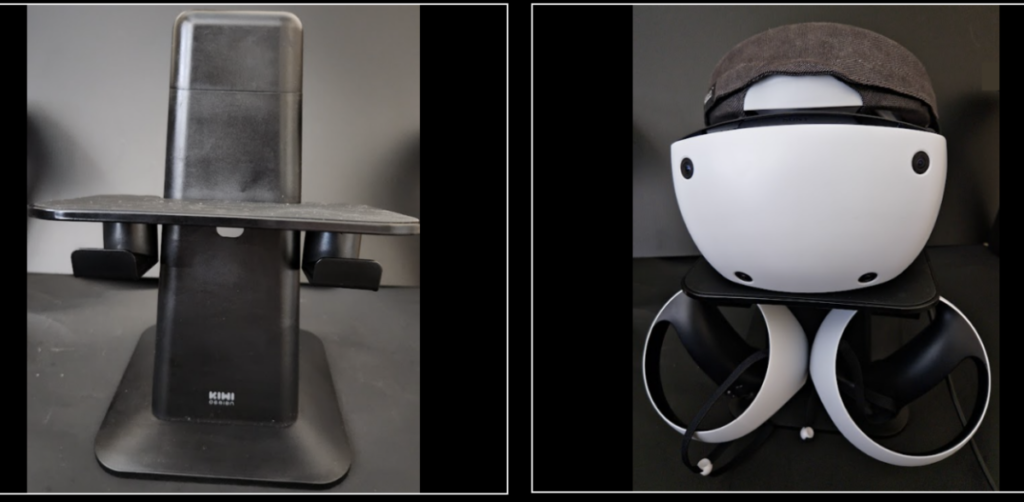 When looking at the side, right in the middle, your audio headset can rest as well as the cable. This comes in handy if you have the Oculus Link cable when not in use as you are displaying the Quest 2 headset, for example, or you want to be as neat as you can when displaying your headset. So as you can see, simple, but effective.
The stand also comes in White, so depending on your color scheme for your gaming setup, you have a choice, plus, the price is not bad at all.
The next two items I was sent for review purposes, but they have to do with the Quest 2 and it has to do with audio. If being immersed in our favorite games and experiences is important, sound is as important to help keep the immersion going. With the Quest 2 headset, it does come with an audio jack so you can plug in your favorite wired earbuds or headset. So I have been using a pair of wired earbuds with a mic since day one. I am not sure if any of you have ever tried this method, but what usually ends up happening is that one of the earbuds would come out or both, plus, the wire is just there. Sure, you can use a Bluetooth headset, but I went in a different direction.
KIWI design Clip-on Headphones –
Needless to say, it was time for a change. So if you have the original head strap that came with the Quest 2 or you elected to buy the Elite Head Strap or even the Elite Head Strap with battery, KIWI design offers an amazing product that you simply clip on and go.
These clip-on headphones are defiantly a step in the right direction. What you see is what you get and that includes the box it comes in with a simple message, "Make Things Better." I mean, you really cannot get more simple than this box design and the message just makes you want to make things betters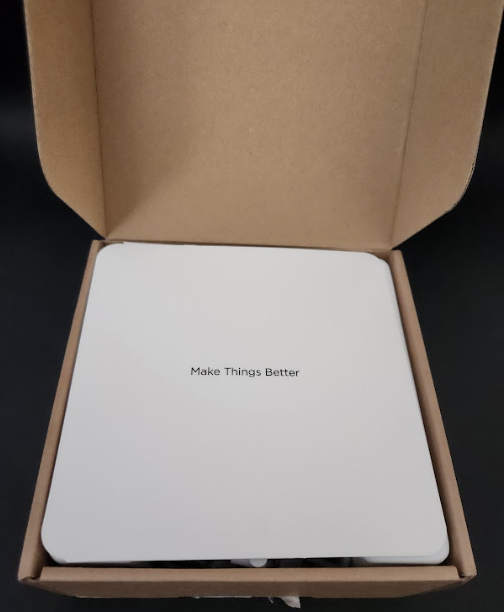 What's inside the box is something that maybe at first glance, one may think hmmm, but it's when you actually hold them that you then start to go to "hmmmmmm, maybe they are on to something."
What you have here are two earpieces that have a cable that comes out of each earpiece to the audio jack that plugs into your Quest 2. But the touch of the earpieces is just part of the magic. They have this cotton feeling to them that are squeezable. This means that the more comfort you have, the longer gaming sessions you can have.
The Clip-on headphones have adjustable clips that just clip onto the sides of the head strap, which have 14° swing angles, 147° adjustable angles, and 25mm slide distance, you can customize the position to your liking. The headphones open up to 60° for easy removal and clamp in at 60° for optimal sound quality. And you may be asking yourself, how do they sound? The sound really is impressive and covers my ears and solves the problem of having a wired headset or earbuds with the chance of coming out of your ears or having that cable just get in the way.
Comfort Battery Audio Head Strap –
Now, let's say you have had your Quest 2 since day one like many of us had or you just recently received one. Either way, congratulations as you are in the club. We all know that the battery life of the Quest 2 by default gives you 2-3 hours of use. This can work for many, but for those that want that extra power and want to upgrade the audio, you could get separate accessories and create a Quest 2 Frankenstein (which there is nothing wrong with that) or you could go all in with the Comfort Battery Audio Head Strap. Here, you get the best of both worlds of battery life and audio.
Like with the Clip-on Headphones, you get a simple box with the message "Make Things Better." But inside, you get to finally see what you have been missing from your Quest 2 experience, the Comfort Batter Audio Head Strap.
Inside is the well-packaged unit where you can see a couple of things going on. For one, you see the charging port and the four dots that light up as you are charging. And two, right down the middle is probably the most comfortable head strap for the Quest 2.
Inside you will find instructions, the head strap, the upgraded audio headphones, and the KIWI design branded microfiber cloth.
Installation is pretty straightforward. Just remove the strap from the Quest 2, insert the head strap through the top slot, and snap on the new head strap. It really is that simple.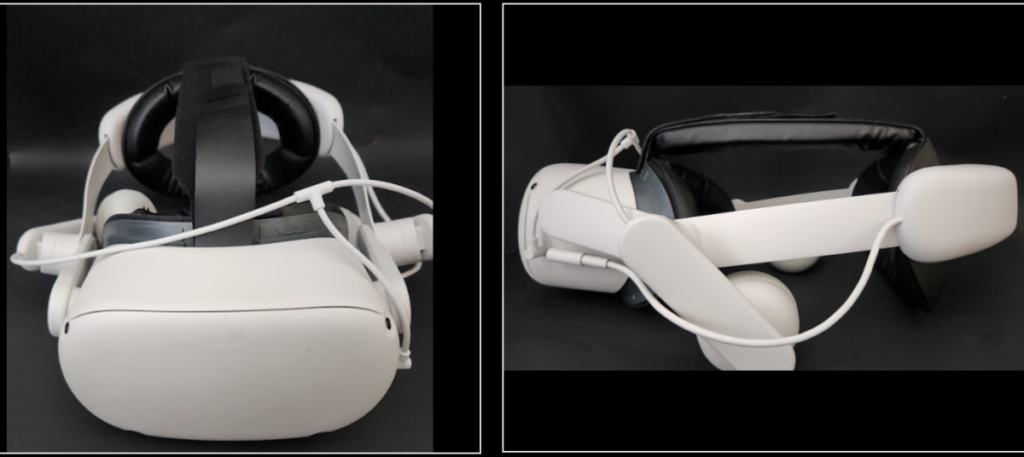 As you can see, the wire for the audio sets at the top of the headset, and you have the very comfortable head strap that sits on top and the back of your head, and then the headphones are the same as the Clip-on Headphones but are not detachable. But remember, this also comes with a battery. Unlike the Elite Strap which has a 5200mAh battery, the Comfort Battery Audio Head Strap comes with a 6400mAh battery for even longer gaming sessions.
But another experience you get to have is that hinge that can flip up to 52°, providing the ability to check your surroundings without fully taking off the headset and extra convenience for users with glasses. Meanwhile, the headphones will tilt open and provide a smooth wearing experience. And then when you add it all with the audio headphones with 40mm drivers that produce the sound to help make your immersion in Virtual Reality experience even better, you can't go wrong here.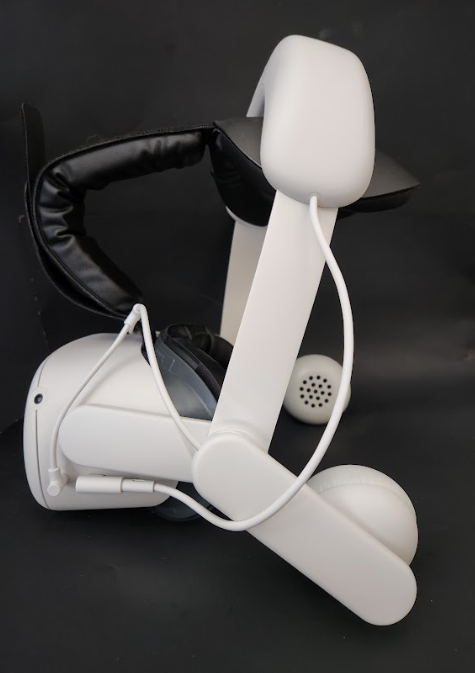 Overall, KIWI design provides some excellent products that will add to your VR experience for the better. I found that comfort is key all while making things better.
To order any of these products and many more with KIWI design, please visit their site. Also, make sure you like them on Facebook, follow them on Twitter, follow them on Instagram, and subscribe to their YouTube channel.
Until next time, I am going to go be comfortable and be immersed in Virtual Reality.