If you could be a detective, how well do you think you could solve the clues of the puzzle? Do you think it would be a walk in the park or would it take more than meets the eye? What if your main cases were not of the normal, but of the paranormal? I think if given the opportunity to try to solve a case of the paranormal kind might make the outlook on life that much more interesting. So when I heard that developer LunaBeat was making a sequel of their Paranormal Detective: Escape from the 80's, I had to know more. So I reach out and Laura, the co-founder was happy to talk about their newest game, Paranormal Detective: Escape from the 90's, and also about Virtual Reality.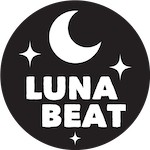 _____________________________________
Interview with Laura, the co-founder of LunaBeat
_____________________________________
Welcome to THE VR DIMENSION. Would you please introduce yourself and what you do at LunaBeat?
"Hello! My name is Laura, I'm the co-founder of LunaBeat and I make games with my game dev partner, Scott. Usually, we come up with the ideas and mechanics for the games together, then I put together the visual assets and sets, then Scott comes in and makes them all interactive. It's a good team setup!"
Growing up what were some of your favorite games you played and what was that one VR moment that you knew that Virtual Reality was the way to go?
"Ooh tough one! I loved Mario RPG, Legend of the Seven Stars, and Super Mario World. That's not very niche, is it? Growing up it was whatever I could get my hands on- lots of early PC educational games (Broderbund shout-out!), Oregon Trail, whatever was for rent at Blockbuster. When I was a little older I got to know some more offbeat classics- Dance Dance Revolution, Chibi Robo, Katamari Damacy, and then just general mayhem games- GTA, Saint's Row– all excellent games.
I knew VR was the way to go when Virtual Boy arrived at our local Blockbuster in the 90's! LOL. The tech was underwhelming, but we've come so far since then. I got a Vive a few years ago, and the immersion of the new headsets is incredible. "Accounting" really showed me how you can tell a fun and lively story in VR, and "Job Simulator" convinced me of all the really cool gameplay interactions that were possible now in VR that weren't available before."
LunaBeat has been making games in Virtual Reality for a while now with games like Kris Kringle's Christmas Village, and Cinderella VR. What do you feel makes VR gaming to the next level?
"Definitely the immersion! I've seen players try all kinds of VR experiences, and the one thing that creates that "wow" factor is when you're really convinced you're in the virtual space. I've fooled myself a few times over the years too- I tried to toss a real candy bar wrapper into a virtual trash can a while back. Once your brain is convinced you're in a different space- that's the magic key!"
Back in 2019, you came out with a game called Paranormal Detective: Escape from the 80's and you have the sequel coming out called Paranormal Detective: Escape from the 90's. What can you tell us about this series and what were some of the influences behind them?
"Paranormal Detective started out as just the single title- the 80's game- but we had such a nice response to it that we decided to make a sequel! It's basically the story of a down-on-their-luck detective that believes in ghosts and paranormal stuff- very Agent Mulder from X-Files. He never gets recent crimes to investigate, so he goes through cold cases and tries to find people who have gone missing in strange ways. He's also investigating a strange phenomenon, the Nexus corporation, which he sees more and more in his cases. We have a plan sketched out for the third game where the detective finally sorts out the whole conspiracy! But that's not for this game yet.
So in the 80's game, the detective went after a kid who went missing in the 80's, and you explored his old room which was filled with retro 80's toys. We wanted to do that same retro idea with the 90's, but thought moving it to an arcade would be a fun change of pace so we're not stuck in a house all day. Plus, you'll have arcade games to play, which would be super fun in VR!"
Paranormal Detective: Escape from the 90's looks like you could get lost in playing some of the arcade games. Is there a limit to the number of times that you can play them and what are some of the games that can be played?
"Not at all! Well, if you fish everything out of the claw game, that might be the end of that, and you might have to reload the game, haha. But you're free to play the games as much as you like. We're planning on making a story mode with the escape room puzzles and the whole story progression with the different worlds, and then a free-play mode where you can just play the arcade games and have fun!
So far we've got a claw game, skee-ball, air hockey (with an AI opponent), basketball, Bomb-it (from our 80's game), and we're also adding in pinball, a coin dozer, and a few others. Definitely enough to keep you busy!"
What can you tell us about Delia, the teen that disappeared?
"Delia is a little sister to one of the arcade's employees. She's 12, so too young to work at the arcade, but she wants to be cool like her big sister. Rumors have been flying around about the arcade being haunted, so one night, Delia breaks into the arcade to investigate- and is never seen again. The police tried to find her but never did, and the mall that housed the arcade had to shut down due to the bad publicity."
The theming seems to be pretty well done of the 80's and 90's. Were there some things that you wanted to add to these games, but couldn't due to unforeseen circumstances?
"Thank you! Absolutely- and the unforeseen circumstance is usually time. We have huge lists of features and references and fun stuff to put in our games, but there's only enough time to add in so many. Adding in a fun throwaway feature isn't simple- it takes the time away from the main storyline to design something new, then you have to integrate it and make it interactive, then bug test and optimize it to make sure it runs smoothly in the game and doesn't break anything else.
We've been porting our games to the Quest, and optimization is a real issue- so we've had to remove some decorative assets entirely from the Quest version. Bit of a bummer, but you can still play and get a sense of the space without every last prop."
Without giving away too much, what can you tell us about some of the puzzles in the game?
"They're really fun! My partner Scott designs the puzzles and he does an incredible job- he's a big escape room fan and comes up with really clever and integrated puzzles and solutions for our specific themes and props. Once he's got all the puzzles figured out, we work together on the assets and interactivity to make them work in VR.
The puzzles are very escape-room inspired- so if you play a lot of escape rooms, you'll be right at home! There's lots of logic puzzles, ciphers, and deduction. If you're like me and need a lot of hints, we have an in-game hint system via the detective's phone, and a complete solutions guide on Steam to help you through the trickier puzzles."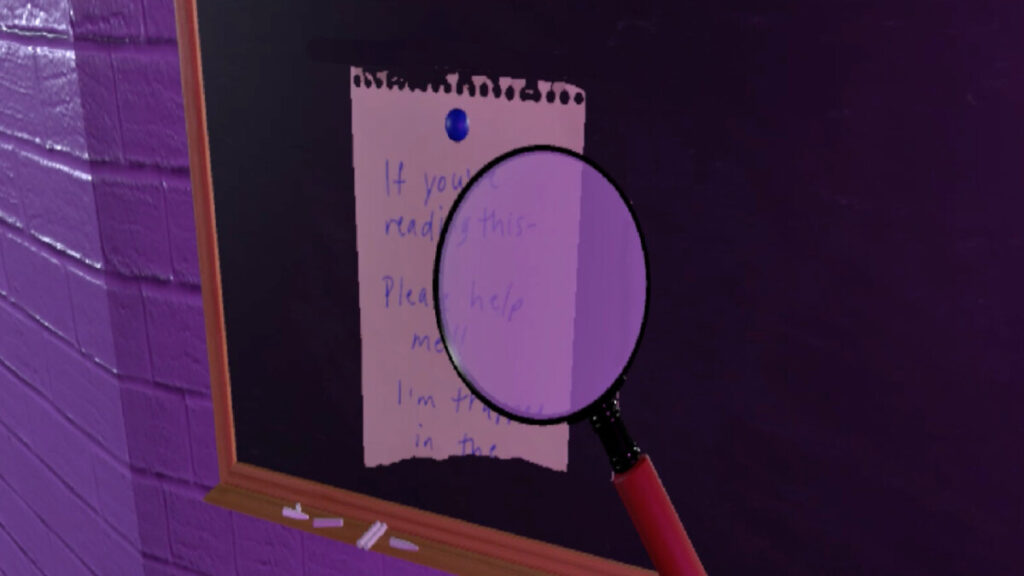 Are there possible different endings in the game
"No, just the one- victory! Or, I guess defeat is also an ending if you can't escape the arcade."
Did you find that there were some sounds that were more challenging to try to make sound as authentic as possible that you were not expecting?
"This is definitely a challenge, especially with retro props that a lot of people are familiar with. We do spend a lot of time on getting the sounds right- I think we did a good job on the DVD player and the skeeball machine when the balls are released. We definitely have a challenge ahead of us getting the remaining arcade machines to sound right- a lot of pinball, coin dozer, and just button-masher sounds to get going!"
List the top 3 90's objects that you are proud of that made it into the game that you cannot wait for the players to see?
"Our "GameDude" is pretty cool and we're working it into a puzzle.We have a little Tamagotchi in the prize counter, and I put some rollerblades in, just for flavor. You can't do anything with them, but they really add that 90's flair! I'm also hoping to paint a Kool-Aid man inspired mural on the wall if we have time. Oh yeah!"
Are there any plans to bring the Paranormal Detective series to other platforms such as Oculus, PlayStation VR, and/or Viveport in the future?
"Yes, definitely! Steam is the first on the list, then we'll be publishing on Oculus and Viveport. Once those are up we'll port to the Quest. We can't make any promises on the Playstation VR, but it's definitely on our wish list!"
If you could tell your younger self three things about making games in VR, what would they be?
"1 – It's gonna be so fun!
2 – Think carefully about the games you make- they take a long time to finish! Make sure the game has a good hook.
3 – Try to get to market a little sooner! There's always an early mover advantage with new tech."
If you opened the door to THE VR DIMENSION and could be anyone from any time period, but would have to be the detective, who would it be and why?
"What a fun question! It sounds silly, but I might have to go to the 90's. The 80's were cool, but the 90's vibe was turned all the way up to 11! Technology was getting awesome but smartphones were still a ways off. It would be fun to hunt down criminals in the early internet era, it would be very Hackers meets X-Files meets The Net, with old flip phones and huge laptops and discmen. Very rad."
What's next for you and LunaBeat? Possibly the trifecta and making Paranormal Detective: Escape the 00's?
"We're not totally sure! Usually, after we publish a big game, we do marketing rounds, do all the ports, take a little break, then re-convene and figure out what to do next. We've talked about a 3rd Paranormal Detective game, but we also love working on non-VR games. We published Rainy City: Pandemic last year and have a few more ideas for PC/Mac games- maybe a point and click adventure, possibly a deckbuilder, maybe even PC ports of our VR games so even more people can play Paranormal Detective!"
With the content for Virtual Reality continuing to expand, what would you say to someone as to why they should experience Paranormal Detective: Escape the 90's?
"There's a ton of amazing content out there for sure- but our game is nostalgic, it's cozy. It'll remind you of your old home arcade, and you can just jump right in and start messing around with your favorite arcade game favorites. It's fun, intuitive, and it'll have lots of goofy references, acting, and jokes.
It also has some quite tricky and clever puzzles- it's very satisfying when all the clues click into place. Finally- we'll have another music video at the end! It's gonna be so much fun. I can't wait to share the full game!"
I really want to thank Laura for taking the time out of the day to give us a closer look into Paranormal Detective: Escape from the 90's as well as talking about Virtual Reality.
Paranormal Detective: Escape from the 90's is coming soon to Oculus, Steam, and Viveport. You can also back the Kickstarter project now!
To learn more about LunaBeat, please visit their site, like them on Facebook, follow them on Twitter, follow them on Instagram, and subscribe to their YouTube channel.
In case you missed the trailer, please enjoy.