There is something about the game of pinball that allows you to get your mindset and using the flippers to hit the pinball all around the table and racking up points. The tables themselves have some of the best themes from Star Wars to Batman and each one can have a different connection to certain people that it can just draw you in and before you know it, the time has just passed by. But does Developer Zen Studios bring home the satisfaction of pinball and Virtual Reality together? Let's find out with Pinball FX2 VR for the PlayStation VR?
Back on November 29, 2016, over a month of the PlayStation VR release, Zen Studios brought the idea of the love of Pinball that has been played from Arcades to PC to consoles to even our phones today and did something special. They brought the feeling of good action Pinball but brought it into Virtual Reality. But you couldn't really be in the game per se of being in the table, so what did they do? They brought the world of that theme of that table to life and had it surround you in ways that normal reality could not and this is a very beautiful thing.
When you first start out with Pinball FX2 VR, you are welcomed into a home that personally I would not mind having myself with this mouth opening view with three Pinball tables. Now in front of you, you will see a T.V. that will give a description of the tables that you own as well as your options. The Pinball table that is the one closest to your left is where you can put your favorite table, while the other two will house the reaming tables. While Pinball FX2 VR only comes with three tables Mars, Epic Quest, and Secrets of the Deep, there are additional packs that you can get that include more tables. Season 1 pack includes five tables: BioLab, Paranormal, Earth Defense, Wild West Rampage, and CastleStorm. There is also The Walking Dead table that is a separate purchase as well as the Universal Classics that include E.T., Jaws, and Back to the Future.
The only controller you will need is the DualShock 4 and it works as well as you would hope as you use the L2 and R2 to control the left and right flippers. But you have a decision to make. Sure you could jump right in playing on your favorite table or go and check out the leaderboards. These leaderboards will show you after you play at least one game, your ranking as well as how you did against your friends as well as against all of the other real players who have played. I love this as it gives you some goals to try and aim for. Once you see who you need to knock off, it's now time for some Pinball. But which one? That is a decision for you to make.
Main Game –
MARS: What will we find when we finally land on Mars? Explore the red planet using the latest space technology, and uncover the ancient secrets hidden within.
Epic Quest: It is the sworn duty of every knight to seek out evil, defeat it, and take its stuff. One such knight is Max, whose enthusiasm for combat is surpassed only by his love of rare and valuable loot. Join Max as he battles hordes of evil (or just evil-looking) monsters, rescues, a wealthy princess and accumulates the loot and XP that make good worth doing. If Max suffers a defeat, never fear! He will return in the next game with all of his hard-won loot and experience levels intact.
Secrets of the Deep: Beneath the waves lies a mysterious and beautiful world filled with strange creatures and priceless artifacts.
Season 1 Pack (5 Tables) –
BioLab: Caution. Biohazard! Rescue creatures and unravel the mystery of the missing cookies in the Mad Scientist high-tech genetic laboratory!
Paranormal: As a paranormal detective, your job is to investigate mysterious and supernatural phenomena. You'll have your hands full with hauntings, weird creatures, and inexplicable lapses in the laws of nature! Even the silver ball is not immune to the erratic forces at work within this table.
Earth Defense: These robots are not friendly and servile household helpers of the Atomic Age, but rather hostile alien machines trying to conquer the Earth! Stop them at all costs!
Wild West Rampage: A stranger arrives in the town of Rackton Point, earning the ire of the crooked Sheriff Evans and his nefarious gang. Hit the frontier as Cindy, a tough-as-nails bounty hunter with a bone to pick with Evans, the crooked sheriff of Rackton Point.
Castle Storm: From Zen's own epic medieval adventure CastleStorm, the heroic knight Sir Gareth returns once more to protect the Kingdom from the relentless hordes of vicious Vikings and their raging leader Chief Ramhorn.
The Walking Dead: Zen Studios, Telltale Games, and Skybound Entertainment partner to create an all-new table based on The Walking Dead, 'Game of the Year' winning series.
Universal Classics –
E.T.: Experience the heart-warming bond between E.T. and Elliott through a series of magical events based on the beloved film.
Jaws: Just when you thought it was safe to go back in the water…take on the terrifying great white shark in Jaws Pinball.
Back to the Future: Great Scott! Go behind the wheel of the DeLorean time machine on this pinball table based on the Back to the Future movie trilogy.
So as you can see, there is plenty of Pinball fun with the total of the twelve tables. But as I mentioned earlier, the surroundings of the table that are brought to life can be a pleasure and a curse in the same. Hear me out here. It's awesome to be playing, for example, the Back to the Future table or The Walking dead and see the DeLorean spin out or a zombie trying to get Clem in Virtual Reality is really amazing even when you lose a ball. But me talk about the curse here for a moment. As awesome as it is to see not only to play Pinball on these themed tables that are done extremely well and see the additional content that you can play on these tables, such as the upper level on Paranormal, but the curse can come from the distraction the surroundings can cause. I am not saying this is a bad thing, but when you are playing Jaws for example and you are trying to concentrate on the table and you start to hear that music and you can see Jaws' fin coming up on the floor, it's something that you will not be able to experience in non-VR the way Zen Studios has perfected it here.
The sounds for each table are spot on from the dings to the bumps to the ball hitting the bumpers back and forth as you are racking up the points, but the additional sounds, especially from The Walking Dead and Universal Classics pack, brings the characters and movies to life. Graphics are also very crisp and detailed. Not only are the tables and surroundings greatly done, but if you can take your eyes off the table for a few, check the outside as well. Seeing the Clock Tower brought me back to that moment in the movie with Doc Brown and Marty McFly just as the beach of the town of Amity in Jaws is shown on the outside. You can tell Zen Studios took a lot of time and put a lot of heart into their work which they could have easily just thrown something together, but they didn't, so thank you for that.
There is just one thing I would love to see more of and that is additional tables. I know it may be a licensing issue, but playing Star Wars Pinball or Avengers would be awesome in VR.
At times when we all need some time to regroup and take some time for ourselves regardless of what life may throw in our direction, it's nice when we can get that time and escape, but it sure is nice to escape within the escape and Zen Studios shows what it does extremely wells and steps it up with the presentation and a way to get away with some Pinball in Virtual Reality.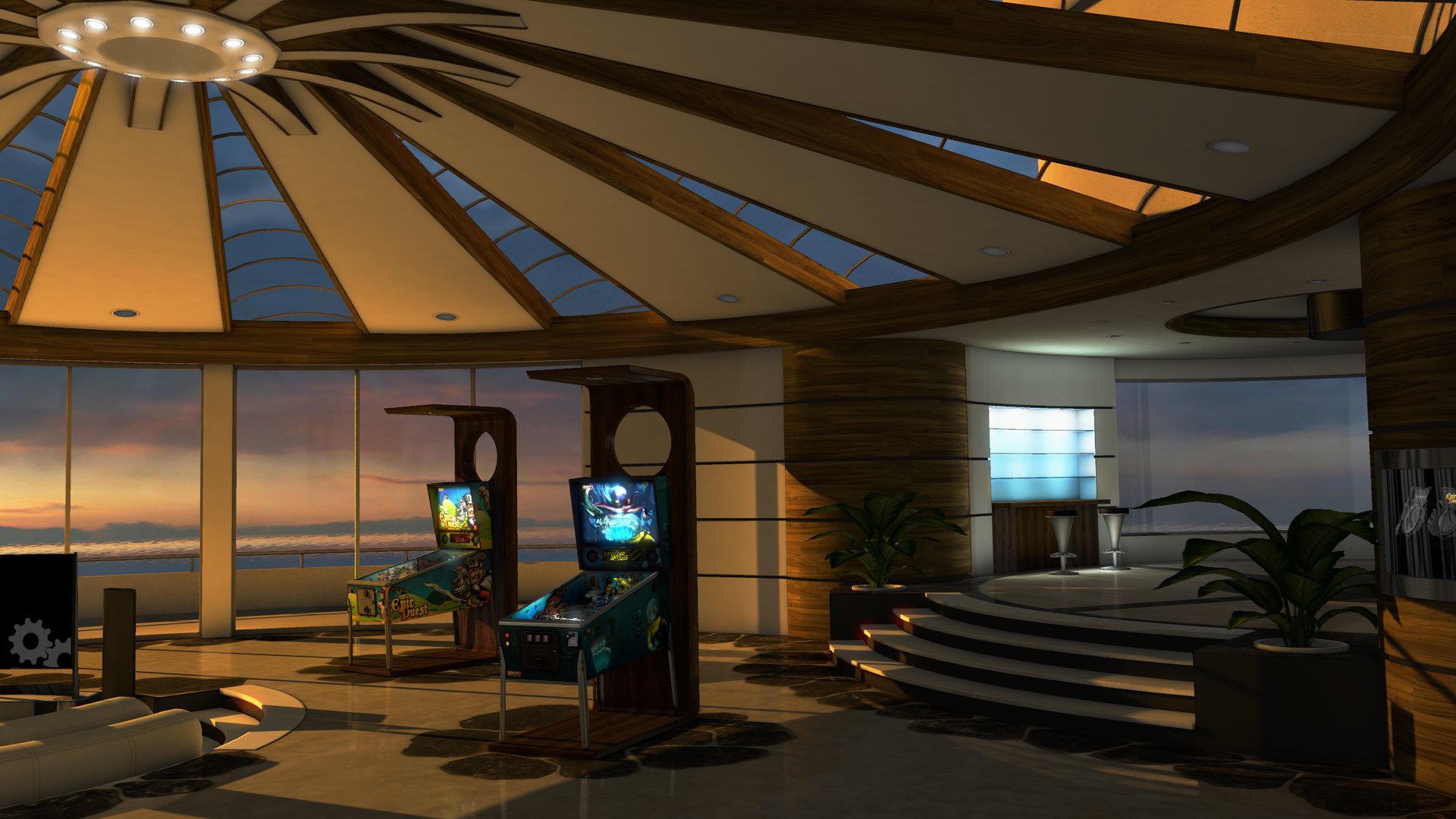 Pinball FX2 VR is out now along with The Season 1 pack, The Walking Dead table, and Universal Classics pack on PlayStation VR and is also available on the Oculus Quest, Oculus Rift/S, Oculus Go, Gear VR on the Oculus Store, Steam, and the Microsoft Store. A review code for the Universal Classics pack was provided.
To learn more about Zen Studios visit their site, like them on Facebook, follow them on Twitter, follow them on Instagram and subscribe to their YouTube channel.
In case you missed the trailer, please enjoy. Until next time, I have some leaderboards to climb.
Mr. PSVR, June 10, 2019, theplaystationbrahs.com