From the spectating to specs patents that have been released since 2019, speculation of what PlayStation VR2 started from what it would look like to the price to when it would be released, a lot of people, including myself, have been anticipating Sony's newest Virtual Reality headset. Even back in 2019, there was a rumor that Resident Evil 8 would have a mode for PlayStation VR. We have seen the footage of some of the upcoming games, including the enhanced Star Wars: Tales from the Galaxy's Edge and DEMEO. But now, it looks like today is the day many of us have been waiting for as we now have a release date and price.
First, let's look at what will be included with $549.99 PlayStation VR2:
PlayStation VR2 headset
PlayStation VR2 Sense controllers
Stereo headphones
Honestly, I like the overall design of the box with the PlayStation symbols, the PlayStation blue trim at the top, and how the name is in that bold black. It really does complement the device.
Back in January, we saw the Horizon Call of the Mountain trailer, and just watching the trailer, playing this on PlayStation VR is going to be immersive and I can't wait. But, you know how Sony loves to do bundles and PlayStation VR2 will not be left out as Sony has announced the PlayStation VR2 Horizon Call of the Mountain bundle.
This $599.99 bundle includes the following:
PlayStation VR2 headset
PlayStation VR2 Sense controllers
Stereo headphones
PlayStation store voucher code for Horizon Call of the Mountain
And this bundle looks good as well with the Horizon Call of the Mountain wrapped around the box.
But just like PlayStation VR before it, you cannot forget about charging your Sense controllers, and for that, you will need the official PlayStation VR2 Sense controller charging station. This way, free up those ports and not having the PS5 left to charge them. The charging station will be $49.99.
I for one will have to get this with its simple and effective design.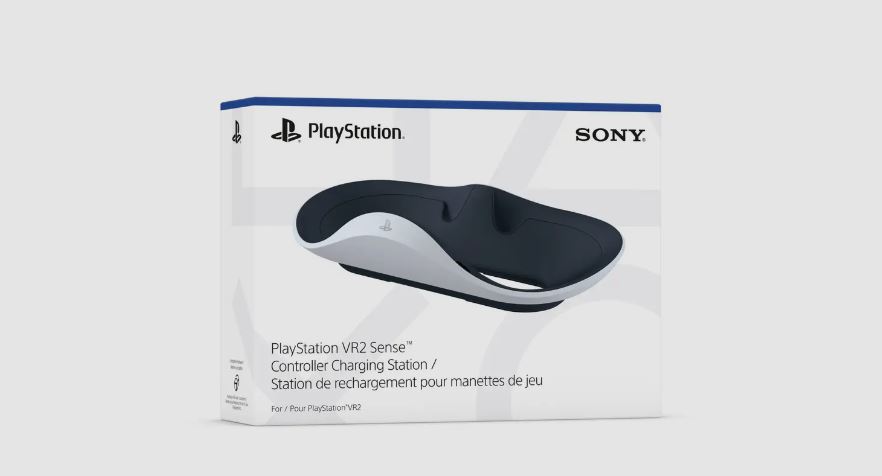 Many players cannot wait to step into the world of what Sony will bring with PlayStation VR2. And yes, at first glance, the price seems high and you would be right to think so. But let's take a step back and see what the PlayStation VR price was when it launched. When it launched, it was $399.99. And from the moment we opened the box and saw how it was presented to putting on the headset and jumping into that shark cage with PlayStation VR Worlds, many of us understood and were happy with the price while some still waited to see if it would catch on. And yes, did it ever catch on. Now, with the price point of $549.99 – $599.99, the technology is more advanced and includes the following:
PlayStation VR2 headset:
Resolution – 2000 x 2040 per eye (4K HDR)
OLED
90Hz, 120Hz refresh rate
Field of View (FOV) – 110°
Eye tracking
Motion sensor – Three-axis gyroscope, three-axis accelerometer, and attachment IR Proximity sensor
Vibration from the headset
Single USB Type-C cable
Cameras on the headset for tracking purposes
Built-in microphone and a stereo headphone jack
PlayStation VR2 Sense controllers:
Motion Sensor – Three-axis gyroscope, three-axis accelerometer, finger touch detection position tracking via a capacitive sensor
Feedback that includes a trigger effect on the R2/L2 buttons and haptic feedback
Actual thumbsticks and your favorite buttons that you know and love
USB Type-C port
Built-in rechargeable battery
Bluetooth Ver5.1
So, when you look at the tech that is in the headset and controllers for PlayStation VR2, the price may be up there, but the experiences are going to be more than worth it when used with the PS5. But we don't have to wait too much longer as it looks like the official release date for the PlayStation VR2, PlayStation VR2 Horizon Call of the Mountain bundle, and Sense controller charging station are all going to be released on February 22, 2023.
Until then…please enjoy…