Have you ever been intrigued by something when you first hear about it, but when that time comes, you wonder what happened during that time and now? It could be that someone's taste has changed over time, it could be that the product itself went through changes than initially thought or maybe the time was spent on that project would not be lost and it just gets released? Anything is a possibility but does Circle Entertainment and Developer Geronimo Interactive bring a new type of wave fighter to Virtual Reality? Let's find out with Reborn: A Samurai Awakens for the PlayStation VR.
Reborn: A Samurai Awakens is a first-person action-slash-adventure that has you fighting against robots, samurais, and bosses as you try to dodge, slash, deflect shots being fired from your enemies all while trying to save humanity. And at times, I wonder does this humanity really needs to be saved. So before you try to rush in and be the hero, you will want to make sure you clear some space and have your Move controllers fully charged as you will be using them to slash away like you had one too many energy drinks and shoot your blasters like you are in a Star Wars battle.
When you first start Reborn: A Samurai Awakens, you do have to go through the tutorial which will give you lightsabers, yes, lightsabers. It looks like there was not any ability to even try to hide the look or sound of them and they are even called lightsabers in the game. You will also only be going from wave point to wave point with the only way to slightly move is by turning your head as the only option. You also have the ability to use a Gravity Attack, which is like a powerful way to use the Force…Darth Vader would be proud of my abilities.
Some of the enemies that you will be facing through the tutorial are the floating robots that look like a small Imperial Tie Fighter that will shoot lasers at you and reminded me of the scene in Star Wars where Obi-wan was trying to show Luke the force aboard the Falcon and Luke was wearing the helmet and couldn't see and trying to deflect the lasers. So it's like that, except the helmet is the PlayStation VR headset and you can see, but don't have Obi-wan isn't speaking to you. The Gravity Attack is used to teleport to places you cannot get to, which didn't work all of the time, but when it did, it got me to the next wave point.
The Gravity Attack is not only for teleporting to places you cannot reach but also the ability to force hold an enemy that you can either slam, throw or use as your own personal shield or cutting board and just slice and dice. But be careful as the Gravity Attack only has so much juice before it runs out, so use it wisely. But you will notice about the lightsabers and enemies is that regardless of your health bar showing where your health is, the enemies don't have one. So, when you swing, there is no way of knowing if the hits are registering and so you are left with swinging like nothing else or you can pretend to play the drums to your favorite song. But it would be nice to maybe as you are hitting the enemies, that if armor started to fly off or maybe if body parts could be cut off as powerful as the lightsaber is, it would at least give an indication of the damage you are inflicting.
New types of enemies are introduced such as walking droids that look like they came from the droid factory of Episode II and those can appear from above as well as multiple can appear which will fire lasers at you that you can deflect back at them or feel free to use your blaster (which can be used in either hand or both at the same time) to shoot them and the hovering robotic looking small tie fighter droids. But some of those smaller droids can pack a punch as they can fire a Death Star-like laser right at you that you will need to dodge (as an indicator will show,) so you can get out of the way. But just when you think you have seen all the enemies there is to see, new ones will be introduced such as the HZD looking type of robotic tiger that will jump, roll, slash its robotic paw at you, but feel free to slash or catch him with your Gravity Attack powers.
But being as Reborn: A Samurai Awakens is an adventure, there is sort of a story that is told not by voice, but by text, and it didn't really tell me what was going on. At times when I wasn't expecting it, the words would appear and I would miss some of what was being said. So if you are not careful and not paying attention to it, you will miss out on this part. It would be great if there some type of narrative story before even get into the tutorial just to let the player know what is really going on.
There were times throughout some of the stages where the enemies would just almost glitch out and the only thing that I could do is a restart of the last checkpoint, which no one should really have to do, but it's tolerable to a point. Luckily, any time I had to restart the last checkpoint, it was right before the glitching happened and then all was playable from there. If for some reason you do run into the same problem and find that you need to maybe try a different level or if a boss may be too difficult, you can go back to the main area and select a new level that is open for you to fight in.
I want to talk about a few of the bosses. The bosses are tough and this goes back to not knowing if you are hitting them or what their health level is. And when you have a General Grievous looking in a new type of boss that would look like an epic battle, it's not really fair that he comes at you invisible to attack you and does this over and over again. Another boss will be flying in a dragon and when he finally is off his robotic dragon, to have the previous boss also appear in a fight that you don't know if you can win, may cause more frustration than there really needs to be.
There are some things that I hope to get updated. There are some graphical and combat issues that I noticed that could easily be improved with a pro patch and some updates that I hope do come. When being outside and seeing the beautifulness of the galaxy, it would be nice to things to come alive or having some of the enemies be a bit more detailed. It would also be nice if when you actually hit the enemy to show that you are actually hitting the enemies and not just having to wave your lightsaber around hoping that you are doing the damage to defeat them. There are also some of the glitches need to be fixed. Having enemies seem to glitch out only to have to restart the level or last checkpoint should not have to happen regardless of a few times I did experience them.
The waves seem to go on just a little bit longer than they need to be. Waves of enemies are great and can be fun, but when those waves seem to keep going and you are not sure how much longer you need to keep going, it would be nice to have some type indication of what is going on. Even with the tutorial at the end, where it said this is the last enemy, that seemed to go on longer than needed for a tutorial. It would also be great to see some sort of leaderboards or even some PvP action going on. Just think about who the top Samurai of the world could be and then challenge them could be pretty awesome. And the last thing would be there was more of the story being told here and where your place in that story is. If the Developer can possibly address these items, then Reborn: A Samurai Awakens could be one to come back to.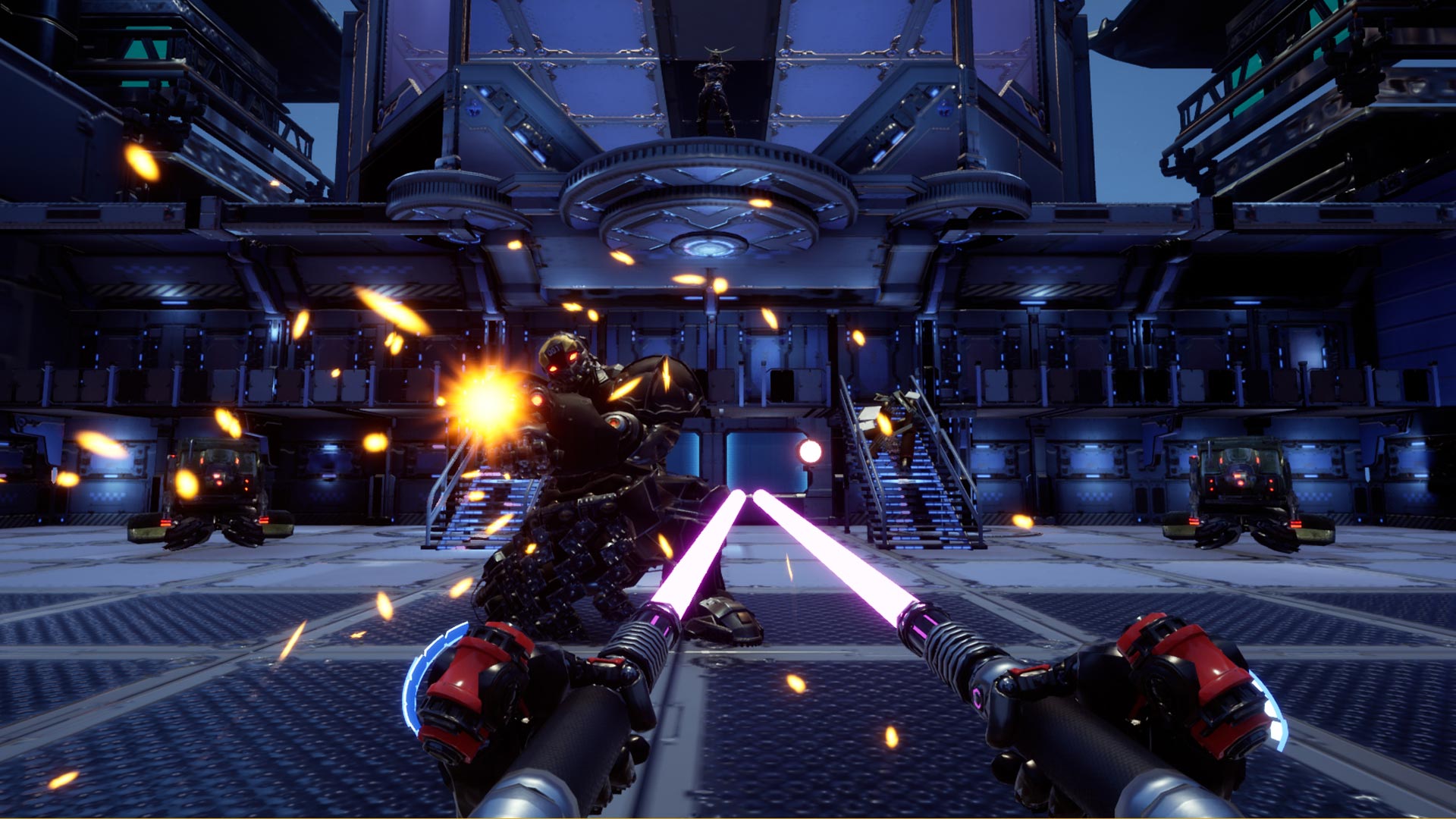 Reborn: A Samurai Awakens is out now on PlayStation VR. A review code was provided. To learn more about Circle Entertainment, please visit their site, like them on Facebook and follow them on Twitter. Geronimo Interactive, please like them on Facebook.
In case you missed the trailer, please enjoy. Until next time, I am going to go practice my lightsaber skills.