When you hear the word Cyberpunk, what comes to mind? Dark…Futuristic…Danger? Yes, those do come to mind and so much more. Being able to enter a world where crime is s steady threat against a city and having bullets fly all around all with the neon colors lighting up the area can be both jaw-dropping at times as well as putting you against the world as you could be taken as the threat that is there to interrupt the flow. So when I heard that we could enter the world of Silicon Rising, that not only had the bullets flying, the lights of the neon shining, but also able to be in drive in the mix of the FPS action, I had to learn more. So I reached out to KUKRGAME and they were happy to give us some insight into Silicon Rising and their thoughts about Virtual Reality.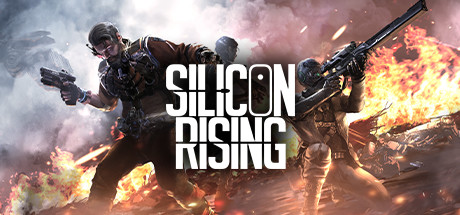 ________________________________________________________________
Interview with KURKGAME
________________________________________________________________
Welcome to The VR Dimension. Would you please introduce yourself and let us know what a typical day for you at KURKGAME might be like?
"Hi, everyone, we are an 'experiential' indie VR game developer, one of the common jobs in our team experience various VR products, including games, apps, and hardware. We try to find out the edge of VR interactions and based on thus interactions to design different gameplay. Then we are going to make some simple demo with our ideas in gameplay and let everyone in our team to try them, if one or some demos are recognized with most our teammate, we will have a plan to deeply develop this demo to a game. In addition, our team always get together to play various PC game, console game, arcade game and so on. We also have a regular free talk every week, talk about technology, game design, artwork and films in the team, I believe that is one of the resources for our inspiration."
For those who may not be aware, what are some of the games and projects that you and KURKGAME have been responsible for?
"The team was founded for VR games, so all our products are in VR. Because our team have special love in FPS game, and the past games are also FPS. They are all modern war style in LBE market."
Silicon Rising just released not too long ago. Can you give us some of the back story for the game?
"At the beginning of this project, we believe VR game could bring a different game experience from the traditional side. So, we choose roomscale which let player moved by themselves and body conditioned reflections are the key of interaction. We want players immersed in the game world, feeling they are in a battlefield would not broken this experience by fake move like locomotion. Also, if VR market need keep growth, it will require more new users to join. we hope that our game will allow new VR players able to enjoy quickly, and would not make them have motion sickness issue, basically is to reducing the threshold for them to participate in VR."
I really love the cyberpunk art style that helps bring life to Silicon Rising, has that always been the art direction since the beginning or were there different ideas before agreeing with the idea?
"We had two plans for the game at first, one is modern war style other one is cyberpunk style. We like the style in the Matrix and Blade Runner, and we want add some fantastic element in the game,which makes game more fun and more possibility, so we chose cyberpunk, I think is our own preferences make this chose.There are new cyberpunk style and old fashion cyberpunk style, we love the old fashion which same as we love arcades and the 80s, and the old fashion cyberpunk style is more suitable for the arcade style design when we set up the project."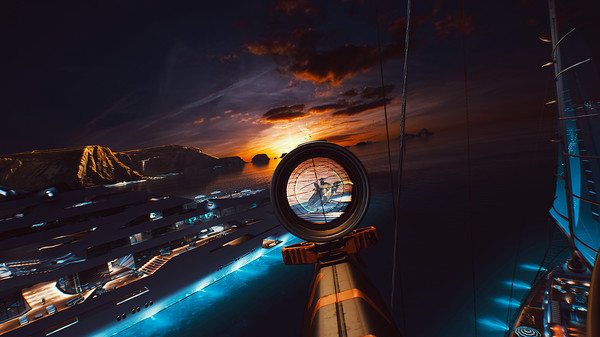 There seems to be a focus on the FPS genre which works well in Virtual Reality. Can you give us some more insight into how the player will be in the action with the FPS aspect?
"FPS games are NO.1 in VR game category followed by action game category. When the first generation of consumer VR headsets went on the market 4 years ago, this trend was basically established. As you can see, all the VR controllers are like hold a firearm which also played a certain guiding role with game developers. Many VR players are obsessed with realistic firearms, they request manually change the magazines and reload similar operations. This is related to the fact that most VR users are heavy user. For some new VR users, such heavy operation and realistic design may cause some troubles and be difficult to get started. Therefore, we considered to let these new players able to quickly and easily find the charm of VR games, this is the beginning of Silicon Rising project. So instead of using realistic design, we used arcade design for the game.
In large-frame arcades, equipment vendors strive to immerse players in a real and simple way, let them easy-to-understand the gameplay and make a direct gaming experience, this method is easy to attract players. At the same time, the graphic performance is also a very important part of the VR game. People want a virtual world that can be glorious, so we have very high graphic quality in the game. I think the market needs this type of game to quickly catch the eye of new users, which will help VR become more popular."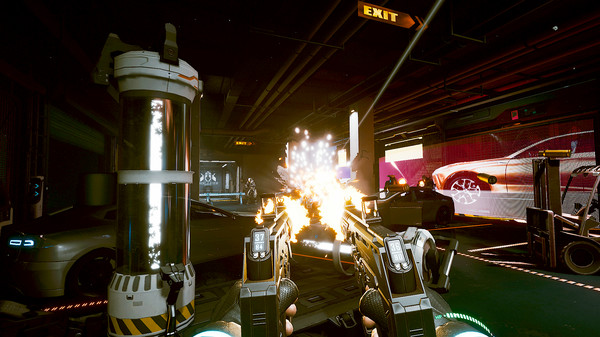 It also looks like there are some driving aspects while firing your weapons. Is there a lot of driving in the game or any other vehicular aspects to the game that the player can expect?
Silicon Rising is on early access at steam, and a large amount of content has been planned and produced on the way. In the early access version, we have tried in many directions, from arcade-style shoot to sniper mission, and then to the driving part. In early access, we attach great importance to player feedback, because it will hope to find the right way that better meet everyone's expectations. The driving gameplay has really attracted many players, and we are very happy about that. We resaved some adjustment suggestions, we will fix that in continuous updates. We do plan a new mission for driving jeep while BOSS battle. There are still some unknowns in the plan. We will observe the feedback of the current players more and adjust the priority of subsequent content."
Did you find it a challenge when adding the driving scenes, for example, compared to different ways to develop for Virtual Reality?
"About driving, one of our biggest considerations is whether to use a rail shooter game movement to simulate driving or let players drive by themselves, the other one is determining the difficulty of driving. For the first one, we can see that many other games are railway battle while driving, that is relatively easy to make, the player is a co-pilot in vehicles and focuses on shooting. We want different and believe that most players want to drive themselves, this will bring a real and omnipotent game experience. The game now can drive while shooting, we did realize that shooting and driving at the same time might be distracted after making the demo, so we cut the driving mission into two parts. The first part is focusing on driving, players can shooting but not necessary, and we did not let players accelerate or decelerate, because that may be too difficult for players who do not have a real drive experience, and frequent acceleration and deceleration in VR will cause motion sickness. We refer to Road Fighter on FC, the vehicle will automatically accelerate and maintain a constant cruise. Players only need to control the left and right movement of the vehicle and avoid other vehicles on the road, sometimes other vehicles will interact with the player. The second part no longer has vehicle avoiding and complicated road conditions. In this part, players need to concentrate on shooting as much as possible. The purpose in this part is to dodge a bullet and fight back, limited driving operations will not affect the shooting experience.
For our second consideration, a different player has different thoughts for the difficulty of driving, so we are still collecting feedback from players and continuously optimize this part."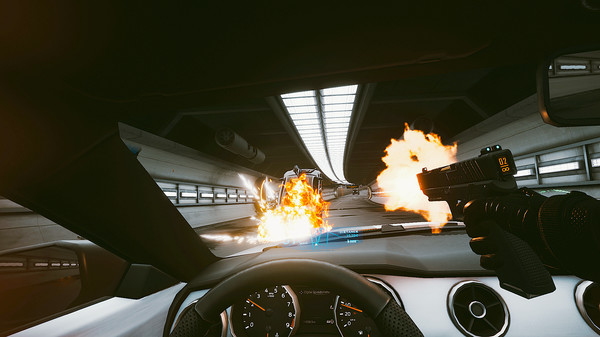 The roadmap for Silicon Rising looks interesting and it's good to see that more updates such as new missions and modes. Can you give us a look at what to expect with those? Any plans for more games planned for the Silicon Rising universe?
"We recently had a big update, added more weapons, more items in the game, and adjusted game difficulty at the same time. The following updates will focus on the following points:
Add realistic mode, in order to meet the needs of core players.
Add realistic weapon mode for reloading
free locomotion mode
CO-OP mode.
More single play missions complete the game story.
we want to create a cyberpunk game world with rich plot stories, but this may not be on the top of our list now, it will require a lot of content to fill. We had an outline about this cyberpunk game world, they will be more come up with the game update."
Virtual Reality continues to change and evolve, what has been the most surprising to you when developing for Virtual Reality?
"The most surprising for us is the VR users have grown much faster than our expected, and VR users are more tolerant than traditional game players, they understand both VR market and VR games are in the beginning level, and they are so active , also happy to communicate with developers to improve the game, even many of them are developers too. That is reason why VR field developed very fast. I believe that in a few years, VR will become a part of mainstream games. By then, all games will have VR mode, and VR will no longer be an exclusive game type. On the other hand, the excessive of core players also brings another problem, which players' tastes tend to be consistent. To make VR more popular, a single category and complex games will make it difficult for new players quickly adapt to some popular VR games in short term, and this is what we want to do, let new players can quickly fall in love with VR."
What would be the top thing you would tell your younger self?
"Stick to what you think is right!"
With the Virtual Reality catalog of games and experiences continue to grow, what would you say to someone on why they should play Silicon Rising?
"Silicon Rising had a prototype game released in 2016, which caused a wave in the VR LBE market on our side.
Silicon Rising has the same concept, while we use the best engine to make the most exquisite graphics. We use arcade-style to attract VR players, you will be recommended Silicon Rising to your friends, it will be a start in the party, no matter what age, people will love this game. Soon we will update the professional mode for core players who like hand reloading and free locomotion.
In the future, Silicon Rising will available on Oculus Quest, Focus Plus and other all-in-one VRs."
I really want to thank KKUKRGAME for taking the time out of their busy schedule and giving us a closer look into Silicon Rising.
Silicon Rising is out now on Early Access on Steam.
To learn more about Silicon Rising, please visit the site, follow them on Twitter, and subscribe to their YouTube channel. To learn more about KURKGAME, please visit their site, like them on Facebook, and follow them on Twitter.
In case you missed the trailer, please enjoy.