When you are the Captain, you expect things to go a certain way. You expect some order, some respect, and well, maybe some sunshine on the days that you are feeling it. But what you do not expect is for some punk army who somehow enlisted a T-Rex, to send over some areo feline wannabes with 9 lives dropping bombs that explode into sharks, much less, some cyber chickens to just go and ruin your day. But these punks didn't think they would get away with it did they? Do they not know who they are dealing with? For I am Captain Toonhead and this is my space…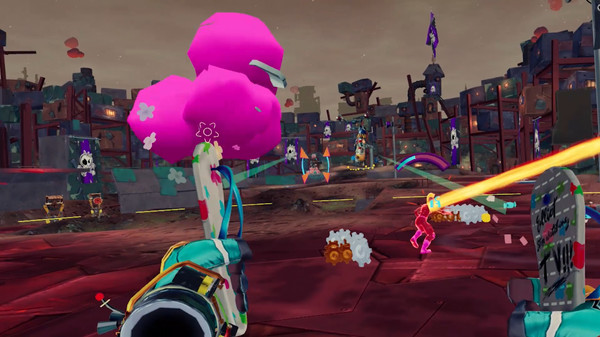 Features include:
Truly first-person tower defense game for VR
Move all over the map to upgrade your towers
Throw over-powered chanclas recklessly and shoot electric beams from weaponized pizza at your enemies
Take control of your towers to project lethal beams of hot sauce from your hands
Weapons could also include infinite heat-seeking fireworks, snowball machine gun, shooting rays from electrified pizza slices or maybe, just maybe, a pinata blitz to unleash
Will you keep the terra-sharks and cyberchickens away? Will the electrified pizza slices be enough? Will Captain Toonhead be the hero we didn't ask for, but always needed? Find out when Captain Toonhead vs The Punks from Outer Space comes to the Oculus Store, PlayStation VR, and Steam in Summer of 2021.
Until then…please enjoy…