There is something about entering an arena where it is you placed on a team with strangers that you don't even know each other's names, but yet work together for the common goal. It really shows you what the world should really be like. Maybe it's the ability to have that distance between each other, but yet have that common passion that brings us all together as we try to forget our daily lives just to embark on a wild out first-person shooter amongst those that we just met to those who become our friends even after the match. So when I saw that Triangle Factory was bringing a new multiplayer FPS crossplay to the mix, I had to learn more. So I reached out and Jeroen was happy to talk about their newest game, Hyper Dash as well as Virtual Reality.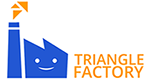 _____________________________________
Interview with producer and designer at Triangle Factory, Jeroen
_____________________________________
Welcome to THE VR DIMENSION. Would you please introduce yourself and what you do at Triangle Factory?
"Hi, I'm Jeroen and I'm the producer/designer at Triangle Factory. But I wear many different hats every day."
Working with games can be rewarding and challenging. Growing up, what was the one game that made it click and you knew you had to work with games?
"I remember Quake (1) leaving a big impression on me, however at that young age, I never realized that making video games is a job. I wanted to be an architect and design buildings. I got into modding and mapping as a hobby and it's by doing that that it clicked for me."
Hyper Dash looks to be a welcoming presence in VR. What can you tell us about the game?
Hyper Dash is a VR multiplayer first-person shooter. Most of the game modes are team-based where you play with a team of 5 versus the other team of 5. It's inspired by old-school fast-paced arena shooters, but with a locomotion system that works great in VR."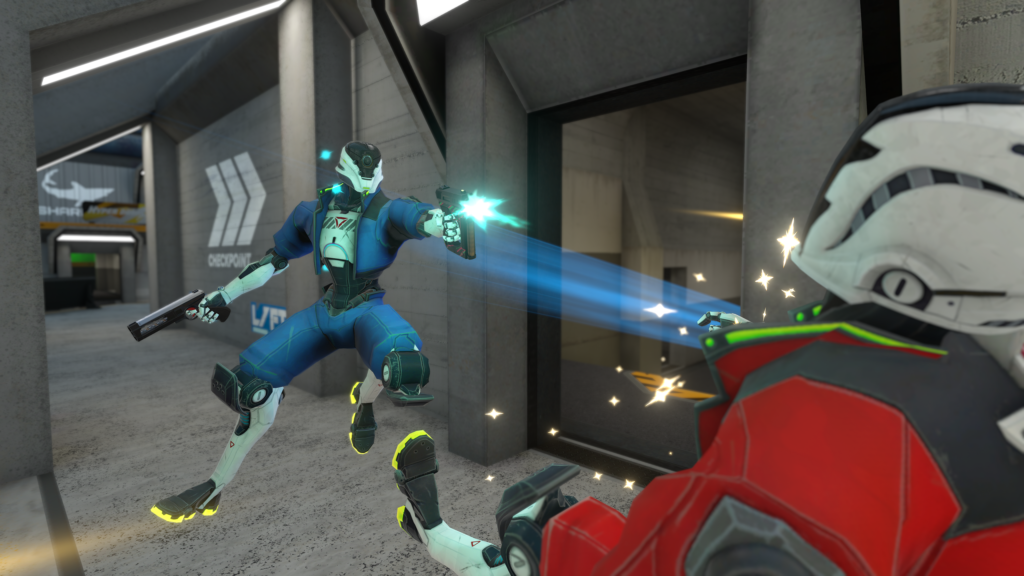 In the trailer, you see the players riding around on rails. This looks like it would be an awesome sneak attack but at the same time someone being an open target. What has been the overall reaction to this?
"Grinding on rails is a mechanic that immediately excited the team after we implemented it as a test. It clicks nicely together with the other movement options in the game that we made it a big part of the game. The players love it as well and it's a part of the identity of the game. Just as anything else in the game it has its advantages (you move around the map fast) and disadvantages (you're an easy target).
It's a good way to move yourself to a place in the map and you're still able to shoot at the same time. Plus, it just looks and feels really cool."
I like that the game offers Deathmatch as it's just fun to go against others. What can you tell us about the other modes in the game?
"Now there are 4 game modes in the game with 6 maps, and we are finishing up 2 other game modes with each new maps. This for one of our next updates. We have Deathmatch, Control Point, Domination and Payload, and they can be remixed with mutators. The game modes are inspired by popular and well-established FPS game modes."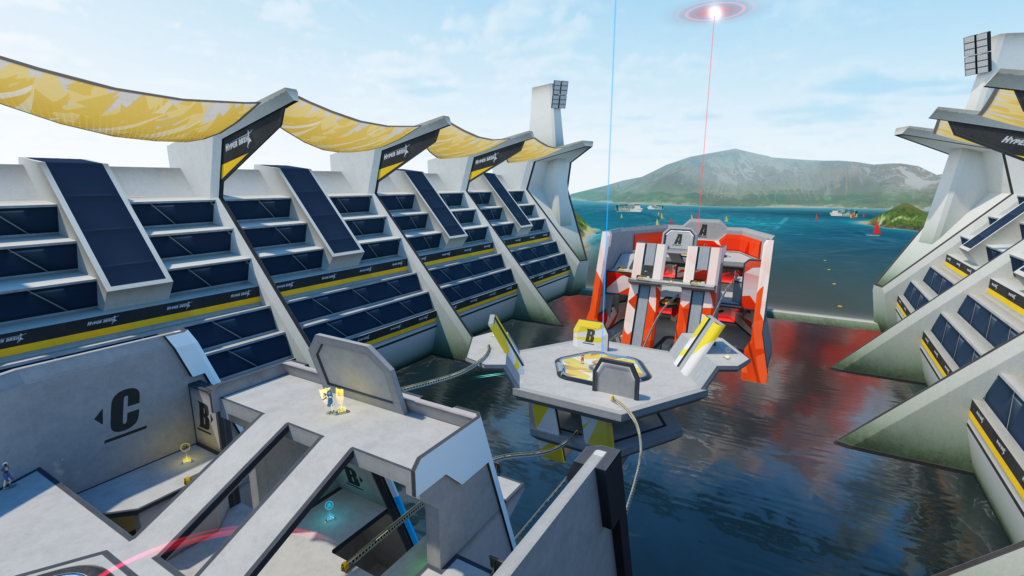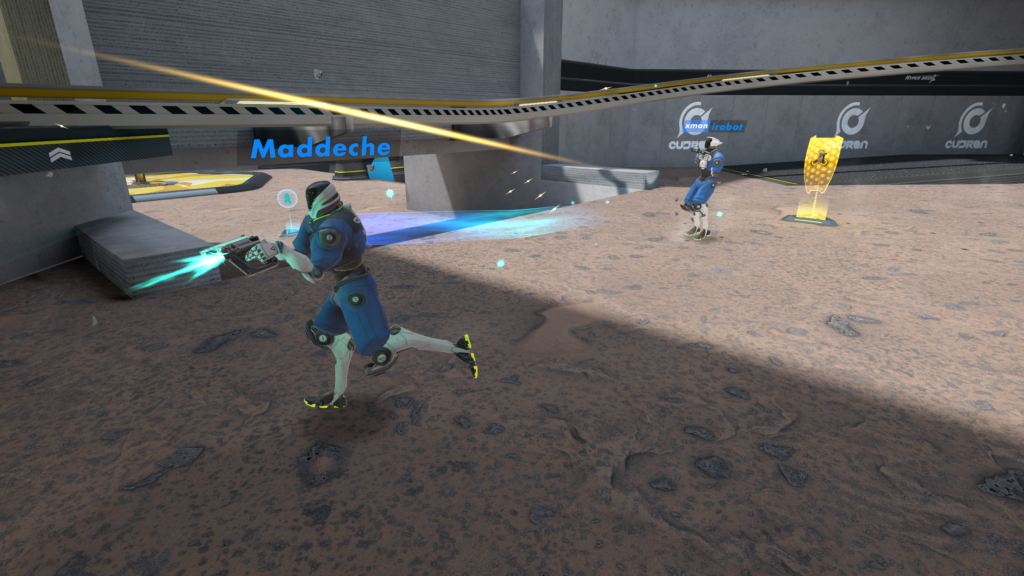 How do the stats with progression work and will certain levels unlock different items within the game?
"Getting kills and playing the objective in multiplayer matches earns you XP. When you get enough XP this adds to your level. We have cosmetics in the game like different helmets and weapon skins that unlock if you reach a certain level."
What about the different weapons in the game and is there a plan to bring in more weapons or DLC at a later date?
"There are 7 weapons in the game now, plus a shield. We are working on free content updates at the moment and plan to update the game each month."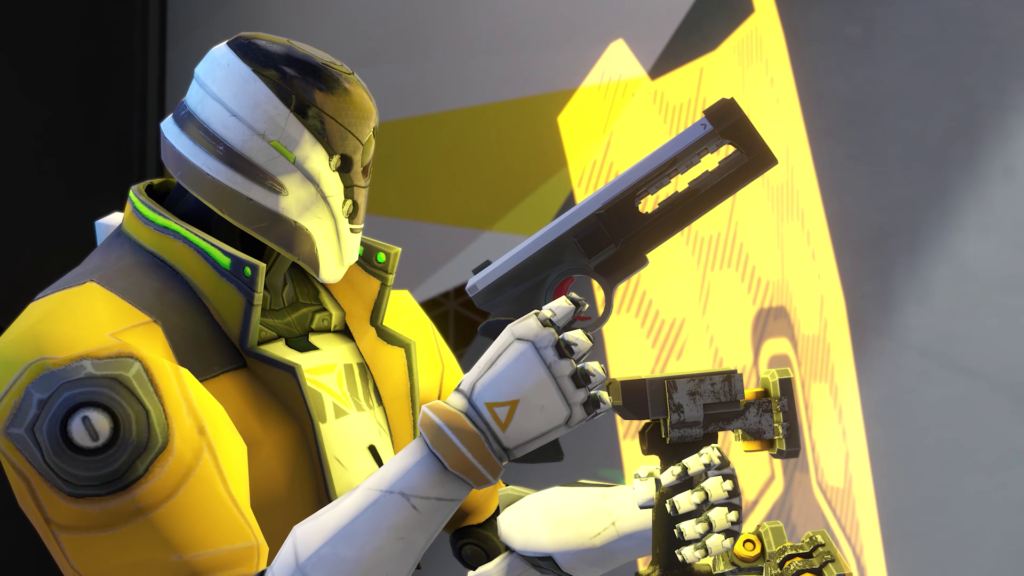 Do you see there being tournaments implemented?
"There is a big community around Hyper Dash already, and a group of players has started Dash League. This is currently the place to be if you want to play Hyper Dash competitively."
Crossplay support is always a nice feature. Do you see Hyper Dash coming to PlayStation VR to have even more players with crossplay?
"Indeed, the game is currently cross platform between all major headsets (Rift/Quest/Vive/Index) and PlayStation VR is certainly an option that we might investigate."
For those that may be wondering, is Hyper Dash cross-buy with Oculus Rift and Quest?
"Yes it is!"
Working with VR can open up new levels of creativity. What have you found to be the most creative when working with VR?
"Good question. It's mainly new ways to interact with stuff. In domination, you have to smash down on a button to claim an area. This is more fun to do it in VR like that, instead of standing in the area and see a progression meter fill up. It's little things like that. When you are the MVP after a match, we put you in a post-game lobby and you have a gold cup in your hand. It's just fun to mess around and interact with people in VR.
It's also about solving problems. VR creates a lot of design issues as well that you must think about. Players are much more free in VR to move, and this can make a simple thing sometimes very complex."
Were there any challenges when creating a game like Hyper Dash in VR whether it be the action, the graphics, and/or sound that you were not expecting?
"Because Hyper Dash had to run on the Quest, performance and optimization is important. It takes a lot of time and care to meet the required framerate while still doing inverse kinematics on all the characters, have nice looking shaders, a detailed environment, and good-looking effects. And all this networked."
So what is next for Triangle Factory?
"The Hyper Dash team is completely focusing on user feedback and content updates right now. We're not done with this game, there is so much more that we want to do with it."
With the list of VR content continuing to grow, what would you say to someone as to why they should experience Hyper Dash?
"If you enjoy a good shooter that is about having fun, with different locomotion mechanics, a friendly community, and varied content, then give the game a try."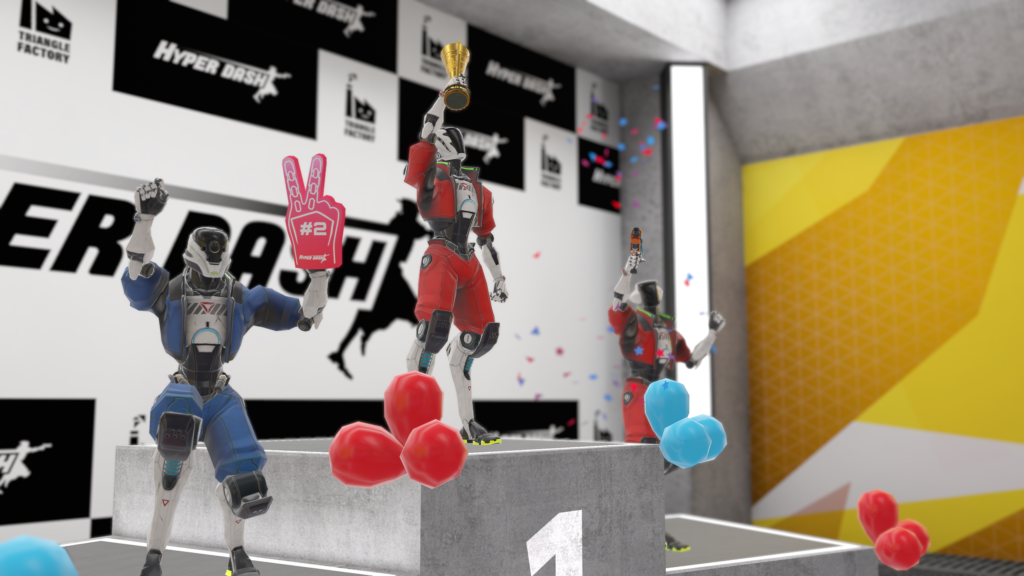 I really want to thank Jeroen for taking the time out of his busy day to give us a closer look at Hyper Dash and to talk about Virtual Reality.
Hyper Dash is out now on the Oculus Rift/S and Oculus Quest/Quest 2 on the Oculus Store, Steam, and Viveport.
To learn more about Hyper Dash, please visit the site, like them on Facebook, follow them on Twitter, follow them on Twitch, and join their Discord. To learn more about Triangle Factory, please visit their site, like them on Facebook, follow them on Twitter, and subscribe to their YouTube channel.
In case you missed the trailer, please enjoy.