Ever since playing the game Discs of Tron and watching The Lawnmower Man, I had hope…a dream if you will. I knew that one day that we would have the mixture of a new Virtual Reality sport. A sport where anyone could compete on the same level and become who they wanted to be through the design of their own creation. And what CCP Games has done has made good on those hopes and dreams with Sparc for the PlayStation VR.
When you first start Sparc it allows you to calibrate so everything can be detected and you will have a menu where you can jump straight online, training and even customize yourself from the visor to the color of your helmet to be as awesome as you can be. Going through the training allows you to get used to having the two Move Controllers and how to throw your ball and hit targets and dodge and block from the targets as well to get you used to online play. I will say this, I really appreciate they way CCP Games has added the calibration every time you start up Sparc as this helps in case you have moved in a different spot and not need to move the camera and it works really well.
Now the real fun is multiplayer. When you select online you have three different modes to select from. Basic is really the entry-level of just get in and have some fun. You are able to punch the balls from your opponent, which you can use to your advantage to send it back. So defense is not really the focus so much as it's more emphasis on those creative shots. Advanced allows the best out of 5 matches, but you cannot punch the balls. And Experimental…which mixes the basic rules and adds the floor to be angled like a diamond-shaped. All levels are very fun. I just wish more people played the Experimental as those angle shots are a blast to throw as well as try and to defend.
When you join online, if there is a match going on, just hit the join queue button so you are the next one playing. and while you are waiting you can watch the game going on as you appear as a giant of sorts which can be distracting to those playing, but not in a bad way. Thing is everyone can hear everyone if you are using the mic and not one time has I experienced someone insulting each other in a degrading manner and everyone was just laughing and regardless of who won or lost, you hear "good game". So I appreciate all the players thus far that are having fun and are respecting each other. This is one of the many reasons why Sparc is so much fun and I keep coming back.
See the object of Sparc is to throw your ball and hit your opponent. Simple concept, but so so much fun trying to master. The tracking is on point for the most part. I say that for this reason alone. I have experienced (like not even 1%) where someone may have become frozen or magically someone had three balls that they were able to throw versus the one you are only supposed to have and all you can really do is laugh at that and just do what you can. But again, when this has happened no one ever got upset. We just all laughed at it. There were times where we would just lay down on the floor and play just to add a new mix to it.
When you throw your ball, there is a foul line in front of you. If you do not throw it across this line you get a foul and it comes back to you. But throw it past the line allows you to charge your shield to help deflect. But you gotta be careful because cause as your ball is coming back to you, your opponent can throw their ball and worse case is they score a point cause they hit you with their ball and their deflection of your ball comes back and hits you and they get the point for that as well. So use those walls, floors, ceilings and use those spins along with how fast or slow you throw and watch your hand-eye coordination either surprise you or disappoint you on new levels.
But if you do happen to come across a very rare situation where a player is not acting right, you can mute them and not one time did I have to do that. After the match, you are able to see your stats for the game. I was more concerned to make sure I hit the join queue button first as I just wanted to keep playing. And then while waiting, I would check the stats for the fun of it. But once your back in the game, there is nothing like being hit and doing a Matrix move to add the fun to it.
Not once did I experience any lag. But you will sweat. This is a moving game. You will dodge, throw, catch…everything. So make sure you have a fan on so you can keep cool, but just pay attention to where you are in conjunction with oh let's say your ceiling fan. One night I forgot and was directly under the fan and raised up to catch the ball and my Move Controller hit one of the light shades making it drop to the floor. It didn't break, but the light bulb did and I lost the match due to having to clean so said shattered light bulb. But when I came back, I was asked what the noise was and when I explained we all laughed as honestly, it was very funny.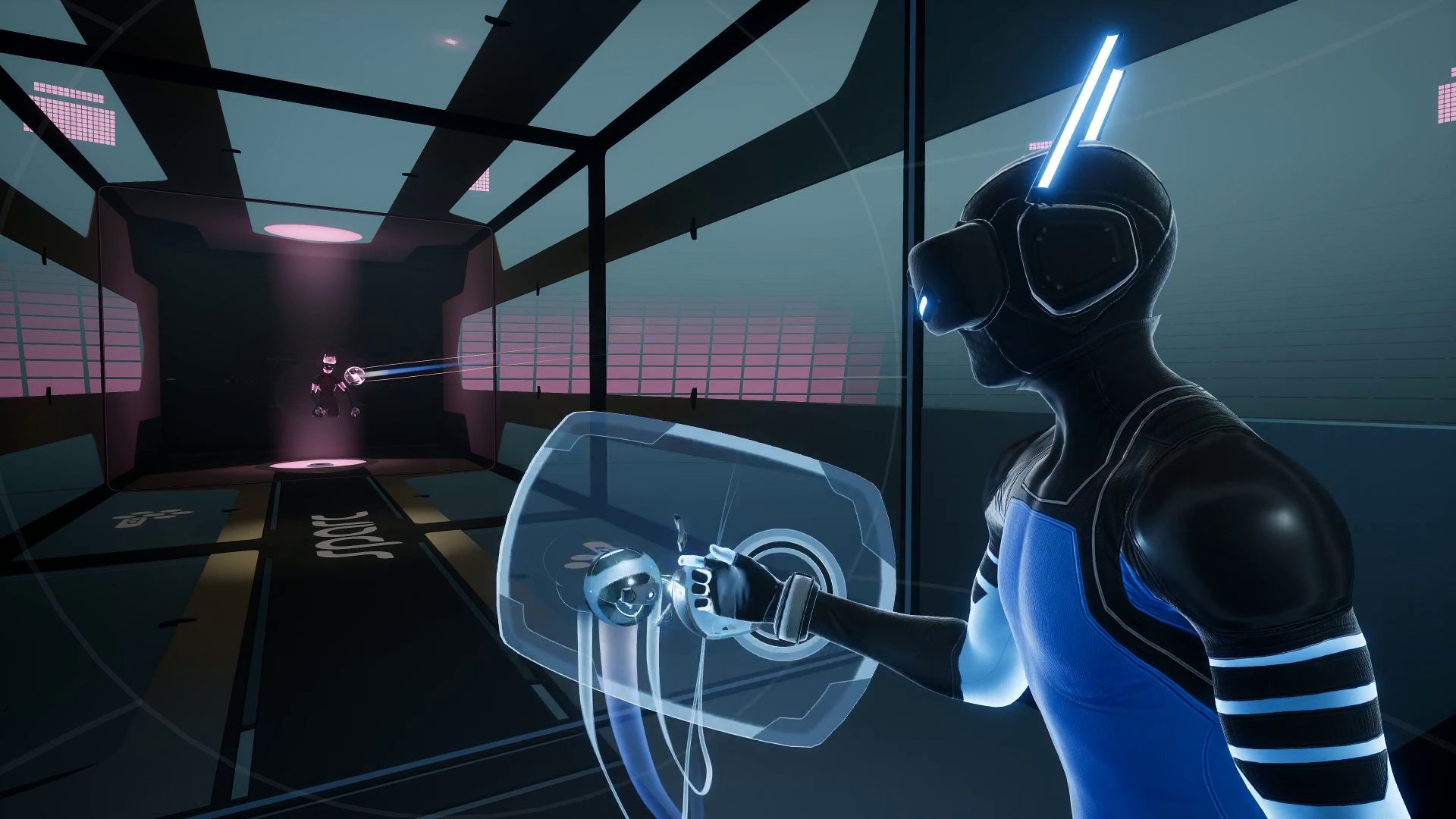 So with all that being said, you should go right now and get Sparc. This is one of those games that is a blast to play and one that, at least for me, I want to keep coming back to play again and again and again. I would love to see CCP Games come up with more stages, even a 2 vs 2 or even a 4 vs 4 player matches and add bonuses like gain an extra ball to add to the chaos of energy and fun.
Sparc is out now on PlayStation VR and is also available on the Oculus Store and Steam. A review code was provided.
To learn more about SPARC, please visit their page, like them on Facebook, follow them on Twitter, follow them on Instagram and subscribe to their Youtube channel. To learn more about CCP Games, please visit their page, like them on Facebook, follow them on Twitter and subscribe to their YouTube channel.
In case you missed the trailer, please enjoy. Until next time, I have to get back to Sparc.
Mr. PSVR, September 9, 2017, theplaystationbrahs.com