If you could visit outer space and be able to move about, would you hesitate for a moment? What if you could swing like there was no tomorrow with just the freedom of the space around you, would you try it? Questions like these can make you really think. But what if the questions were no longer impossible, but very well possible and all that was needed was a little hope and determination to make it all happen? It's always a good thing to try and see what can be accomplished if we just let ourselves go and we don't hold back. But does developer Dr. BLOC show us what it's like to swing and soar in a cosmic playground? Let's find out with STRAYLIGHT for PCVR.
STRAYLIGHT is a platforming experience where you will swing and soar through beautiful and deadly cosmic playgrounds. So before you go in thinking you have this before even trying, stop right now, as there are a few things that you should know about. First, I will not spoil anything for anyone. Part of the fun is experiencing things on your own and not every person is going to have the same play style going in. Second, feel free to stand or sit, just be comfortable while playing. Third, make sure the controllers have enough charge as you will be trying over and over to get through levels. And finally, have fun. With all that said…let's continue…
When you first start up STRAYLIGHT you see the scoreboard, which is always a nice touch. It gives you the sense to try and beat the other players that are on the board. You also have the options for controls and the intro. I would strongly suggest you go with the intro first. Your hands shoot beams that you will use to shoot onto stars and follow the path to try and master the "STRAYLIGHT". Once you connect with a star, this is where you will need to move your hands as if you were swinging. The faster you move your hands, the faster you will go. Keep that in mind. If you do need to slow down, pull back on the thumbsticks and you will need to slow down from time to time because this is a cosmic playground, and if you overshoot your move, it could be game over and you will have to try again.
As you move around the path you have to make sure you don't hit different objects in your way. This is where you will have to make sure the timing of your speed is correct, use the brakes when necessary, and hope that you can overshoot an object or try and fall just enough to where you can latch on to another star. There were many times when I was right at the checkpoint only to either over or undershoot it and would have to start over. Luckily, if you happen to reach the checkpoint and then meet your death, you restart from the last checkpoint. This does come in handy, except when there is a part that is so challenging that it will make you rethink your strategy.
There were many times that either I went too fast or too slow when I shouldn't have only run into a beam or miss the opportunity to get to the nearest star that saw my hopes and dreams go away. But, don't give up and keep trying and you will get it. But that is what this game does. It gives an easier time at the first half of the levels and the second part of those levels is when things become the real challenge.
There are two modes in this game with the regular play and then there is Zen Mode. Zen Mode, is your playground to just swing as fast as you possibly can or take it slow and relax while you get to enjoy the atmosphere around you along with the music. In each of the levels, there are cubes that you will want to try and collect. This will allow you to unlock "ghosts" and not the scary kind, but the kind where you can challenge yourself, find those shortcuts, and try to have a better run than before as you try to earn those medals of glory.
Let's talk about the graphics and sound. Playing on the Rift S, I loved the simple details, and those atmospheres as I was swinging around really added to the Sci-fi experience. From reading the time to getting up and close to the different objects was clear. And I loved the different colors that were used from the red on blacks to the purple and black of space to even how the light shines on different objects all looked really good. For the sound, I was totally digging this soundtrack from the composer, Rob Kovacs, that I replayed some of the levels just to hear them again.
There are just a few things I would love to see. First, more levels. There are almost a dozen of different levels to enjoy and I would love to see a dozen more. Second, unlock all the levels for Zen Mode. At this time, there is a limited number of levels that can be played in this mode and I think it might be beneficial if all the levels were available. Third, adding the ability to create our own levels. Having user-created levels and a way to upload them would be a blast and would add to the fun and replayability. And finally, I would love to see STRAYLIGHT come to PlayStation VR2 and take full advantage of what it has to offer.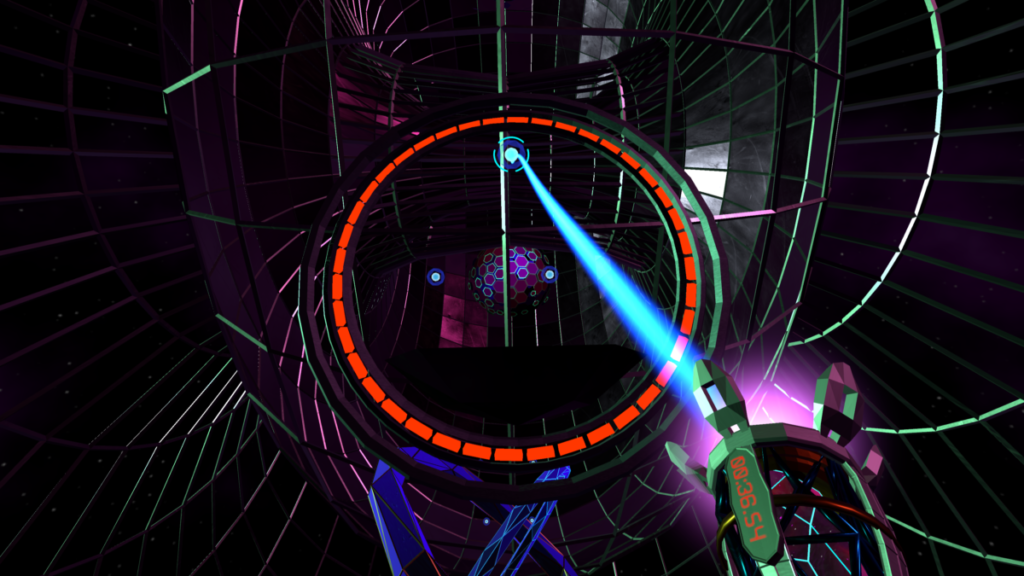 STRAYLIGHT brings the cosmic playground and sets a new bar that many can learn from. It gives us the ability to swing and soar without any motion sickness so that both new and seasoned players can play without restrictions and that everyone should take the opportunity to play. In life, we are given obstacles that sometimes are hard to overcome. Sometimes we try and succeed and sometimes we try and fail. But if we keep trying no matter how hard it may seem, we just might surprise ourselves and each other.
STRAYLIGHT is out now on for the Quest/2 via the Oculus App Lab on the Oculus Store, PlayStation VR on the PlayStation Store, and Steam VR. A review code was provided.
To learn more about Dr. Block, please visit the site, like them on Facebook, follow them on Twitter, and subscribe to the YouTube channel.
In case you missed the trailer, please enjoy. Until next time, I need to find some new shortcuts and climb that leaderboard.