It's that time of year again when Christmas and the holidays are in full festivities mode and when it comes to Synth Riders, that can only mean one thing…time again for the Merry Synthmas update. What is the Merry Synthmas update you might be wondering? Well, it's the time when the Synth Riders developers want to give you all, the fans, a special gift to you for the holidays. So what could be the gift for all of us? Check it out…
🎄 New song, "Carol of Bells" by Dance With The Dead – a synthwave/metal take on the classic carol from the players-favorite artist
💪Daily Xmas-themed Challenges, these can be found atop the leaderboards – the most right tab will get you there
❄️ Personalized platforms – you can now express your flair in multiplayer lobbies and in solo play with customizable colors and "decals" to decorate the platforms you stand on.
🎅 Winter theme – snow falls all across Spin City as Santa comes to visit its inhabitants, and seasonal decorations can be spotted for a limited time
👪Native language support for 6 new languages – Korean, Japanese, Chinese, French, German, and Spanish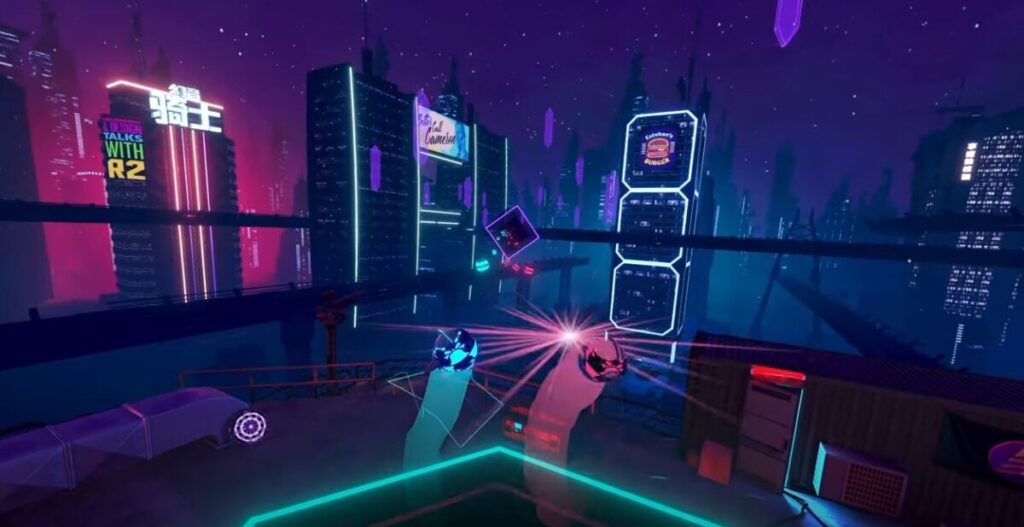 Can you complete the daily Christmas-themed challenges? How will you rank with "Carol of the Bells"? How will you personalize your platform? Find out now with the Synth Riders Merry Synthmas Update out now for Quest/2 on the Oculus Store, PlayStation VR, Steam VR, and Viveport, but hurry as the Merry Synthmas comes to an end on January 15, 2023.
Also, don't forget that you can save 50% off the Quest version through December 26, 2022, and 50% off on the Steam VR version through December 29, 2022.
Until then…please enjoy…