If you could go on an adventure, where would go? What if that adventure meant finding someone that went missing? How far would you go in order to find the answers no matter how hard the truth might be? Adventures can be fun, but could also be very risky depending on many factors including our own personal feelings. But does the developer Out of the Blue Games and publisher Raw Fury bring us the adventure we need? Let's find out with Call of the Sea VR for the Quest 2.
Call of the Sea VR is an otherworldly tale of mystery and love, set in the 1930s South Pacific. You'll explore a lush island paradise, solve puzzles and unlock secrets in refreshing new ways as you go on the hunt for your husband's missing expedition as Norah Everhart and take in the beautiful sights of a cryptic land, uncovering occult mysteries and venturing through forgotten ruins.
So before you set sail on the sea for adventure, there are a few things that you should be aware of. First, find your favorite place to sit. There are going be some puzzles that need to be solved and it might very well be more comfortable in the long run if you sit. Second, make sure your controllers and headset are charged. Once you start to get into the story, you don't want to have to stop because you forgot to charge them. Third, I am not going to spoil anything for anyone. And finally, just get ready for some fun adventure times. With all that said, let's continue…
When you first start the game for the first, there is something that immediately invites you in and that is the music. It's the type of music that sets the tone for adventure without even getting into the game. Before you start, head into the Options as you may want to adjust things like locomotion, rotation, and blinders as well as check the box for the Seated Mode.
Once you click a new game, you are welcome or maybe it is not welcome to this language of a voice. Even if you have subtitles on, unless you know the language, it may not make sense that is until it finally calls out your name, Norah, as if you are in a dream. But seeing this prologue and learning that you have been there before starts making you ask questions that you need to find the answers for. It's when you are in your cabin that you will start to get the feel of movement and how to interact with objects.
As the story unfolds you find that your missing husband was trying to search for a cure, however, it's when you come on to the island that you start to feel at times that you are just nearly steps away from him, but then the story will start to put obstacles in your way to prevent you from getting closer. Those obstacles are the puzzles, which some are much easier than others. Luckily, there are clues that will point you in the right direction, or hopefully, in the right direction.
The puzzles can be things like finding certain objects at a specific location to trying to decrypt symbols to even turning dials in just the right way for the solutions. You do have a journal that you will use to notate your adventure along with clues that you come across. There were many times I had to keep looking at my journal as I was overthinking the solutions. But if you listen to what is being said, along with your novel, you will be sure to find the answers that you need. But if you do need a hint, you can always go into the menu and click on the Hint option. My best advice when it comes to the puzzles is not to overthink them, gather all the clues you can, and just try your luck as you never know how that may turn out.
Let's talk about the graphics and sound. Call of the Sea came out on PC back in 2020 and even though I did not play it on PC, I was aware of the game. Some may look at the non-VR version vs. the Quest 2 version and may start to question some things. But taking a game that was originally made for non-VR and then adding the VR immersion, looks good for what was created. Sure, certain things may look better from a distance, but it's the storytelling here that immerses you in the immersion of VR. And Out of the Blue Games did a great job in the conversion. Seeing the title as you approach the island and seeing how bright the colors are, the art style just works. With the sound, you have the voice talent of Cissy Jones, who you might recognize from Firewatch and the Walking Dead Season 1 voicing Norah. From the sounds to the voices of the characters, it sets the stage for the era that it is presenting.
There are a few things that I would love to see. For one, puzzle solution modes. As you start to get new players into VR, including the younger players, some of the puzzles can be time-consuming. I think having a puzzle solution mode for new or younger players and even increasing it for the more advanced puzzle solvers would give more players the opportunity and who may not be as easily frustrated. Don't get me wrong, having the journal and the hint function is great, but this is me just thinking about the different levels of players out there and knowing how some of my friends and family members are. And the only other thing that I would love to see is the game on more platforms. Hopefully, there are plans for Call of the Sea VR to come to PCVR or even PlayStation VR2 where the graphics can be shown what they really capable of.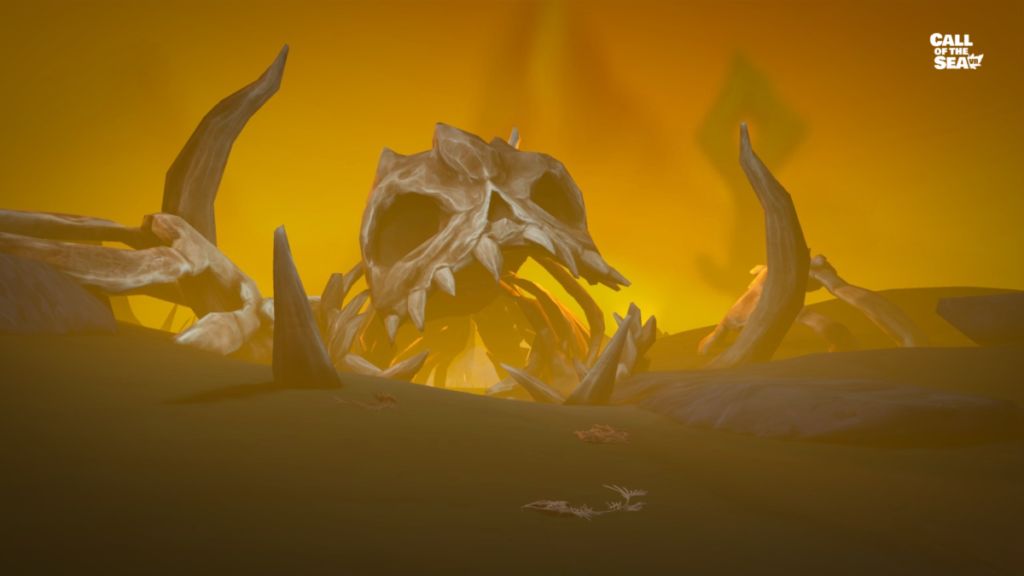 Call of the Sea VR gives us an adventure worth taking and shows us that we will do anything for the ones that we care about. In life, we may not always get along with our family and friends, but when it comes down to it, there wouldn't be anything we would do for them.
Call of the Sea VR is out now for Quest 2/Pro on the Oculus Store. A review code was provided.
To learn more about Out of the Blue Games, please visit their site, like them on Facebook, follow them on Twitter, and follow them on Instagram.
To learn more about Raw Fury, please visit the site, like them on Facebook, follow them on Twitter, and subscribe to their YouTube channel.
In case you missed the trailer, please enjoy. Until next time, I am going to try and unlock the alternate ending.