I heard the stories about the temple. Some say it has the finest of all the riches. Some say the danger is too much. But something is calling me towards it. I know there will be traps before me hoping my feet slip. But the one thing it is not expecting is how good I am with my whip and I have my torch to light my way. I will have to watch everything around me as any step I take, any breath I breathe could be my last.
Features include:
Traverse a Vast Environment! – Eye of the Temple makes unique use of room-scale VR and delivers the experience of exploring a vast environment. Lose yourself in the depths of the temple without teleportation, artificial locomotion, or other distractions taking you out of the immersion.
Fully Physically Simulated Whip! Wield your whip to grab levers out of reach and to defend yourself against flying enemies. You'll find yourself gradually improving until you've mastered it as a reliable tool and effective weapon.
An Experience Played with Your Own Body! – Step onto blocks, smash pots, flick levers, and dodge obstacles. This game is played with your body, not with controller buttons. It's a physical game that anyone can easily grasp whether they normally play videogames or not.
Search for Secret Areas and Treasures! – The Great Temple holds secrets that only the most observant would stand any chance of finding. Be on the lookout during your playthrough, or return to search the temple after finishing the game.
Unlockable Speedrun Mode! – For the extra daring adventurers, a speedrun mode can be unlocked where you can build up incredible speed, with every timed step speeding up the moving blocks a bit. Play it for a true test of your reflexes and grace.
Will need at least 2m x 2m with 360° tracking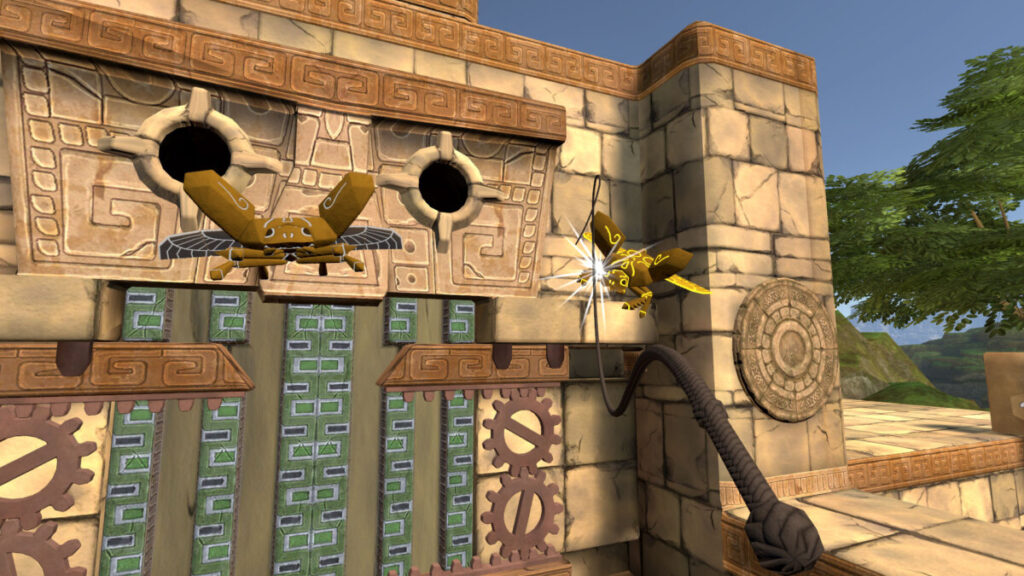 Can you avoid the traps? How will you use your whip? Can you reach the eye of the temple? Find out when Eye of the Temple comes to Steam on October 14, 2021.
Until then…please enjoy…