The game of Darts can be fun as well as having the patience, practice, and mentality to make sure you have what you need to win the game. If you don't have the patience, you could throw it too quickly, or slowly you could miss your mark or the board. If you don't practice, chances are that you may never be on the top of the leaderboards. And you have to have the mentality to know to aim for that triple or go for the bullseye. Yes, Darts is a game that can be fun to play and hard to master but is also a game that can be played pretty much anywhere. It can be played in your room, office, or even at your local bowling alley. So when I heard that developer, ForeVR Games was making a game about Darts, I had to know more. So I reached out and the CEO, Marcus Segal was happy to talk about their newest game, ForeVR Darts, and also talk about Virtual Reality.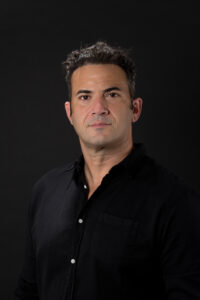 _____________________________________
Interview with the CEO of ForeVR Games, Marcus Segal
_____________________________________
Hi again, Marcus. Would you please introduce yourself and what you do at ForeVR Games?
"My name is Marcus Segal and I am the CEO of ForeVR Games. My job is to find and cultivate the incredibly talented people needed to build out the ForeVR Games universe of games."
When you were first playing and getting into video games, what were some of the multiplayer games that really opened up your eyes and imagination of what could be possible?
"I'm almost 50 now and my dad taught computer science so I got exposed to online games at a very early age. Ultima Online was a great game that I spent hundreds of hours on when I was a kid. But I also loved playing backgammon, Atari, and Wii-style arcade-style games online because they turned non-gamers into gamers. When I was working at Zynga I really saw the power that "social" games had to bring people together around the world regardless of age or ability. The potential of bringing people together in play in a shared space is what made me decide to pursue VR."
ForeVR Games released ForeVR Bowl back in May of this year. What has been some of the feedback you have received and what have been the overall takeaway from the game?
"We have the best players! They provide crucial feedback in Discord and we have used it to inspire new bowling alleys, balls, and refinements to our gameplay."
Your newest game is called Forevr Darts. What made you decide on darts and what can you tell us about the game?
"We are really passionate about making VR versions of our favorite IRL games. We see a world where people can meet up regardless of geography and have a phenomenal time. Darts was the perfect choice for experimenting with Hand Tracking tech (playing without controllers) because the cameras on the headset are at the front and it's a familiar motion, even if you don't play darts IRL."
With the hand tracking is that part of the Oculus Quest/Quest 2, was it a natural fit to use this feature with darts and how well have you gotten the thrown dart mechanics for the game? Also, what do you think could be improved when it comes to hand tracking?
"Darts is the perfect game for where the Oculus Quest tech is today. The cameras are at the front of the headset and with Darts, all of the aiming and throwing takes place in front of your face. I find hand tracking to be great for aiming and throwing and I enjoy exploring the world using my hands (though it takes a little getting used to). The Oculus team is really great to work with and has been continuing to update and improve everything. I am so excited to see how fast the technology is improving. It's been a great feature for players to try out, our audience is split right down the middle of those who prefer playing with hands vs. Playing with controllers!?
This is a three-part question. There are plans to have over 50 uniquely weighted darts with their own custom effects and attributes. What can you tell us about these darts and did any of the bowling balls from ForeVR Bowl have an influence on the darts or are carried over with their effects? Which darts are your favorites? And do you have any tips for those new Forevr Darts players out there?
"We absolutely looked at the popularity and usage of designs in Forevr Bowl, which is reflected in the Purple Lightning dart (designed based on our Electric series), Pink/Black Glitter (designed based on our Glitter series), and Camo designs. We also took key learnings from Forevr Bowl and ensured we had a mix of playful AND realistic designs, which you'll see in designs like Pub Dart, Knurling, Dimplex, Harrow, and Stubby designed to replicate IRL pro favorites. Our collection of Forevr VIP exclusive darts are designed based on some of our top purchased/community favorite designs like Cheshire Cat from our Halloween Series!
Each hall has five curated darts designs to match with a punk-themed "UK Pub" series with epic guitar chords, funky alien-themed Mars series (which was also inspired by our "Intruder" alien ball in Bowl), and playful Vegas-themed darts like a 'slot machine dart' with an EPIC jackpot effect when you hit the board.
We were also blown away by the response and engagement from the international community in Bowl, so not only are we launching in 22 languages, we also have a suite of Flag darts to celebrate our players around the world.
-When it comes to Forevr Darts, just like in real darts, it all comes down to stance, release, and aim. A lot of players prefer lighter darts, especially when playing with controllers. But a good rule of thumb: Lighter darts are slightly more accurate and require less of a "Throw Force", they tend to stay on target with a slight sway based on the players' aim.
Heavier Darts are accurate based on much larger ARC than lighter darts, so they require a heavier throw force. A lot of players just starting might have problems with aiming and planning the arc, but we've found long term dart players prefer them!"
One of the coolest features that you added was the ability to add a jukebox with youtube music. The jukebox is coming to forevr Darts. Is there anything that you learned with the jukebox that you added some new features for the game?
"Being able to pick your music really adds to the sense of presence in all of our games. We are continuing to refine the jukebox and are adding more features and information like game announcements and tutorials for our players."
Another welcomed feature is the social aspect of the game where you can just talk with people while you are playing. Will there be any new gestures or features added to when the game releases and how many players can play at one time?F
"We have a big roadmap filled with fun enhancements to increase the "sense of presence" which is really just a buzzwordy way of saying "make everything more fun and realistic". In Forevr Darts, giving people high 5's or throwing darts that stick into your friends are just a couple of enhancements. There is much more coming. Four people can play together now and you have the ability to challenge NPCs to play as well."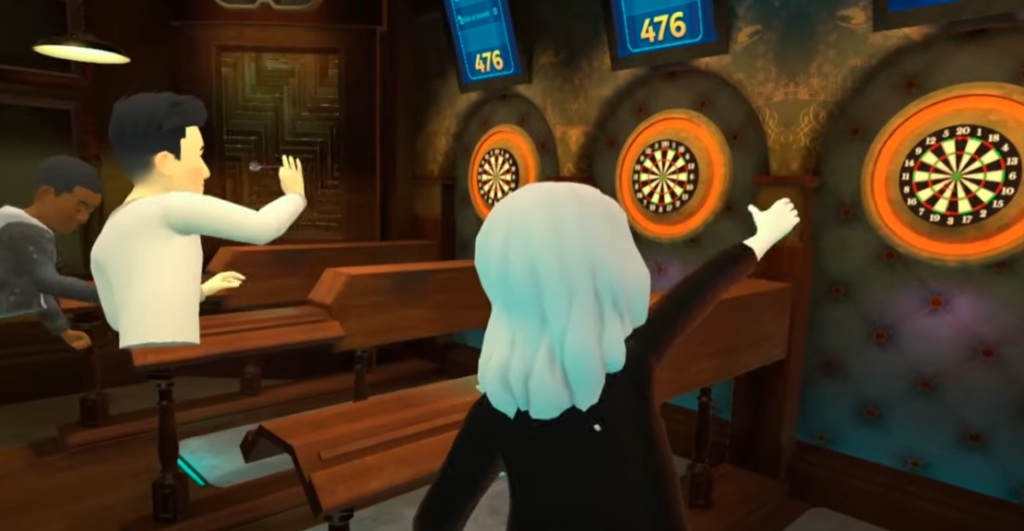 For those that may have played darts or for those who may be new to the game, what can you tell us about the different types of game modes that will be included and how they will work? And will there be tournaments and leaderboards added to the future?
"We have 101, 201, 301, and 501 and double out play now and will add cricket and other game modes in the future."
For launch there will be three immersive Dart Halls. What can you tell us about them and are there plans to add more in the future?
"The Forevr 90s Hall in Bowl is one of our most popular halls, so when we were planning halls for Darts we kept asking ourselves: "what is the Forevr 90s" of darts? What is the most realistic, nostalgic experience we can give to players to really make them feel like they're immersed?" From this, we created Forevr Pub, the perfect place for a round of darts in VR or IRL. We had a lot of fun with some easter eggs in the Mars Hall and Vegas is just as iconic as it sounds. As for what's next, we will be bringing new halls to darts based on player feedback and what resonates best with the darts audience. We have our first new hall planned for early 2022, perfect for after the holiday rush and you just need a vacation."
You seem to have found what is working when it comes to the graphics, sound, and overall VR experience. What do you feel is the working formula?
"Our team has a wealth of experience creating games and a true passion for creating immersive experiences. We often hear from players that they would hang out in our halls in real life (and sometimes just hang out in game without even playing!) Which is exactly what we're going for."
There was something I thought about when I saw the announcement for Forevr Darts and how close it is to forevr Bowl. Do you ever see the two worlds becoming one where you are bowling with someone and ask if they want to play darts and then you are transported into forevr Darts or is it best to keep things separate?
"It's funny you mention this because we saw a lot of similar comments like "why not just add Darts to Bowl" or "why isn't this just a different game mode" which was really fun to see, since we didn't tell any players (even beta testers & creators) that there would be both a portal between the two games AND exclusive content unlocked for ForeVR VIPs who own both."
Forevr Darts is out now for the Oculus Quest and Oculus Quest 2. Do you see the game coming to other platforms such as playstation VR 2?
"We are looking forward to bringing our games wherever there is an audience to play them!"
If you entered the door into THE VR DIMENSION, but had to pick someone from any time period of who you would want to play darts with and someone you would not want to face if it came down to the finals of a tournament, who would they be and why?
"I would choose to play with my grandfather. He loved games and passed away when I was a baby so I would love to meet him and share this beautiful game with him."
With the content for VR continuing to aim for the bullseye, what would you say to someone as to why they should experience forevr Darts?
"We'd like to think our games have a little "something for everyone", whether you are a fan of darts or just looking for something to pick up and play with your friend group. We have varying levels of aim assist available as well as game modes that range from more casual (101 Single Out) to pro (501 Double Out). Whether you own a dartboard or have never picked up a dart, you can jump right in the game. We've also added NPCs in every hall that players can challenge while playing solo (or waiting for other players to join their party), so there's always a little friendly competition when you want it!"
I really want to thank Marcus for taking the time out of their day and schedule to give us a closer look into ForeVR Darts, and for also talking about Virtual Reality.
ForeVR Darts is out now for the Quest/Quest 2 on the Oculus Store.
To learn more about ForeVR Games, please visit the site, like them on Facebook, follow them on Twitter, follow them on Instagram, join them on Reddit, follow them on Twitch, and subscribe to their YouTube channel.
Also, check out the ForeVR Darts review.
In case you missed the trailer, please enjoy.