When it comes to your VR headset, are you satisfied with its look or do you wish that it just had something more? Maybe it's a stand or some type of accessory that make sure you stay charged or something that makes you feel more comfortable when you are playing in the game. There are many things to help keep us going, more comfortable, or even a place to rest our headset when it is not in use and that is by using VR accessories. They can range from the cable you use to play your favorite Steam VR games via your Quest 2/Pro to cable management systems to just keeping your headset displayed while it is being charged. So if you are looking for something to help add to your VR headset, you might want to check out ZyberVR. They are a company that specializes in different accessories From the Quest 2 to Pico 4 headset and I just wanted to talk about just a few of the items they carry.
ZyberVR Elite Head Strap with 6,000mAh Battery
We get it, with the Quest 2 you get the standard 3,648mAh battery which may work well for a movie and a game or two aka 2-3 hours. But then that dreaded low battery indicator warning displays and you have to stop what you are doing and charge it which really breaks the immersion you were just in. Now, you could go with the official Quest 2 Elite Strap with Battery that comes with a 5,200mAh battery. So when you combine the two, you get a total of around 8,848 mAh battery, so more than double the charge. But what if you wanted to go longer? Well, Zyber VR has you covered with the Zyber VR Elite Head Strap with Battery.
At first glance, you could say this looks identical to the official Elite Strap with Battery, except for two very welcomed parts. Inside, you will find the strap with battery, the plastic for the back of your head, the much-improved head strap, instructions, and the package of Silica Gel. Please throw this away, no need to play with it.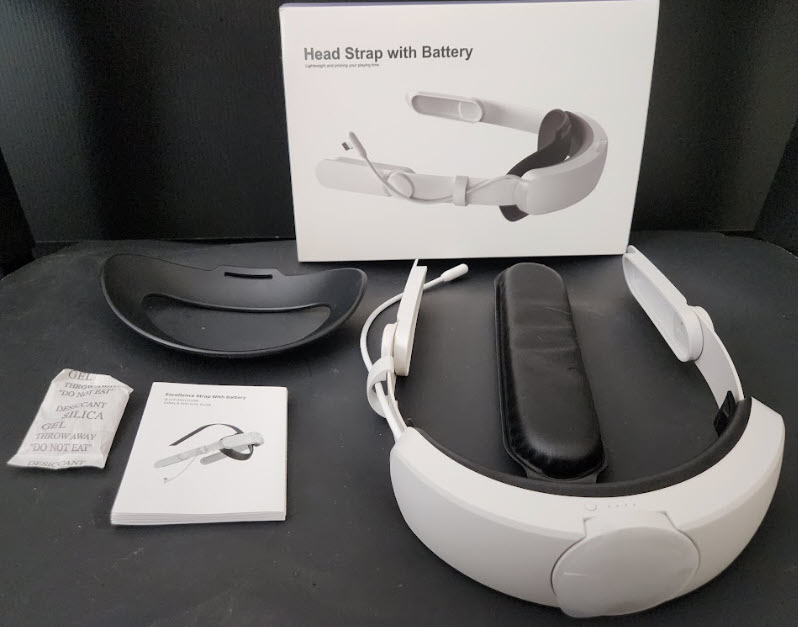 Besides the improved head strap, you will now notice the battery power indicator and a button, that once pressed, will allow you to charge both the Quest 2 and the head strap battery at the same time. Also, feel free to peel off the plastic cover. You can leave it on if you like, you don't have to, but you can.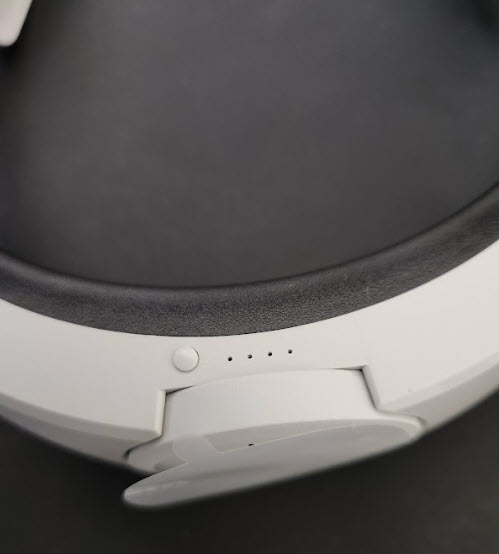 I want to point out again about the improved head strap. It's very comfortable and can easily rest on your head to the point where you may not really feel it.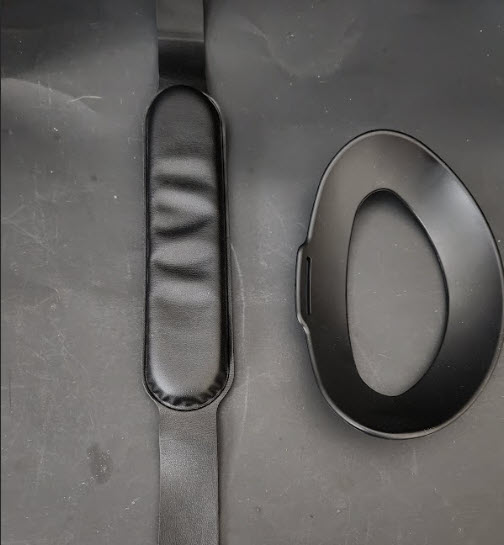 Installation is quick and simple. Just place the head strap through the front of the Quest 2 with the smooth side down and the other end to the back plastic piece, snap that into the back of the Quest 2 and you are good to go for quite a while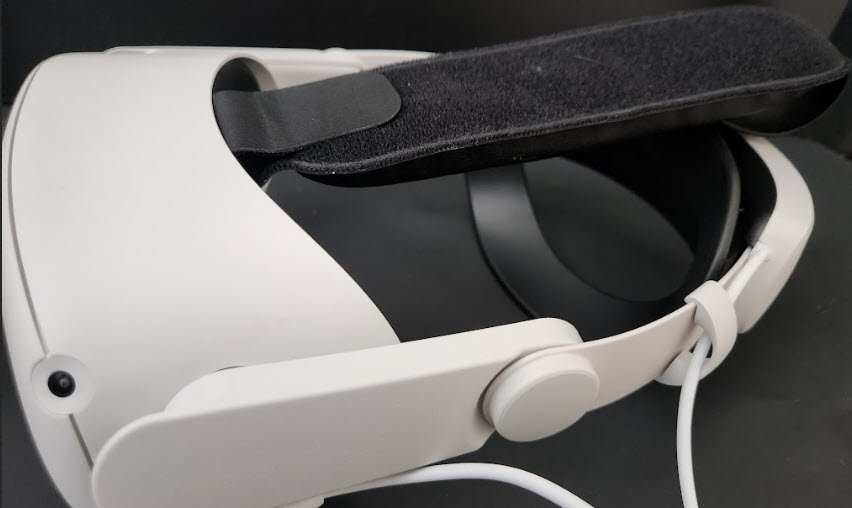 ZyberVR Charging Dock for Quest 2 Headset and Controllers
So you have your Quest 2 and maybe you are using the box that it came in to keep your Quest 2 out of the way or maybe even the official Quest 2 Carrying Case. But you decided that you really want to display your headset and charge it at the same time.

One choice would be the ZyberVR Charging Dock for Quest 2 Headset and Controllers. This dock has some interesting features, such as:
Strong Magnetic Charging Design: Place your headset and controllers on the charging station to charge
Fast charge your Quest 2: Fully charge the Quest 2 headset within 2.5 – 3.5 hours and the controllers within 4 hours
Stable and Safe Charging: The multiple built-in charging protections ensure the safety and reliability of the charging stand. In addition, the micro intelligent circuit management technology repairs the batteries automatically and effectively
Stylish LED Indicator Ambient Light: Easy monitoring of the charging status by the green and blue LED indicators. In addition, you can turn off the LED lights while sleeping, and the charging stand will keep charging
Inside you will find the Charging Dock, batteries, new battery covers, USB C adapter, USB A to USB C cable, and instructions. Because this is a charging dock, the batteries, and covers are upgraded to make sure that every time you charge, it's going to be effortless. Also, one thing you will notice is that when you put the controllers in the slots, it has this nice and strong magnetic feel to it. One thing to keep in mind is that the batteries come with some magnetic plugins to plug into the charging slot. This is for when you place the Quest 2 down, it uses the plug to the right to charge. This is easily removable and comes with a clear box to keep it in or, it's a magnet, you can just leave it out to the charging slot.
You do have the option to leave the lights on or off, but they are not too bright. In the front, it will indicate blue for charging and green for fully charged for both the headset and controllers. But a nice touch is the projected Zyber that is shown from the bottom.

ZyberVR Wireless Charging Dock
Now, if you want to dock your Quest 2 and charge wirelessly, then you cannot go wrong with the ZyberVR Wireless Charging Dock.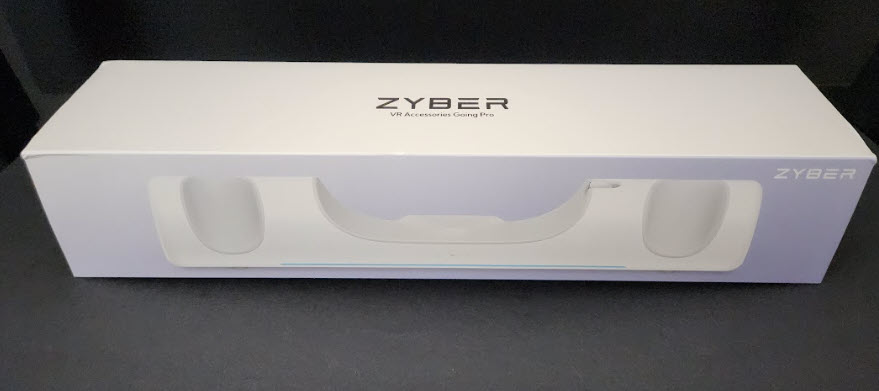 With the dock, you can expect these features:
Wireless Charging Design for Meta Quest 2 Controllers: The charging dock is designed with wireless charging capabilities for the Meta Quest 2 controllers, so you can charge them while they sit comfortably in the dock. And it features a strong magnetic connection by magnetic Type-C connector and battery covers that make it easy to attach and detach your Meta Quest 2 headset and controllers for charging
2.5 Hours Fast Charging Time: The charging dock features fast charging capabilities, allowing your Oculus Quest 2 headset to be fully charged in just 2.5 hours. That you can quickly recharge your Meta Quest 2 devices and get back to your virtual reality experiences
2 Customized 1000mAh Wireless Rechargeable Batteries: The charging dock comes with 2 customized 1000mAh wireless rechargeable batteries, providing extended gameplay time for your VR experience
Tailor-made And Decent Design: With a sleek and compact design, this charging dock saves space and looks great on any desk or gaming setup. And it features an LED ambient light that provides stylish and subtle illumination to your gaming setup. Press the switch to choose the breathing light, always on or turn off the light.
Made With High-quality Materials: this charging dock is built to last and provides long-lasting use for your Meta Quest 2 devices. The multiple built-in protections ensure safety and reliability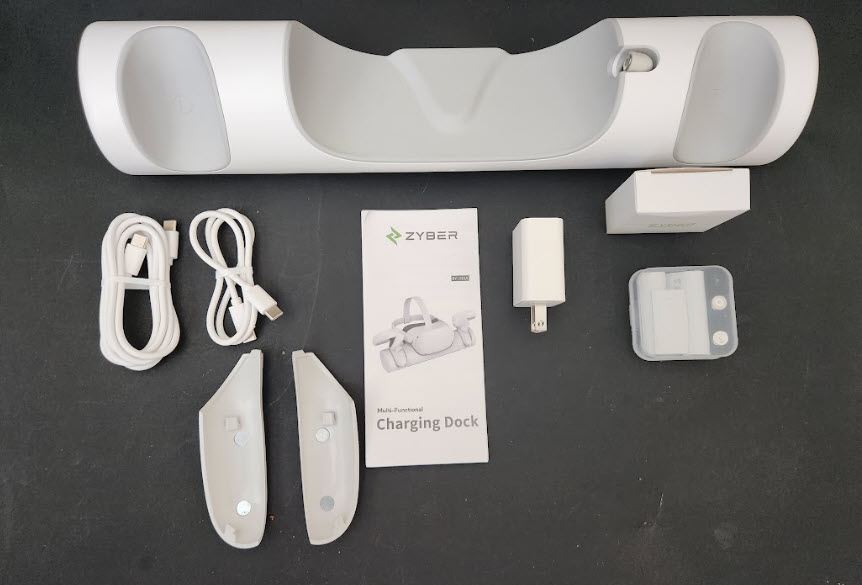 Inside, you have the simplistic and clean design of the wireless charging dock, USB A and USB C cables, adapter, upgraded batteries, and battery covers.
Installation is also easy. For the Touch controllers, you will remove the original battery covers, and replace the battery with the customized rechargeable ones that have the L and R for easy installation, and you will notice the battery covers with two areas for easy charging.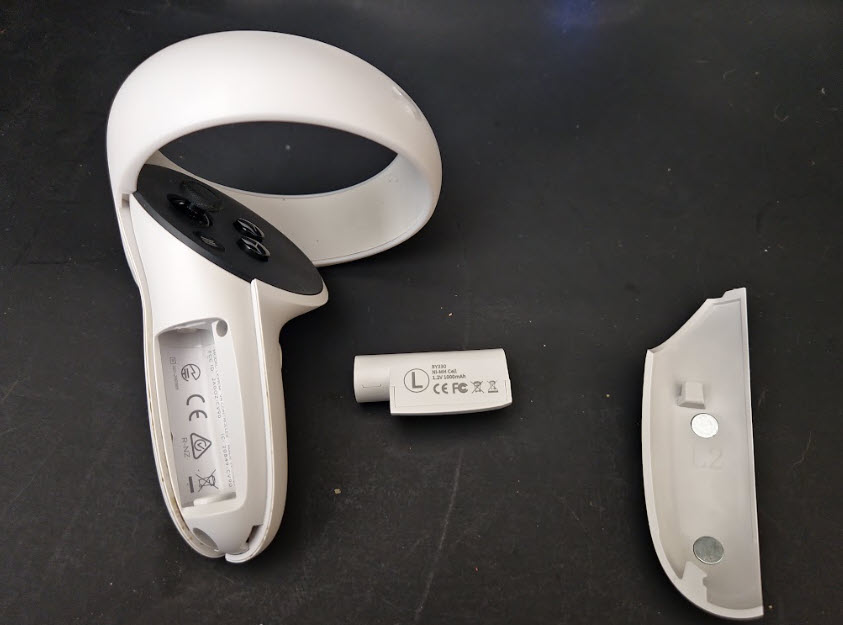 The dock also comes with magnetic USB plugins that you will connect to the USB C charging port on the Quest 2. Then simply place the headset and controllers on the charging dock. Don't worry about the controllers moving with that strong magnet. Plug in the dock and enjoy not only a simple and useful way to display your Quest 2 and controllers, but keep them charged as well. The lights will indicate red for charging and green when they are fully charged. Plus, you have the bottom light that can be solid, breathing, or just turned off, it's up to you.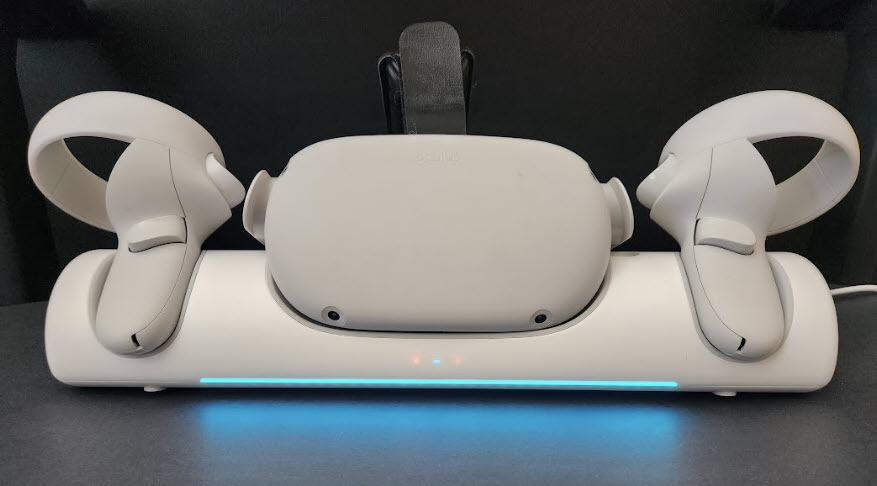 ZyberVR KNIGHT Direct-Charge Controller Grips for Quest 2.
So you have your Quest 2 Touch controllers and you are feeling pretty good. There are some that will use the wrist strap or never use it. If you fall in the category of that you will never use them, you could just simple remove them and let that be the end all. But you know there have been times when either they have fallen out or flew out of your hands (even if the slightest) even if using the wrist straps. Or how many times have you come close to or actually hit the controller against something even with the Guardian there and telling you in a red light grid that you are too close and out of the safe zone? Well, what if you could have the best of all worlds and have that ultimate feel with your controllers without the fear of them flying or becoming damaged?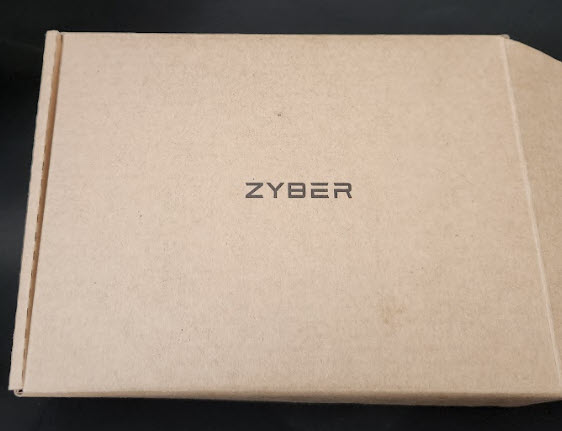 With these grips, these features include:
Charge Has Never Been Easier: Charging two controllers with one packaged split USB-C cable, and fully charging only takes 1 hour
Long Lasting Power: Each 1000mAh rechargeable Ni-MH Battery in the controller gives you 20-24 hours of playtime
Brilliant Design for Any Use Especially Exercises: Extended the controller from 4.76 inches to 6.97 inches for a comfortable hold. The snug-fit knuckle with elastic and adjustable strap is suitable for different hand sizes. Besides, the extended conjunction makes it easy to reach the top buttons
Unique Grasp Simulator Grain: Extremely comfortable hold, and it is not easy to slip by the sweat
Impact-Proof Controller Protectors: Special design to not block any signal on the halo of the controllers.
The box that the grips come in is very basic with the ZYBER name. But inside, you get the Grips with each having an L and R, the protective silicon sleeves, the upgraded batteries, cable, and instructions.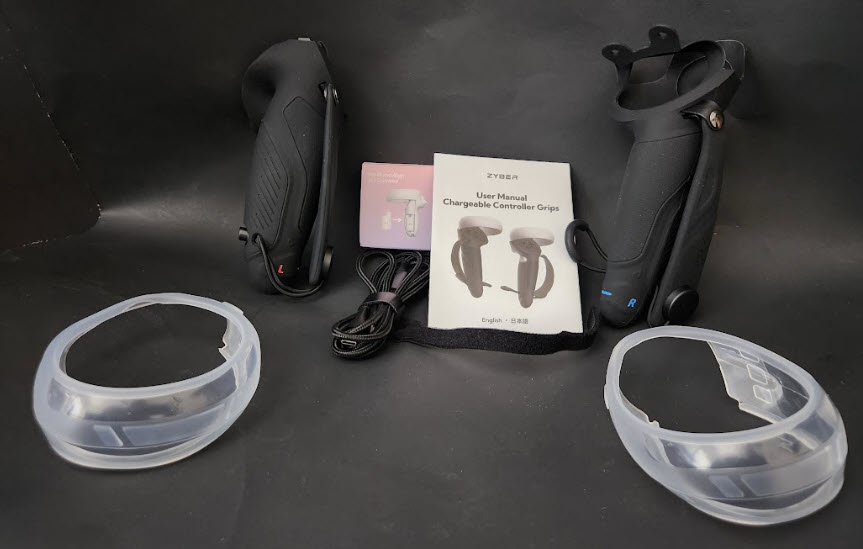 With the batteries, you will notice the prongs easily connect to inside the Grips.
You will need to remove the battery cover as you will no longer need it. I am not saying to throw it away, but it will no longer be needed. Simply insert the battery, which also has an L and R on the inside to let you know which controller they go in.
Since the Grips themselves have an L and R indicated on them, it is easy to know which controller goes into which Grip. Placing the controllers inside the Grips is simple enough, with nothing feeling too loose. The trigger and grip buttons have easy cutouts. Place the protective silicon covers on the top and fasten it from behind. From behind you will see what appears to be a button, this is so you can make sure you have enough room for the handles as they are adjustable.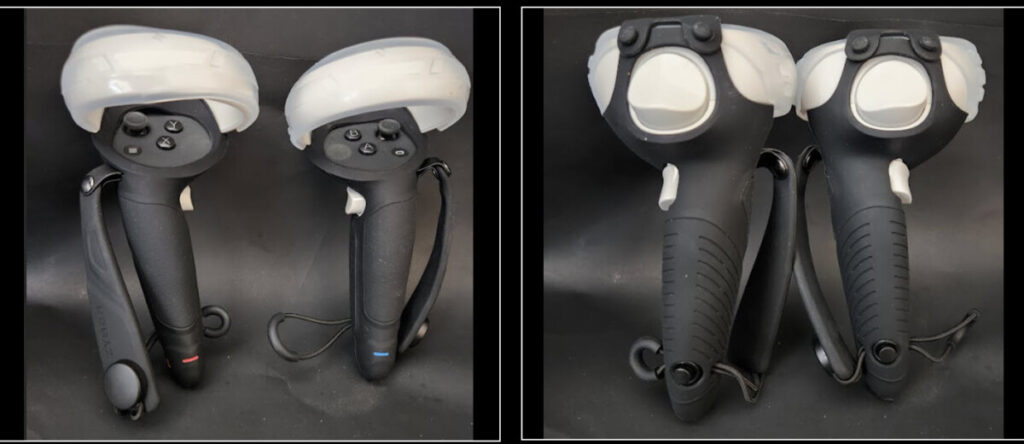 The Grips are just long enough so it doesn't feel like a toy in your hand, but more like you upgraded your controllers. At the bottom of the Grips, are a USB C slot, and with the included USB C split cable, you can easily charge both Grip controllers at the same time.
Keep in mind that if you have the Grips on your Touch Controllers, you cannot use either of the charging docks above. However, they will sit nicely on the ZyberVR Wireless Charging Dock.
To order any of these products and many more at ZyberVR, please visit their site. Also, make sure to like them on Facebook, follow them on Twitter, follow them on Instagram, join their Discord, and subscribe to their YouTube channel.
Until next time, I am going to go have some fun in Virtual Reality.