Whenever you step foot into an arcade either one that is tied to places like miniature golf to even ones that be stand-alone, what type of games are you drawn to? Is it the latest or greatest arcade game experience or maybe the ones where you can win tickets to get those big prizes like Basketball or Skeeball? For me, I have been drawn to the fast action of Air Hockey. But I would always find a way to try some hoops and watch as the net moved as I tried to score as many points as I could before the time went down to zero. So when I heard that developer, Realcast was bringing the arcade action of Basketball home, I had to learn more. So I reached out and co-founder and CEO, Nino Sapina, was happy to talk about their newest game, In da Hoop!, and also about Virtual Reality.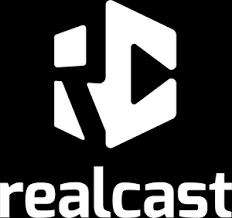 _____________________________________
Interview with the co-founder and CEO of Realcast, Nino Sapina
_____________________________________
Welcome to THE VR DIMENSION. Would you please introduce yourself and what you do at Realcast?
"Hi, my name is Nino Sapina, I am the co-founder and CEO. I have worked for almost 20 years with my co-founder Diego Fernandez-Bravo, CTO and Creative Director of the company, in the video games industry, where we have created several hits together (Just Dance, Raving Rabbids). After that, we decided to establish Realcast to develop a new kind of experience with immersive technologies."
Realcast has won quite a few awards such as the 2019 Aurea Award and the Grand Prix AR for Insurrection 1944 and had some impressive AR creations and experiences with Boulogne has 700 years, Chamarande through the ages, and Phantom Chase. What has it been like to be part of those creations and experiences and seeing the looks on the people who went through that? Also, do you see bringing those experiences to platforms such as Oculus and Steam in the future?
"Our creation of immersive experiences is the foundation of the company. We wanted to test these technologies with mass audiences before going back to games. We have realized that it works perfectly well and that it attracts all ages and kinds of audiences. Of course, there are many factors to make a successful experience in XR, to match physical sensations with virtual ones. We've built our technical solution and interaction systems, and now we are incorporating this into games, our first love."
Realcast has released something different called In da Hoop!. What can you tell us about the game?
"In da Hoop! is a video game based on pure basketball shot sensations. We have developed a unique way to use physical hands and behavior with the ball and virtual objects. When we saw the possibilities of Hand-tracking technology, we realized the potential to offer a new way of playing with no buttons, only with bare hands. There is also a controller mode that benefits from the same physical hand behavior and provides a unique feeling of the basketball shot."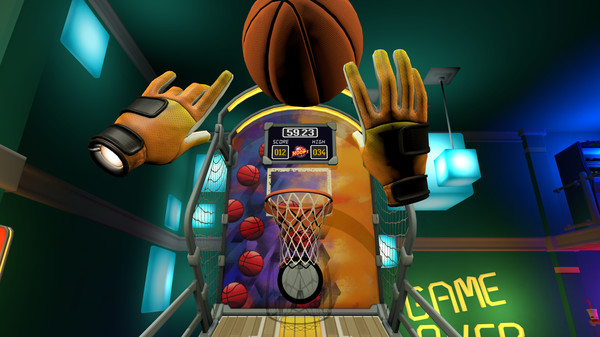 What are some of the variety of fun and the different modes players can be challenged in? Any chance a game of HORSE will be able to be played in the future?
"Basketball has deep but simple core gameplay to make a shot. But there are infinite variations possible to this core gameplay and that's why we have worked on the shooting mechanic first. On top of that, we have built a multitude of levels with different dimensions, movements, and rules (for example combos). There are many others to come, and we want to take advantage of the virtual world to implement some gameplay mechanics that you won't be able to do in real life, like, for example, reverse gravity."
So really, In da Hoop! really is fun for the whole family to enjoy?
"Yes, for sure, there are multiple difficulty levels so anybody can enjoy the game. It works for everyone because we have automatic height adjustment, as well as the controller (arcade) and the hand tracking (expert) modes. You can even play seated for people with disabilities or just for those who want to play anywhere (btw we are creating a series of movies to show all of the locations where you can play), some of them are for the joke 😊."
What can you tell us about some of the different levels in the game?
"There are two groups: arcade machine split into 4 levels including one with a moving hoop. And Backboard levels with different distances including one with no backboard at all. For the beginning of the game, we built a tutorial mode to help players learn how to handle virtual objects (dice) before going to shoot some hoops."
Will there be any unlockables in the game such as different basketballs or skins?
"Yes, all levels are unlockable with 3-star system achievements, and then you can access them in direct play mode. There are multiple balls and stat boards to be unlocked. In upcoming updates, we will release new skins (the first one is haunted house), gloves, more balls…"

Of course, getting the highest score and getting your name on the leaderboards is an important factor in the game, but are you really adding online play and if so, how will it work in the game?
"The first and must-have was to incorporate online leaderboards that are already available in the game. We have two leaderboards, one for controller play and one for bare hands. The next important update is the online mode, to play with your friends & family at a distance or to compete with the best players around the world. Every player will have his customizable avatar and will be able to talk and look at their opponents. That's a great way to be together at a distance while having a good time together."
Do you see tournaments being added as part of the online play?
"That's something we want to add. We already organized tournaments to establish prerecorded scores in the game and it's a lot of fun to see the dynamic of training and elimination up to victory. The game has great potential to make unique champions with each having its technique of shoot."
Sound and music are always an important part of the immersion in VR. What can you tell us about some of the music in the game and were there any sounds that took some time to perfect?
"Yes, especially in a 3D world, spatial sound is very important for immersion. We have worked with our Sound Designer and Composer Nicolas Bredin for a long time. He is very creative and knows how to make the best balance between sound effects and music. You can hear the crowd applause getting louder when you are increasing the combo score for example, and the music calms down when you are more relaxed between the levels. We had a long discussion to find the best theme that gets inspiration from arcade rooms, but also gives a good dynamic for a sports action game like In da Hoop!"
Graphics are also another aspect of the immersion and just by looking at some of the pics and watching the trailer, it looks like you have put in a lot of work into the game. Were there any graphical challenge points that you came across that you were not expecting?
"Of course, graphics are a big part that makes players feel good in the game. There is a strong balance between the performances that reflect on the game framerate and the level of detail. We have incorporated a CRT-like screen on the Arcade machine. Our Creative Director has a passion for arcade games in the '80s. It's a kinda small detail but it brings the whole ambiance into the game. It uses the CPU as well so we were tweaking all that to keep the framerate and gameplay fluid, which is a must for a sports action game. Many more things could be said about gloves and all the details that make the game unique and feel as real as possible."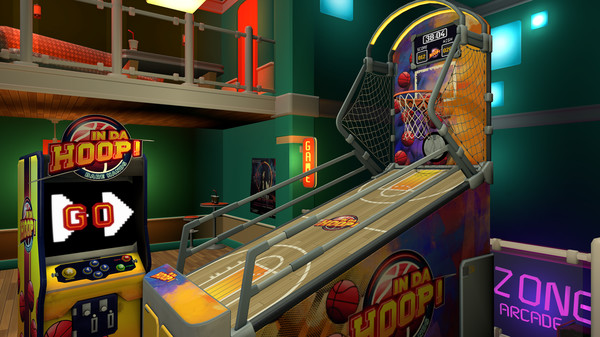 One thing about the new trailer and when it comes to the Oculus Quest/Quest 2 is the ability to go bare with hand-tracking. How much fun was it to be able to create a game where you can actually use your hands to play without the use of controllers and have you found it to be a different experience altogether compared to using the controllers? Which team are you on, Team Controllers or Team Bare Hands?
"That was our intention from the very beginning. Hand-tracking is an amazing technology and it fits perfectly well with our vision. We already used this tech with HoloLens2, and it was one of the decision-makers to create the game with real feeling. Of course, in the beginning, the brain is missing the tactile feedback, and it's a bit more difficult than with the controllers but once you get it it's much more rewarding. Here at Realcast we all prefer hand tracking now."
What do you think is the one big hurdle when creating content for Virtual Reality?
"I wouldn't say there is a hurdle, but there are things you must take into consideration. VR gaming is different from PC, console, or on the other end mobile gaming. Sessions are shorter than the first two and the main factor is that there is a physical engagement. Almost all senses are engaged and muscles too, that's a huge difference compared to button play video games. While we were working on games, we were already in this direction with Just Dance and Raving Rabbids exploring motion gaming and social play. Now we are happy to work on the platforms that can enable us to go further."
With all your experience thus far, where do you really see Virtual Reality in 5-10 years from now, and how do you think the technology will change?
"It's hard to predict, but we are moving to gaming anywhere. If you saw our series of short videos, which were done for fun, but also show the vision. We believe that tomorrow we'll be able to play In da Hoop! on the corner of the street together thanks to Mixed Reality Glasses. VR is just a first step towards this. There are so many innovations coming in terms of other senses like touch and smell to enjoy Metaverse."
In da Hoop! is available now on the Oculus App Lab and is also coming to Steam. Do we have a release date for the Oculus Quest/Quest 2 and Steam versions and do you see the game coming to other platforms such as PlayStation VR/PlayStation VR 2 or Viveport in the future?
"We still do not have a date for Oculus Store, but we believe that this game deserves to be there. The first feedback we got from players confirm that, being that this is the first basketball game with real sensation shots which should be a must have for any Oculus Quest player. We are working on the Steam VR version that will be released very soon, and then PS VR and PS VR2. We were also in talks with other hardware manufacturers too, because for us this game should be available on all platforms to empower VR adoption to mainstream audiences."
If you entered a door through THE VR DIMENSION with the one warning that you could never return, but you could be anyone from any time period, but would have to shoot hoops. Who would be, what time period would it be, and who would the top three people you would want to shoot hoops with and why?
"I'd love to jump into 2091 to see how Basketball has changed and our game in Metaverse. I would invite James Naismith, the man who invented basketball in 1891. The second person would be Barack Obama, he's a great basketball player and he would be interested to see the world at that time. Lastly, I would invite the future Basketball Hall of Fame champion (maybe In da Hoop! 2091 champion) to see his reactions and play all together."
With Virtual Reality content continuing to rise and shoot through the hoops, what would you say to someone as to why they should experience In da Hoop!?
"I would invite them to try and feel the first glimpses of virtual sports with full physical engagements. Then propose to join our In da Hoop! Challenge to compete and win some cool prizes."
I really want to thank Nino for taking the time out of their schedule and from shooting hoop to give us a closer look at In da Hoop! and also for talking about Virtual Reality.
In da Hoop! is out now for the Oculus Quest/Quest 2 via App Lab on the Oculus Store and Steam and coming to PlayStation VR and PlayStation VR 2.
To learn more about the game, please visit the site, like them on Facebook, follow them on Twitter, follow them on Instagram, and subscribe to the YouTube channel. To learn more about Realcast, please visit their site, like them on Facebook, follow them on Twitter, follow them on Instagram, and subscribe to their YouTube channel.
Also, check out the In da Hoop! review.
In case you missed the trailer, please enjoy.