Have you ever gone to an arcade to see what the variety of games there is to play? You have the arcade games, the crane ones where you try to win prizes, Skee Ball, and even Pinball. Any time I have gone I always try and play a mix of all the different types of games that are available. Usually, I give Pinball and Skee Ball a second or third attempt until I see the Basketball one. The one where you have to shoot the Basketball and try to make it in the hoop while the goal is moving and make as many shots in the basket before the time runs out. Sometimes that shot goes in and sometimes it bounces out off the rim, in the air, and out of the game making you waste precious seconds off the clock as you go to retrieve the ball or wait for a new ball to come in. But does developer, Realcast bring the arcade action of basketball home? Let's find out with In da Hoop! for the Oculus Quest/Quest 2.
In da Hoop! is a VR experience that sports a fun 80's arcade vibe to bring the fun and challenges you have always enjoyed in the arcades into your homes so you can play Basketball anywhere in a casual setting or for more of a challenge, try to compete against the online leaderboards.
So before we begin, I want to point out a few things, one, you can play sitting or standing and two, you can play with the Touch controllers or play with your hands (more on this a little bit later). So before you try to go in and claim the top spot, you should really go through the training. The game starts out in an arcade setting with an arcade game to your left. This is where you can select the different options for your game such as Training, Quickplay, and Leaderboards as well as Party Options and Toybox coming soon.
So when you start the training mode, it's a way to really get you familiar with the mechanics of the game since you will be shooting virtual Basketball, you will have to get used to holding a virtual object in your hands. So to begin, it starts out with rolling the dice to stacking the dice to what I like as an addition to the training, Dark Crystal. This is where you can see how long you can hold a crystal ball in your hands without dropping it.
I will say it's something you will have to get used to and it does help prepare for when you can actually shoot baskets. After each section of the training, you are graded on how well you did and hopefully gain those three stars as well as entering your name for the Leaderboards. You want to be as quick as possible as this is timed, but if you don't get it right at first, that's part of the challenge and just keep trying.
When it came time for the shooting, I will also admit that how I would do at this game in an actual arcade is going to be different. Not because the shooting mechanics are not here, they are, but at an arcade, you have a physical ball that you are holding in your hands and shooting. But here, In da Hoop!, my shooting was off and I didn't find that to be discouraging, but more of a challenge that I was willing to try and meet.
Then I decided the hands free mode which seems to be even more challenging than using the Touch controllers.
As you can see, it is more challenging trying to use your actual hands and holding a virtual basketball.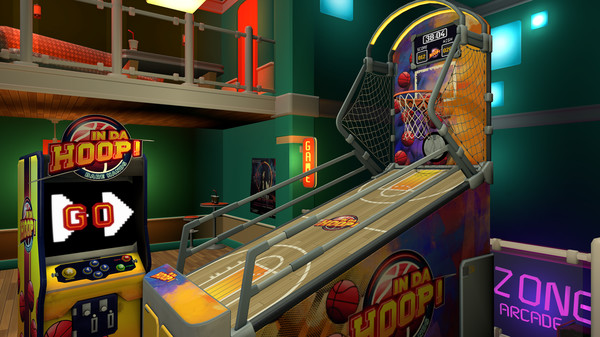 Let's talk about the sound and graphics. Realcast got the sound down pretty well. Hearing the basketballs bounce off the rim and making it in the baskets sounded just like being in the arcade even when I did miss the shots. Looking at the graphics, when you can make out the details of the material on the basketballs along with the actual machines and different backboards, it shows the amount of work the developer took to make sure the game looked as good as it could on the Oculus Quest 2.
There are some things that I hope get updated and added to the game? For one, the shooting mechanics from the angles to the spins are there. But with that said, shooting a virtual basketball either with controllers or with your actual hands will have some players finding it very challenging. When you have the game where the whole family can play and you have some younger family members try, I can see where some may get a little frustrated. Not saying to let that discourage from playing because you shouldn't. It will just take time to get the feel of it all and that really is ok. So maybe if there there could be an option for age groups and based on the younger the age, maybe some extra help with the shooting may help encourage not only the younger players, but others as well. If this was implemented, then there could be an option not to have any assist in the matter. It's always good to have options. Second, I would have loved to explore the Party and Toybox modes. But these options and the ability for Online mode are coming and cannot wait to see how these play out. I think it would be good to have two players side by side shooting against the timer and be able to talk in a fun social way would be a blast. And last, this is not in any way a necessity, but more of a cool feature to add is since you are in an arcade, how about based on your score and the time, tickets were issued so then you can trade in the tickets for virtual collectible and unlockable items. Again, it would be a fun feature to have.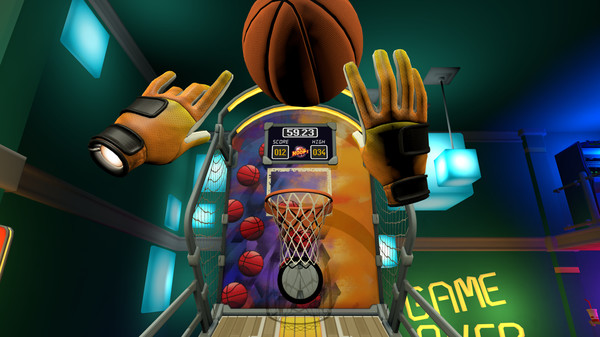 In da Hoop! shows us what is possible with Virtual Reality and using our hands instead of the controllers. If this is just a glimpse of what coming, I cannot wait to see what's next. We are told to shoot for the stars so that our hopes and dreams can be reachable. Sometimes it takes more than one wish and more than one try to see that next step. But if we keep practicing as we shoot for our dreams, anything is possible. And isn't a dream worth shooting for?
In da Hoop! is out now for the Oculus Quest/Quest 2 via App Lab on the Oculus Store and coming soon to PlayStation VR and Steam in the Summer of 2021. A review code was provided.
To learn more about the game, please visit the site, like them on Facebook, follow them on Twitter, follow them on Instagram, and subscribe to the YouTube channel. To learn more about Realcast, please visit their site, like them on Facebook, follow them on Twitter, follow them on Instagram, and subscribe to their YouTube channel.
In case you missed the trailer, please enjoy. Until next time, I have more practicing to do and leaderboards to climb.