Have you ever had the thought about how life has changed in such ways that you didn't think you would be where you would be today? Maybe it's the city life, maybe your family grew in some sort of way, or maybe you can look back and think about that one point in your life where if you would maybe have answered a different way or did something different, that your life would be either more challenging or little more calm and simple. But regardless of how hectic things may be, there is always a time we can look forward to when we get to have a more calming time in our lives such as vacation or a new place to live. But does developer Abrams Studios show a more calming approach and let our inner nature show us a better picture of how things could be? Let's find out with Morels: Homestead for the Quest/Quest 2.
Morels: Homestead is a sandbox VR adventure where you will be able to explore levels from many environments and find hundreds of unique items that you can keep for yourself or trade to allow your Homestead to expand. Grow and harvest crops, find rarities, or even use your shovel or metal detector to find and secure different treasures. So before you go out there and try and act like this is the gold rush of 1848, there are a few things that you will want to know about. First, there is no need to rush through anything. Just take your time and enjoy. Second, make your time here, yours. And third, make sure the controllers have enough power as you don't want to have them go out and you become a scarecrow in this land as you never know what animals may come your way. With that said, let's continue…
In Morels: Homestead, the first thing you will come to learn about is that your place, your Homestead, is yours to build how you would like it. It's a canvas just waiting for you to create within it. The first thing you will want will have to do, is select your hands. Do you want bare hands or do you want to have gloves for your hands? There is a nice selection to choose from. I went with the outdoor, I am going to have to move some stuff and garden-type gloves even though the two fingerless and a thumb glove set did look pretty good.
After you have selected your hands, it's time to select your Homestead. There are six to select from. You have Southwest Land that features rocks and hills, Rocky Mountains Land that features mountains and Pine trees, Pacific Land that features Redwood trees and Fence, Northwest Land that features Pine trees and cliffs, Midwest Land features Maple trees and Fence, and Southwest Land that features Broadleaf trees and boulders. So it's really up to you and where you want your Homestead to be. I decided on Northwest Land as it just seemed the right type of area for me. But it's what Abrams Studios did next that made me think more. Once your area is ready, you see the ground and this blackness dome around you. But it's when it rises, it's as if your eyes are opening for the first time so you can experience your blank canvas of your Homestead and welcomes you into its world and asking you the question of what will you create?
On your wristwatch contains everything you could possibly need. You have Settings, Inventory, Photo Galery, Quest Overview, Level Select, and Statistics. Of course, the first thing you will do in your new Homestead, is placing your tent, a tree, and a garden box. You also will notice you have only a certain amount of money to spend. So after placing your tent, tree, and planting and watering your seed in the garden box, it's time to hit the Farmer's Market. This is the place that you can think of as your main hub here in Morels: Homestead. From purchasing new items like furniture, buying and selling items, and even going on quests, it's all done from the Farmer's Market. Which I have to say, is quite peaceful as there are some NPCs that you can interact with.
With the quests, it helps you earn money which you can then use to purchase new items. Quests can be things like collecting a certain amount of apples or finding a certain amount of coins. You will need to travel between the different lands to try and find these items. So there is going back and forth, but nothing too tedious and it's quite relaxing to see the different environments. One of the first quests is finding and using a flashlight. I will say this, in the Farmer's Market, you can purchase a flashlight. Don't use the money to buy it as it doesn't count. After exploring one of the lands, I found a flashlight, and then I was rewarded for completing that quest.
Probably one of the things I enjoyed most in Morels: Homestead, is the camera you have on your right side. Not only did I find it relaxing in the environments just wandering around, but also taking pictures of different subjects from scarecrows to the UFO I saw flying around in the sky to the alligator roaming around. One of the maps has you on a farm and as I was walking around I was thinking, this would be pretty cool if there was a corn maze. I go back to the Farmer's Market and one of the quests is taking a picture of a scarecrow in the corn maze. As I walked through the corn maze, it instantly gave me those fall pumpkin patch vibes. You really don't know what you may come across here and that's part of the fun of it all.
Let's talk about the graphics and sound. Walking through Morel's Homestead, things are simple and nothing that I experienced seemed out of place as if it was trying to take away from the immersion. The detail that went into the different lands to make them be as different and authentic as those lands from the ones that are unlocked to the ones that are locked, shows the creative fun the developer had in making the experience as immersive as possible. Going to Indiana Country for example and seeing the house and that old-time farmer's truck just made me want to stay there. The sounds were simple with the relaxing background music, birds chirping louder as you got closer, to even hearing the water by the stream.
There are a few things that I wish to get added and updated. First, the controls. I did notice that when I had the menu on my wristwatch open and tried to move, I couldn't really turn as easily as I when I had it closed. It's not a deal-breaker by any means as I can easily close the menu, but it would be great to be able to turn the same either way. Second, is the increase of money when completing a quest. In order to buy new things, you need money. In order to get money, you have to complete quests. The quests don't seem to reward as high. I mean, I love taking the camera and photographing, I want to get rewarded more for my Time Life photo angle of the year shots. So maybe increasing the amount of money earned from quests so the items that you want to purchase would be easier for some to achieve. Third, Morel's Homestead is the perfect place for a social community. The lands are a pretty good size. Walking through and seeing camping chairs, but yet not anyone to sit around the campfire and just talk. Just think of the quests that could be completed with the needing of multiple people to complete them and just building each other's Homesteads would be just fantastic. And finally, just more lands to get lost in with more creatures and even stranger things appear just like the UFO flying in the sky would just even more here.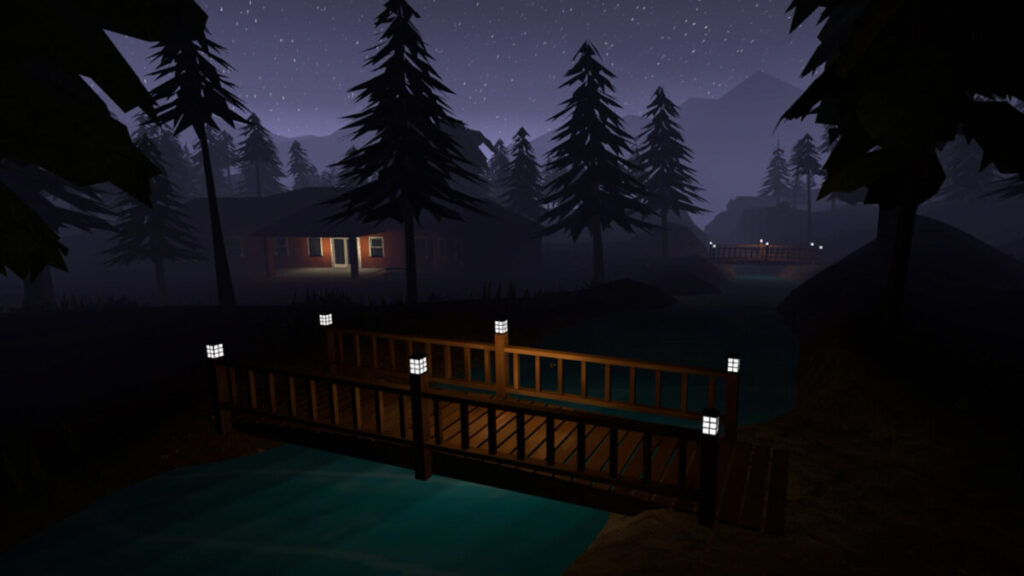 Morels: Homestead allows us to create our own place to let our inner nature paint that outer picture. It doesn't try and rush and allows you to be you while welcoming you to a place where the sky is the limit. Sometimes in life, we wonder about what if and if there is a place where we belong. Sometimes we find that place in mysterious ways. But sometimes, it takes the escape to show us that our home is where our heart is.
Morels: Homestead is out now for the Quest/Quest 2 on the Oculus Store. A review code was provided.
To learn more about Abrams Studio, please visit their site, like them on Facebook, follow them on Twitter, and subscribe to their YouTube channel.
Also, check out the Morels: Homestead interview.
In case you missed the trailer, please enjoy. Until next time, I have to add more to my Homestead.