When you hear the name dragon, what comes to mind? There's Pet's Dragon, Puff the Magic Dragon, Dungeon, and Dragons. To me, there is a series that featured two dragons named Bub and Bob that have spanned over the years in different variations. From Bubble Bobble to Bust-A-Move to the more recent Puzzle Bobble. Over the years, Bub, the green dragon, and Bob, the blue dragon worked in various ways and went on many adventures. So does developer, Survios, show what it's like for Bub and Bob to go on vacation after all this time and still bring the familiarity of the series into VR? Let's find out with Puzzle Bobble VR: Vacation Odyssey for the Oculus Quest and Oculus Quest 2.
In Puzzle Bobble VR: Vacation Odyssey, you will aim, shoot, and pop the bubbles by matching the colors in order to clear the puzzles and progress to the next stage. But this time, Bub and Bob have waited years to finally go on their dream island vacation. But just as they are starting to enjoy their vacation, an evil wizard comes in and traps their girlfriends into the bobbles and are taken away. That's when you, who is playing as Bub, receives the bobble cannon and Bob will feed you the different color bobbles so you can fire at the group of bobbles and hopefully clear them out in the number of shots or time allotted for that stage.
But if you are familiar with the series, Survios did decide to add some fun and interesting tricks to the mix. For one, when you shoot at the cluster of bubbles, the cluster will rotate which can either go in your favor or make some of the shots that you had lined up become more of a hassle than you would have hoped. But that's ok, as long as you get the matching of 3 or more colors, then that cluster or clusters will start to dwindle and you will hopefully move on to the next stage on your vacation.
Each stage allows you to earn coins that you can use for power-ups such as bombs, Paint Brush, and Spin Bubble. Bombs will of course make an explosion. But in order to activate the bomb, you will need to eat a lollipop causing you to breathe fire so that you can ignite the bomb which is always fun to do. The paintbrush will allow you to dip your paintbrush into the paint and choose the color for your next bubble. And Spin Bubble will let you rotate a puzzle cluster or clusters exactly how you want.
There are also different level mechanics in the game such as Barriers, Plus Bubbles, and Inverted Bubbles to name a few. For example, Barriers block your view and you would need to hit them with a matching bubble to pop them so you can get that shot that you need. Plus Bubble adds 3 shots to the shot limit for popping them. Inverted bubbles cannot pop. So after each shot, the inverted bubbles revert to normal and the normal bubbles then become inverted So it really is a nice mix here to add to the different puzzle stages within the game.
At times you will see some birds flying around. Yes, you can shoot them. It may use up one of your shots, but you can shoot them to get some points. There were some times that I overshot the clusters and thought, well, that was a wasted opportunity. But then even if you miss the cluster or on purpose, just fire in the sky, the bubbles will find a way to become one with the cluster either by popping some bubbles that the color of your bubble happens to just come in contact with the same colors or add to the cluster(s). There will also be at times when certain levels seem to be harder than they should. Don't let that frustrate you too much. Just keep trying or take a break and come back and try again.
There are also different modes to play in if you want to get out of the Story Mode. You have Infinite Mode has a endless complex sequences of bubbles for you to try and pop. then there is the Dual Mode (1-1) where you go one on one with another player and try to pop the bubbles as fast as possible as you try to get the other player to rise towards the vortex. I tried multiple times to do the Dual Mode, but could never find someone to play with.
Graphically, the game uses lower graphics, but it works here quite well and Survios is well known for their VR capabilities and they did a great job here. I really enjoyed just going around the island and seeing the different scenes. Seeing the sun in the distance just added the right atmosphere.
There are a few things that I would like to see added. For one, leaderboards. It would just be fun to see how you match against other players via score and stars that were collected for each level. Second, the amount of coins that are needed for each power-up seems a tad high for the Paint Brush and Spin Bubble. Maybe lower the amount of coins needed just a tad. And lastly, user created levels would be a blast to see here. Ones that you could create and submit and others try to do their best to beat what you created. Is it necessary, no. It's just something that would be fun to see added.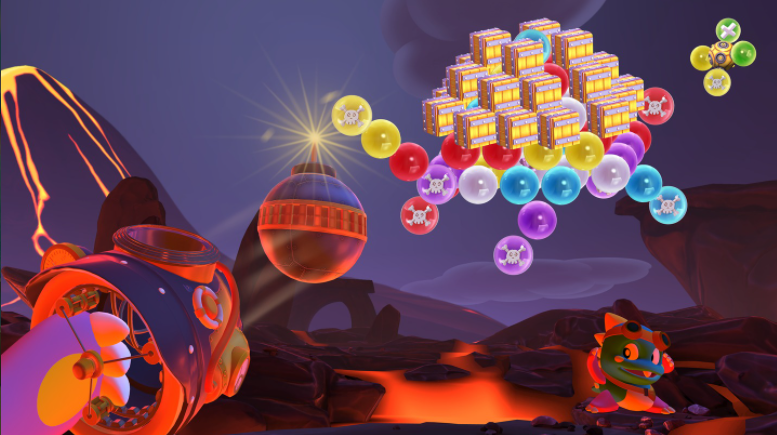 Puzzle Bobble VR: Vacation Odyssey gives us the nostalgia feeling and shows that bringing non-VR games into VR can be a lot of fun when you add in new elements while bringing back the memories that many of us have been fond of all these years. It's a game that any person or family of any age can just pick and play from a few minutes to even hours. Sometimes we have a desire for the bigger and brighter things in life only to realize that sometimes the more simple things in life may be all that really need.
Puzzle Bobble VR: Vacation Odyssey is out now for the Oculus Quest and Oculus Quest 2 on the Oculus Store. A review code was provided.
To learn more about the game, please visit the site. To learn more about Survios, please visit their site, like them on Facebook, follow them on Twitter, follow them on Instagram and subscribe to their YouTube channel.
In case you missed the trailer, please enjoy. Until next time, I need to see if I can get all the stars on all the levels.