Star Wars is something we all know. We all have our favorite characters from either the Rebel Alliance or the Galatic Empire. We have our favorite scenes from the movies, our favorite stories from the books, to even the different games that we have played. But thanks to Virtual Reality, we were able to see these characters and locations come alive like never before. It has allowed us to be part of the Star Wars universe in ways we never thought possible. But when I heard that developer, ILMxLAB, was enhancing one of their projects for the PlayStation VR2, I had to know more. So I reached out and Experienced Designer, Jacob Edelen, was happy to talk about bringing Star Wars: Tales from the Galaxy's Edge – Enhanced Edition to PlayStation VR2 and Virtual Reality
_____________________________________
Interview with Experience Designer of ILMxLAB, Jacob Edelen
_____________________________________
Welcome to THE VR DIMENSION. Would you please introduce yourself and what you do at ILMxLAB?
"I'm Jacob Edelen and I am an Experience Designer here at ILMxLAB. Some people have described it as a virtual director. We are in charge of the flow of the experience and the world that the player moves through. We start drawing out layouts of a level and build simple versions of that "set" before handing it off to the artists who model it, color it in, and make it look amazing. During this, we also work with engineers to design and request gameplay systems. This allows design to code in how things flow in the level from a door opening to fire fights with enemies like stormtroopers. It's a very collaborative role."
What are some of your fondest gaming memories growing up and what was that one VR moment that made you want to work more with Virtual Reality?
"My best memories with gaming are playing on the couch with my friends and my brother. I also used to travel around the country with a group of friends and compete in the Pokémon video game competitions. That was so much fun. Gaming is often at its best when it's social and you're playing with your friends and family. Funny enough, playing Trials on Tatooine was what sparked my imagination with VR. That experiment showed me the cinematic potential of VR and made me want to work with headsets and immersive technologies. That is also what made me want to work for ILMxLAB."
ILMxLAB tells some amazing stories within the Star Wars universe, from Vader Immortal: A Star Wars VR Series to the latest, Star Wars: Tales from the Galaxy's Edge. If you could name the top three points of what you think ILMxLAB does to immerse the player into the Star Wars universe, what would they be?
"For this experience, the top things we try to focus on are providing a "storyliving" experience, feedback, and accessibility. We try to make the player central to the story we are telling here. The player grows and interacts with the characters around them in a realistic way to become the hero. These interactions really root for the player in the universe rather than being a guest. Feedback refers to how we are teaching the player how to be a part of this world, but also how the world reaches out to the player. Our haptic systems and sound make the player feel and hear the world to add to the beautiful world they see around them. Accessibility makes it so there are multiple ways for the player to tailor the experience to them. VR can be overwhelming to be in and we want to offer ways to mitigate that. All of these things together create a Star Wars experience that all fans can enjoy."
For those that have not played Star Wars: Tales from the Galaxy's Edge, what can you tell us about the game, Black Spire Outpost, and Batuu?
"The experience takes place on the planet Batuu, which was created for Star Wars: Galaxy's Edge at Disneyland and Disney World. Black Spire Outpost is a spaceport that you can walk around in that contains all these cool shops, characters, and ships, like the Millennium Falcon. Visiting the parks is great, but you can only see this one section of Batuu. Our experience goes beyond the outpost and takes you into the wilds of this planet. This helps expand our knowledge of the planet and see new things that are only possible in VR. What's really cool is we have worked with Disney Imagineering to incorporate the familiar sights and characters found in the parks. You look out the window of Seezelslak's bar and you see the sightline that you would see at the parks. This makes the experience feel faithful to the physical park and also makes everything feel cohesive."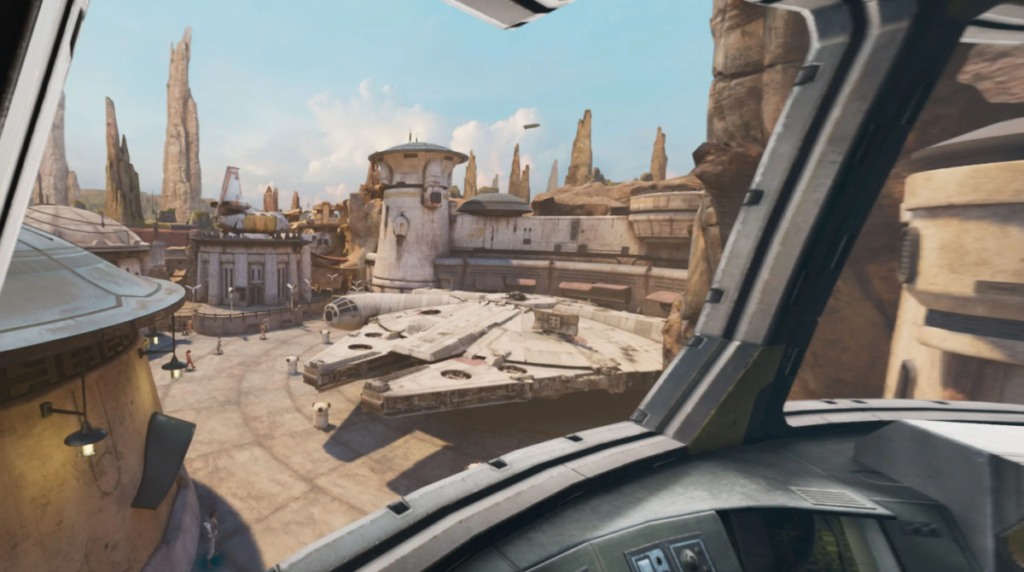 There are some new and returning faces that players will encounter. What can you tell us about some of the new characters such as Hondo Ohnaka, Seezelslak, and Nooa, without spoiling too much, who is a familiar character you cannot wait for players to meet again?
"Yes, that's one of the coolest things about this experience. You get to see some familiar faces like R2-D2 and C-3PO, but also some new characters from Batuu. Seezelslak is one of the characters you'll run into the most. He's this barkeeper that's played by Bobby Moynihan, who knows these amazing stories from Batuu that he'll tell you over a drink. These stories will take you to other places and eras in the galaxy where you can meet characters like the Jedi Padawan Nooa among many others. We also meet Mubo and Dok-Ondar, who are shop owners in Black Spire Outpost. What's cool is you get to interact with them and see who they are as characters. Dok is only behind a desk in the park, but here he talks and you get to be a part of his relic gathering adventures. There are so many characters to meet and interact with from different eras and corners of the Star Wars galaxy. I'm really excited for players to meet Yoda in VR. He is in one of the tales Seezelslak tells the player. The cool thing here is that he is voiced by the actual Frank Oz in our experience. Being in Yoda's presence and hearing his actual voice is a very special thing to experience and I hope fans enjoy it as much as I do."
Star Wars: Tales from the Galaxy's Edge has been out for the Quest platform already. For the launch of PlayStation VR2, we now have Star Wars: Tales from the Galaxy's Edge – Enhanced Edition. What can you tell us about this edition and how has ILMxLAB incorporated the PlayStation VR2's features in the game?
"Well as the title says, this is the enhanced edition of the experience. We are able to tap into the impressive technology of the PlayStation VR2 to really deliver some amazing visuals thanks to the power of this headset. We really turned the lights on and pushed the environments to new heights. Another great thing about this headset is it comes with an amazing haptics system we were able to tap into. The headset has haptics now so when the world shakes or the player is hit, they get that rumble to make them feel more connected to the world. We were able to feed our sounds directly into the controllers to make them kick in the way they should as you fire weapons. We also utilized the adaptive triggers to make each blaster have a different level and point of resistance to make each thing you use feel more authentic. Lastly, this is the complete experience. This means you don't have to worry about the Last Call DLC. From the very beginning, you can choose how you tackle the experience and where you want to go. Giving that freedom to the player is a great plus of this edition of the experience."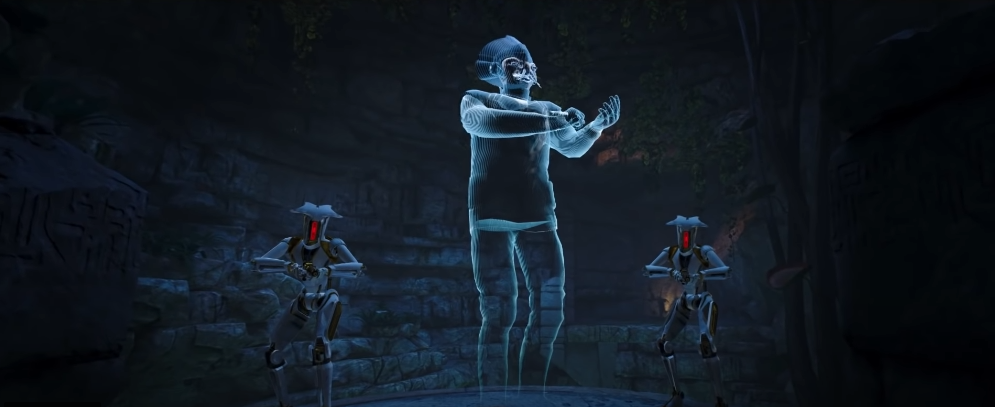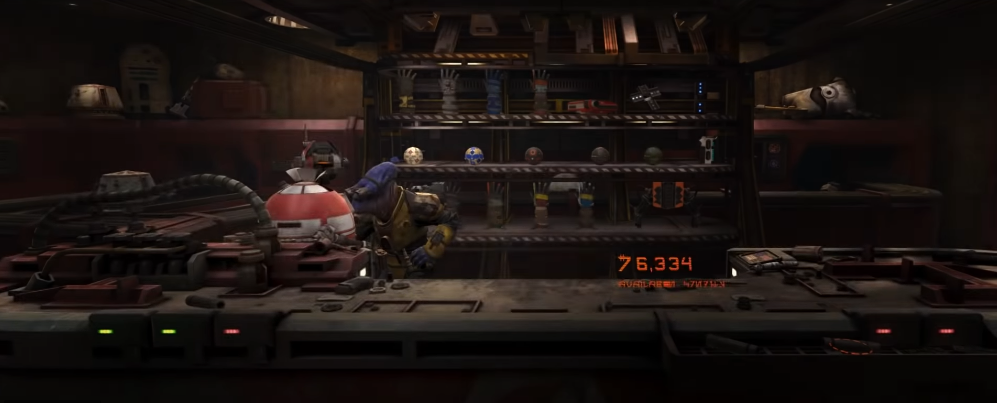 When watching the trailer, you can tell the game really does have enhanced visuals. When working on bringing this edition to PlayStation VR2, were you surprised by how well the game actually looks compared to the previous versions?
"Yes, we would have regular check-ins with each department and the artists just worked their magic to produce these amazing images. I remember when we started to see these enhanced images roll in and our jaws dropped. We just knew we had something that was going to be special on our hands."
There are certain sounds that you can hear and you know it's Star Wars. With the 3D audio, how was it working with the team at Skywalker Sound?
"Anytime you get to work with Skywalker Sound, it is a real pleasure. They work in creating dynamic soundscapes and everything they make sounds amazing. They have this wealth of sounds to pick from that can be applied to anything in addition to the familiar ones. Sound is so important to the Star Wars galaxy and their work really helps the player feel like they are in that world. It's so cool to hear the familiar blaster sounds and bolts whizz by your head."
What are some tips you can give that may help players in their adventure?
"For this experience, I would recommend going into Mubos's workshop and checking out his store often. He has all these great upgrades that can really even the odds out in the wild. There are gloves that make you more powerful, holster upgrades that charge your blasters, and more to purchase. I would also recommend looking for new things in different environments to sell to
Mubo. Some things might be more valuable than you thought at first glance."
Where do you see Virtual Reality in 5-10 years?
"I think Virtual Reality is really starting to deliver on its promises of immersion and experiences are looking better and better. I think VR and headsets are going to become more approachable to a wider audience. I think this will bring more developers to VR and we will start to see some genre-defining experiences. I'm really excited to see what comes next."
I have to ask, are there plans to make an enhanced edition for Vader Immortal: A Star Wars VR Series for PlayStation VR2 in the future?
"Currently, we have been focused on making Star Wars: Tales from the Galaxy's Edge the best experience it can be on PS VR2."
So what is next for you and ILMxLAB?
"We are always working on new and exciting experiences here that will push the bounds of storytelling with new technologies. There isn't much more to share at this time, but our future is very bright."
If you walked through the door into THE VR DIMENSION, but it was in the world of Star Wars but could pick anyone from any time, who would you pick to be a Jedi, who would you pick to be the main person for the Empire, and who would you be and why?
"I would have to pick Yoda to be the Jedi. You couldn't pick a wiser being to lead the light side. Also, I could carry him around like a backpack and do some flips. Who doesn't want to do that? For the Empire, I think I would want to have Jar Jar Binks just to see what that would be like. Even if he is super evil and imposing, his manner of speech would help undercut how scary he is. I would be a Mandalorian if I was able to choose. They just have the coolest armor and weapons in the galaxy. You couldn't go wrong with any of them."
With the library for Virtual Reality continuing to grow, what would you tell someone as to why they should experience Star Wars: Tales from the Galaxy's Edge – Enhanced Edition?
"This is a great first VR experience for anyone based on how we have built it. I think it shows off how immersive and amazing VR can look. In addition to that, we have built the experience with intuitiveness and accessibility in mind. This makes the experience very approachable to newcomers. Anyone should be able to enter and have a fun time in their very own Star Wars story."
I really want to thank Jacob for taking the time out of their day to for giving us a closer look into Star Wars: Tales from the Galaxy's Edge – Enhanced Edition as well as talk about Virtual Reality.
Star Wars: Tales from the Galaxy's Edge – Enhanced Edition is out now digitally for PlayStation VR2 and coming as a physical release for PlayStation VR2 with the partnership of Perp Games on April 7, 2023, at the Perp Games Store and a retailer near you.
To learn more about ILMxLAB, please visit their site, like them on Facebook, follow them on Twitter, and subscribe to their YouTube channel.
To learn more about Perp Games, please visit their site, like them on Facebook, follow them on Twitter, and subscribe to their YouTube channel.
Also, check out the Star Wars: Tales from the Galaxy's Edge – Enhanced Edition review.
In case you missed the trailer, please enjoy.