What if you woke up from a nightmare only to realize it was the norm of the world? Do you think you would become a stronger individual both physically and mentally? Maybe the word has another test for you and don't even realize it or maybe this is how you will be judged when it's time. Hopefully, we never get to this point in our lives as many try and make the right choices in life. But does the developer, Skydance Interactive bring back the magic and take it to the next step? Let's find out with The Walking Dead: Saints & Sinners – Chapter 2: Retribution for PlayStation VR2.
The Walking Dead: Saints & Sinners – Chapter 2: Retribution, you will continue your tour through undead New Orleans continues this new chapter to the Tourist's story in The Walking Dead: Saints & Sinners. Hunted by the seemingly unstoppable Axeman and facing off against the Tower's latest push for total dominance, discover what connects these new threats together before it's too late. New faces, places, weapons and gear all await you on your journey to a final showdown for the city's fate.
So before you continue your tour, there are a few things that you should be aware of. First, First, the dead are still out there looking for their next meal. So make sure you have some space as you will be moving your arms and you don't want to damage anyone or anything while protecting yourself. Second, you can play either standing or sitting. If you decide to sit, make sure you have your favorite chair or place to sit. Be as comfortable as can be. Third, make sure those Sense controllers are fully charged. You don't want to become the latest to be dead all become you forgot to charge them. Fourth, I am not going to spoil anything for anyone and only will show earlier parts of the game. And finally, just have some fun. With all that said, let's continue…
If you have not played The Walking Dead: Saints & Sinners and are now just starting with Chapter 2, there will be spoilers when you first start the game. Of course, as I mentioned previously, I am not going to spoil anything for anyone. But Skydance brought an impressive resolution for this round as before even starting, just looking at the title screen under the stars, next to a dumpster fire with a dead horse that at any minute, I feel would rise from the dead and then expect to see some walkers in the buggy.
Of course, with any game, you might want to go into Settings to make your playthrough an enjoyable one. You have options such as Nausea Reduction, Disabling All Vignettes, Hand Orientation to even disabling vibration, and the Adaptive Triggers if you wish. With the Controls tab, you have the option to have Snap or Smooth turning, the Turn Speed, Direction Control that is either done by Head Based or Free Look, and Grip Mode. As you can see, Skydance Interactive is making sure they have thought about the player's experience. And last but not least, go through the tutorial so you can at least have the basics down.
When you are ready to start, you will have just a few options from the color of the skin tone and the voice style. Then it's time for that familiar ride on the bayou with that familiar voice from the past that gets you up to speed a bit on what's been going. Again, I am not going to spoil anything for anyone. But when it's time for you to start, you are put right into the action as you it's almost like an expansion of the tutorial of how to get your flashlight, how to use the weapons, and objects such as medical bandages. You will also come across some scavenge objects that you can add to your backpack so you can craft new weapons and items just as you did in the first game.
There are plenty of items to be found. Nothing like a guitar to throw in your backpack to scrap for parts. Junk items that are broken such as weapons you may find, still have a purpose when you want to craft that next-level bench so you have more places on your backpack so you can add more items as you move through different parts of the city.
You will also meet new characters who are trying to make things work as best they can given the situation everyone is in. But there is something with the city here that at least seems brighter with its vibrant buildings. lighting that makes it easy on the eyes, and have that friendly Lousiana persona that wants to try and welcome you to it. Well, except for the walkers that may be around.
When you need to get to safety for the night, you are no longer staying inside the bus as you have made some upgrades to your living arrangements, which is a nice touch. In order to save, you still have to drink in order to go from night to day, which is also how you save either by drinking or traveling.
You will be making choices that will help define who you are, as I found those still alive to be at least more tolerable and more welcoming than the first. But this time you are just not allowed to visit one location during your day playing, but two, with the second part being at night time. Yes, there will be more walkers to deal with, but the trade-off is you very well may find some of those rare items than you could possibly during the day. Luckily you have your flashlight, but the flashlight does have to be shaken to regain some power. When you are playing at night, fighting off walkers, and then needing to shake your flashlight to see things, it can get a bit crazy out there, but in a good way. So you have to ask yourself, are your weapons and you strong enough to make that night trip? But you are going to need to make these missions as they will not only help you survive but get you ready when you have to face tougher opponents later on, such as the Axeman.
One of the things that I love that Skydance Interactive does is through in just fun things as you are walking around as you never know what you may discover. In the first game, you could find some "Tom Clancy" books among other things and then, I came across the poster on the wall of a game that I had a lot of fun with. So good job Skydance Interactive…good job.
Let's talk about the graphics and sound. There are quite a few things here that really made my time with the game quite enjoyable. Playing on the PlayStation VR2, you have this art style that works extremely well here. Both the daytime and nighttime environments shine in their own right. During the day, you can see the colors of the streets that just makes you think the city could be alive with people at any moment and the night time with its detail and when paired with the 4K HDR, the OLED screen, the Hons VR lenses, and then add in the haptics for the immersion, this is just the start of what VR horror could possibly be on the PlayStation VR2. With the sound, hearing everything from different directions and music that just plays and can become more intense, just all works thanks to the audio and using the 3D Audio headset.
There are a few things that I would love to see. First, more recipes for even crazier weapons or at least the possibility to make our own in our own way. Second, I would love to see online co-op added. And finally, future DLC. Just like with the first, it would be fun to keep adding to the game.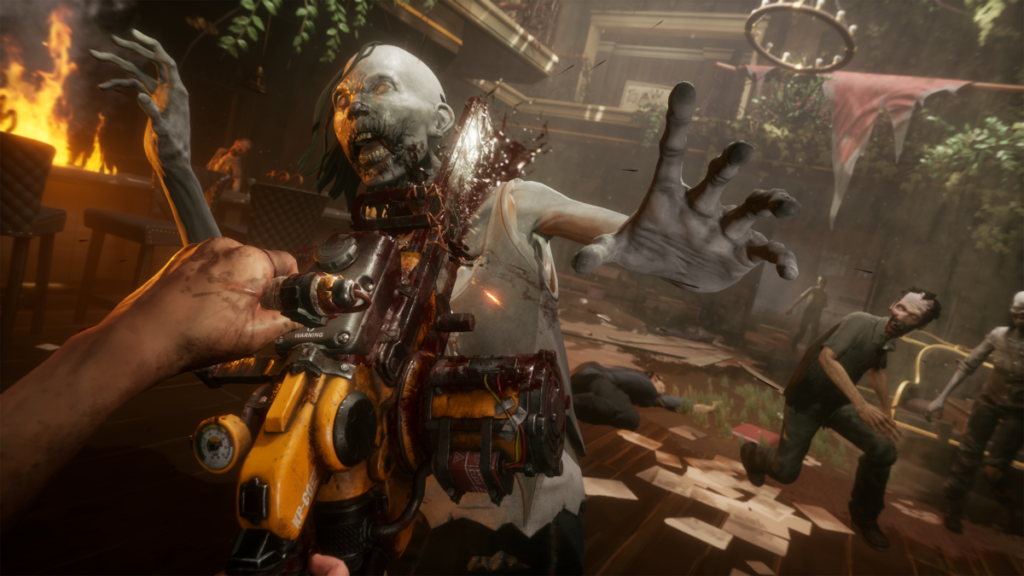 The Walking Dead: Saints & Sinners – Chapter 2: Retribution does a great job at continuing the tour of this crazy universe and remembers its foundation while still bringing the magic to the franchise. It gives us the opportunity to revisit the old while making memories for the new. In life, it's about the journey and the memories. Sometimes the choices we make will provide the outcome that we didn't expect. It can be scary outside, but it's that fear that we face that will help define who our character will become.
The Walking Dead: Saints & Sinners – Chapter 2: Retribution is out now for PlayStation VR2 with the Standard, Payback Edition, or the Ch. 1 & Ch. 2 Deluxe Edition on the PlayStation Store and is also available for the Oculus Rift/S and Quest 2/Pro on the Oculus Store, and Steam VR. A review code was provided.
To learn more about Skydance Interactive, please visit their site, like them on Facebook, follow them on Twitter, follow them on Instagram, and subscribe to their YouTube channel.
In case you missed the trailer, please enjoy. I am going to go view the other endings.