Think about all the things that you are able to do in Virtual Reality based on the experience that you are presented with. From exploring to survival, Virtual Reality gives us a way to interact with different objects in different ways. Even if you are surrounded by zombies, the experience can sometimes be scary and sometimes it is just a matter of having some fun while trying to survive the zombies. So when I heard about Throw Anything and the ability to well, basically throw anything you could, I wanted to know more. So I reached out and Kaleb Jung was happy to provide a deeper look into Throw Anything and about Virtual Reality.

______________________________________________________________
Interview with CEO Kaleb Jung
______________________________________________________________
Hello and welcome to The VR Dimension. Can you please introduce yourself and tell us what you do for Visual Light?
"Hello, I'm Sungkeun Jung, a CEO of Visual Light. My English name is Kaleb.
I'm a director of game projects."
For those that may not be aware, what are some games or projects that you and Visual Light have been a part of?
We have always wanted to make unique games. We launched a game, "ZOMBIE FIGHTER" with Kinect on the open platform and Windows Store.
We also launched Throw Anything VR, Under Water: Abyss Survival VR on Steam.
Throw Anything just released for PlayStation VR and has been on PCVR for a while now, can you
tell us more about Throw Anything and how the idea came about?
"Our initial plan was to launch Throw Anything on all platforms, from VR- console VR – console – to mobile.
While most people usually reverse the order, we started with what we thought was more fun. We always share game ideas with all employees, when staff comes up with a major idea, they
also add several additions. I thought over what subject could be good and fun for VR. I referred to previous popular games.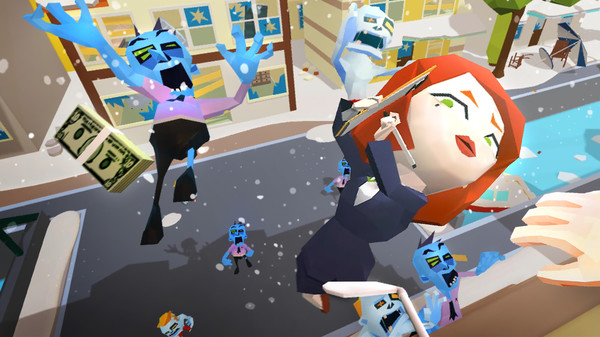 So I think the right element for VR is interaction, high degrees of freedom, thrills, and suspense like roller coasters. So I tried to reflect these elements in our game. The games referenced were Arizona Sunshine, Job Simulator, and some free games."
So you really can pretty much, throw anything. Were there some things that originally were added that you can throw that had to be changed and was decided it would be better to not have it thrown?
"I think I put everything I was going to add. But, I was worried a lot about making people throw NPCs. As it's a game that all family members can enjoy, so I thought that throwing people could have a bad effect on children.
After thinking over and over, I finally decided to give autonomy to throw.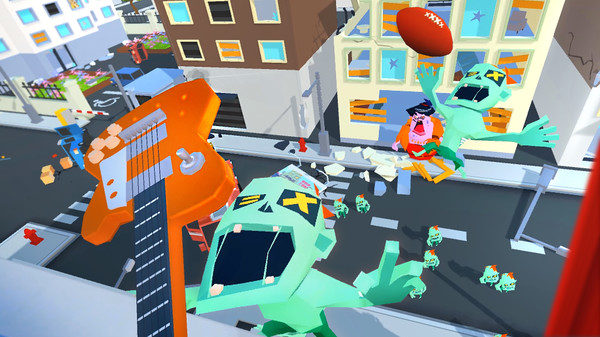 Whether or not to throw NPCs is entirely up to game users. We thought it would be better to give more authority to game users. If you don't throw despite your ability to throw, the NPC characters will clap at you at the end
of the game (in the early PC version). The NPC characters will thank you when you go to the lobby in later versions."
When it comes to PCVR/PlayStation VR, what are some of the things that surprised you when working for the platform?
"Actually, there were not many surprising things in PCVR. However, 180 degree turn key was a problem as the tracking method uses camera in
PlayStation VR. I was worried because the camera couldn't track the controllers well whenturning around. I thought making a turnkey would make the game easier and less fun. While participating in the G-Star, the Tokyo Game Show, and the Gamescom exhibition, we decided not to put a turnkey in the game because we knew that general users could play it
without a turnkey.
However, with the release of PlayStation VR, many users asked me to insert a turnkey. So in the end, we reflected on the user's request. We've completed a patch version with a turnkey. That means you can turn your body anywhere you want, or you can use the turnkey."
When you approached the idea to Sony, did they have any concerns or were they pretty much
welcoming the idea?
"SONY was so pleased about it. They were hoping this game could come out on Sony, I was very glad to hear that."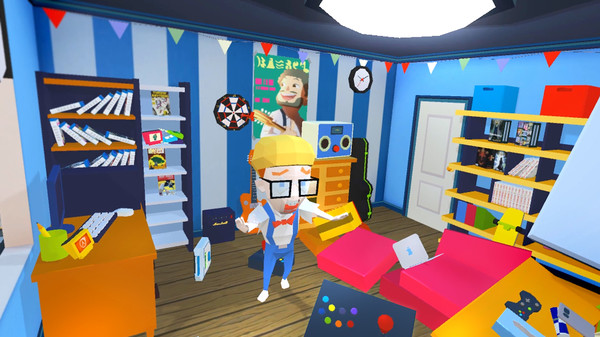 Virtual Reality is a new way to play and experience games. Where do you see VR in 5 – 10 years?
"I believe the VR position in the game industry will probably take up more in 5 to 10 years. Although equipment prices and accessibility are inconvenient at the moment, I think VR position in the gaming market will increase several times greater than now as equipment becomes simpler and prices become more diversified."
What would be your top three things you would tell someone who was interested in working with
Virtual Reality?
Virtual reality is future-oriented, and that's what we're aiming for.
You can experience a higher level of immersion than any other media.
You can make your own imaginative world.
So now that Throw Anything is out, what is next for Visual Light?
"The next game would be, Wolf & Pigs: Out for Vengeance.
The three little pigs fairy tale is the motif, but unlike the fairy tale, the wolf is a good hero. The Three Pigs are trying to destroy the natural environment and build their own hideout, but the wolf, the guardian of nature, tries to stop them. Barely survived by the pigs, the wolf is going to take revenge on pigs by changing his whole body into weapons. The wolf flies like a Spider-Man with grappling hook while moving.
It's a game that combines Adventure and Shooting. It will be released in early April on Steam, we will also participate in GDC and showcase it on
GDCPlay."
With the Virtual Reality/PlayStation VR catalog increasing, what would you say to someone who
was looking for something new and why they should get Throw Anything?
"Our game actually looks simple, but once you get used to it, you can play it in various ways. For example, Stage 2 contains a puzzle that unlocks the safe, while Stage 3 freezes things in the freezer to make them more lethal when throwing to zombies. You know, what you think can really happen. In Stage 3, you can light a Molotov cocktail and throw it at zombies, or you can throw a gas can, or fire a gas can with a gun so that it can be
used as a bomb. In this way, you can have a more enjoyable experience if you use your surroundings well. To summarize, Throw Anything is always a fun and timeless game with High Freedom, 100% Interaction, different levels, and various way."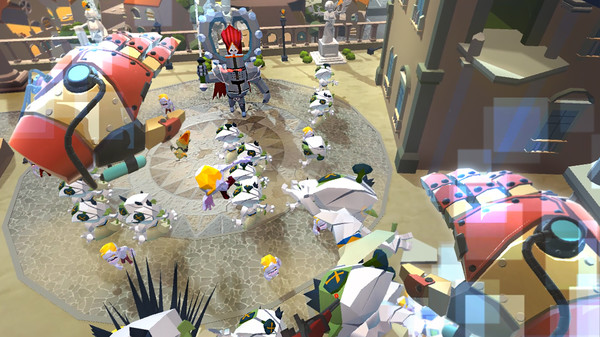 I really want to thank Kaleb Jung for really take the time out of his busy schedule, giving us more insight into Throw Anything, and his thoughts and experiences with Virtual Reality.
Throw Anything is out now via Oculus App Lab on the Oculus Store, PlayStation VR, Steam, and Viveport.
To learn more about Throw Anything, please visit the site. To learn more about Visual Light, please like them on Facebook, follow them on Twitter, follow them on Instagram, and subscribe to their YouTube channel.
In case you missed the trailer, please enjoy.