Many types of genres work when it comes to Virtual Reality. But one in particular that I hope we get to see a lot more of is platformers. The ability to move around in Virtual Reality and get that sense of immersion, really cannot be beaten. It allows you to see things in different ways that you normally would not get to experience when it comes to playing them on T.V. So when I heard that Ven VR Adventure and that there would be an invasion by one called Bruce Nelson was coming to PCVR and PlayStation VR, I really wanted to know more about the game. So I reached out and Lukasz Konieczny from Monologic was happy to give us a closer look into Ven VR Adventure and what it takes to develop for Virtual Reality.

_____________________________________________
Interview with Community Manager Lukasz Konieczny
______________________________________________
Welcome to The VR Dimension. If you would please introduce yourself and tell us what you do for Monologic Games?
"Hi, thank you for reaching to us!!! As to me, besides managing the studio I'm the creative director for Ven VR Adventure."
For those that may not be aware, what have been some of the games or projects that you have been a part of?
"Monologic Games was established in March 2019 and it's our first project. We also have 4 people working in our office as well as dozen helping us remotely ;)."
You have a new VR game coming out called Ven VR Adventure. Can you tell us more about it and how the relationship between the player and Ven will interact with each other?
"As to Ven, for now, we're not ready to reveal any specific details about the interactions. What we can tell you today is that the player will be able to help Ven in various ways. It may occur during exploration or for instance, boss encounters."
Does Ven or possibly the player have any special powers that the other one may need to rely on in order to help succeed in the game?
"Of course, we have some cool ideas and we'll share those with you once we're ready :)"
When the thought about Ven VR Adventure was coming together, were there some ideas that you thought would work, but later decided on not to implement or maybe some ideas that are part of the game now, that you thought should maybe be in a sequel?
"Game development is all about compromises, testing and figuring out what is that nice blend of ideas and mechanics that will be engaging and interesting for the players. That's why there are always some things that look wonderful on paper but when it comes to gameplay it might be a completely different situation. With Ven, we're doing well with our vision so now we need to focus on completing the production and making it the best experience possible."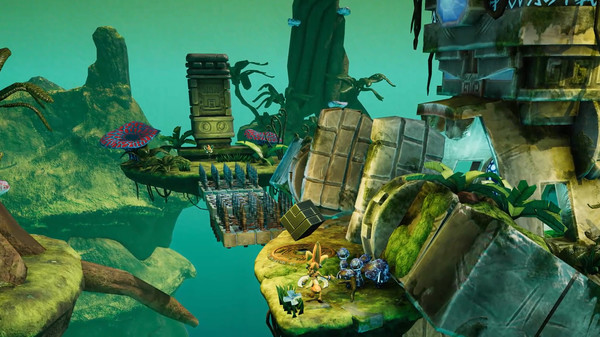 Speak of sequels, do you see this as becoming a series?
"As I mentioned in the previous answer, now we should put all the effort and focus on finishing that project. Who knows what will the future bring. We love Ven character and if the game will be a success we would be interested in returning to this world :)."
When you are working with Virtual Reality, do you think of more in the lines of what will work or try and push the boundaries to see if it will work? Did you encounter any situations where something you thought would work with Ven VR Adventure, but it didn't really come across as you would have hoped or any situations that you didn't think would work and were surprised that they did?
"In my opinion, VR is the way to open the door to multiple new possibilities. We're trying to test a lot of ideas and as to me, those with are very simple sometimes can be very surprising when you put them in VR."
When working with a PCVR headset and PSVR headset, what have you found to be the most interesting and challenging about the process?
"Designing the platformer might be very challenging and interesting by itself. I love that genre personally and thanks to VR I can immerse myself in that kind of game even more. However, VR technology is probably the biggest challenge in the development of such a game because it shows even the smallest details in the game. That's why we put a tremendous amount of work while designing character models and the surrounding world."
What three things would you tell your younger self about getting into Virtual Reality?
"I don't have exactly three things but I would say to him that he should start designing VR games as soon as possible :)."
Ven VR Adventure is set to come out Q2 of 2020 for PCVR and PSVR. Do we have an exact date as of yet?
"For now, it is too early to reveal that :)."
With the Virtual Reality catalog growing, what would you say to someone who was looking for a new adventure as to why they should get Ven VR Adventure?
"We would like to say that we're preparing super cool platformer to build from the ground up on VR technology, where player and Ven embark on an adventure through the enchanting magical world full of dangers and challenges."
I really want to thank Lukasz Konieczny for taking the time out of his busy schedule and giving us a closer look into Ven VR Adventure.
Ven VR Adventure is out now on the Oculus Rift/Rift S on the Oculus Store, Steam, and Viveport and coming to the Oculus Quest/Quest 2 on the Oculus Store on August 12, 2021, and coming to PlayStation VR.
To learn more about Ven VR Adventure, make sure that you like them on Facebook, follow them on Twitter, and follow them on Instagram. To learn more about Monologic Games, please visit their site, join their Discord, and subscribe to their YouTube channel.
In case you missed the trailer, please enjoy.