I'm not sure why I was trained for this. But something led me through all those trials and errors to prepare me for this day. The grounds are broken as if it went into war. Whatever did this is not of the living, but of the undead. No matter how hard I strike, no matter how hard I defend, they just keep coming and all I can do is keep trying no matter the blood that spills. I was chosen for a reason to rid the land of the undead I will not fail, for it has been said, it has been written.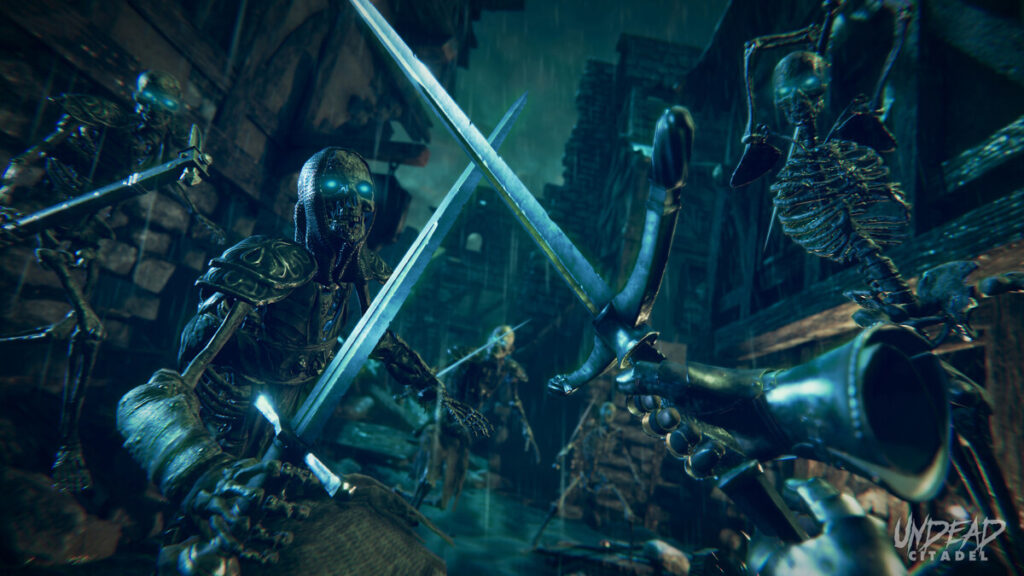 Features include:
100% physics-based combat system

Prioritizes the player's 1:1 movement for total combat control
There is barely any delay between your real and virtual hand
Experience realistic physics when you slash, stab, or simply destabilize your enemy.

Loads of weapons and potions

Over 60 hand-to-hand combat weapons, including swords, axes, war hammers, maces, shields, two-handed weapons, etc.
Bows, arrows, and explosives for ranged attacks.
Each type of weapon has its own characteristics. Use them intuitively!
Look at their strength and durability attributes to decide on which one to keep
Find and use slow motion, strength, or freeze potions to mutate your power and obliterate the living dead.

Dozens of different enemies

Confront the Undead in different states of decomposition
Before you attack, be aware of their different armor, protections, and weapons.
Dodge or block their attacks with your weapon, find their weak spot, and deliver a mortal blow.
Keep their weapons! They won't need them anymore
GAME MODES
Mode

Travel across a fantastic setting with over 10 levels and discover the origins of the plague
Explore the exterior of the citadel and its many interiors while searching for hidden items
Solve puzzles to advance

Horde Mode

Survive the endless enemy hordes for as long as possible
Reach the top of the different leaderboards (score, decapitations, etc.)

Armory

Collect all the weapons you acquire from the other modes in your armory
Thoroughly test your weapons in this sandbox mode

MOVEMENT
Various option

Smooth locomotion with instant turning
Smooth locomotion with smooth turning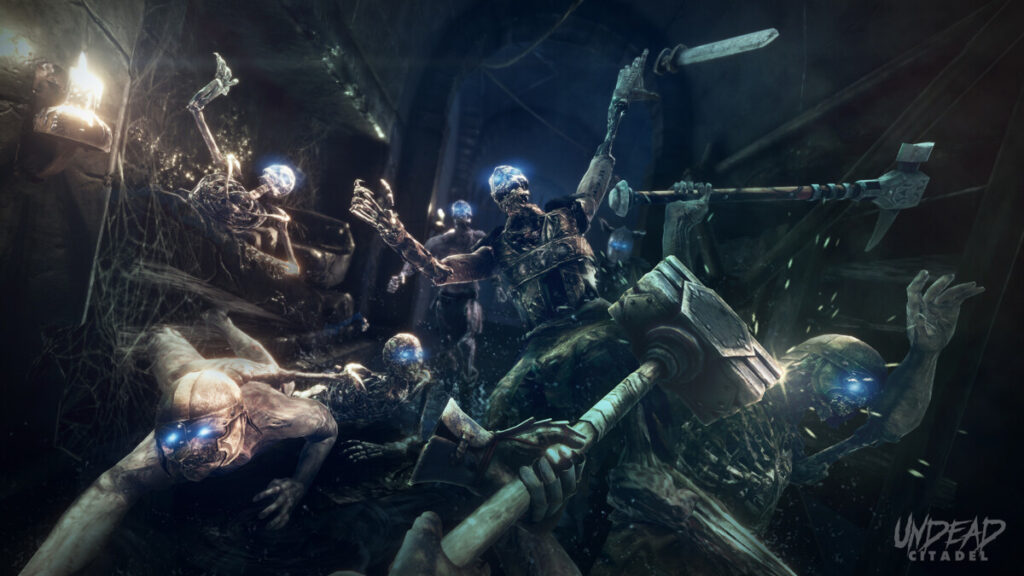 Are you ready to fight? What weapons will you use? Can you survive? Find out when Undead Citadel comes to Steam VR on June 8, 2023, and also coming to PlayStation VR2 and Quest 2/Pro.
Until then…please enjoy…