Imagine what it was like being a child and you had your imagination to be your playground. What kind of adventures did your imagination take you on? What were some of the sound effects you made to add to the excitement? From the toys that we played with, to the ideas and rules we came up with, our imagination allowed for the stories to come alive. But does the developer, Happy Kramper Pictures, show us what it's like to enter the world where things around us become our playground? Let's find out with Block Buster for Quest 2.
Block Buster is an action-packed VR Kaiju-Cosplay game that lets players live out their childhood fantasies of becoming the monster to stomp sandcastles and topple block buildings, all while paying homage to the beloved Kaiju genre and fandom. So before you suit up and go out there destroying things and making people wish they would have gone on vacation, there are a few things that you should be aware of. First, find your best place to either sit or stand. I played sitting and it worked very well. Second, you will want to make sure you have some arm room as you will be rampaging throughout towns and you don't want to hurt yourself or anyone else. Third, make sure your headset and controllers are charged. There is nothing like trying to swipe a plane down only to freeze because you forgot to make sure everything was charged. Fourth, I apologize for any weird-looking video that seems to have a part that is off-center. It was a weird day that day. And finally, get ready to let loose and have some fun. With all that said, let's continue…
In Block Buster, you play as different monsters to wreak havoc on different cities with your bare hands, toss tanks, and grab & eat people and vehicles. Each monster has its own unique abilities and playstyle, so players can find the monster that best suits their own destructive desires. When you first start, you have the option of selecting your bedroom layout. This will serve as your hub of things as you will be coming back to your bedroom for different objectives to partake in. Plus, once you have made your choice, no backsies. Yes, that's what it says in the game, so there.
Playing is very simple, each city is broken into zones. Each zone contains a generator that you must pull up before able to go into the next zone. You continue this way until you get to the final boss of the city. But in order to find the generator, you are not simply going to knock on each door like you are trying to solicit something, you are going to cause chaos like anyone who has any type of emotional outburst that needs to be let out would, you are going to swipe, punch, and knock over any buildings you can. Keep in mind, the buildings are made out of blocks. So feel free to throw the blocks of the buildings at other buildings until you find that generator. Just make sure you pay attention to your wrist from time to time so you can check on your energy levels. The way to replenish the level is by eating people and vehicles, however, be careful of the blocks you throw as they can land on the people and kill them. You also need to be aware, because you are wrecking the city like a wrecking ball, of the military as they will shoot at you and send in tanks that will shoot at you as well.
Once you have beaten the city you will see which objectives you have completed, the time it took, how many times you were hit, and the Karnarge Points that you earned. You can either try again or head to your bedroom where you can keep track of your objectives, build cosplay, and win & display prizes among other things. At your desk in your bedroom, you have some choices. You can play the Wheel of Karnage where you get to use Karnage Points that you have earned to collect common and rare prized and then display them in your chest. There are also objectives you need to do in order to unlock the next city. For example, in Bay City, you need to complete the Primary Objectives which are to find different hidden monster parts throughout the city, not get hit a certain amount of times, and have to complete the city within a certain time limit. You just need to complete the Primary Objectives to advance, but there are also Secondary Objectives to aim for. Once you have met the Prmiary Objectives and unlocked the next city, you can then design your own Cosplay that allows you to use different colors for the monster that you are going to build and use.
There is also a Multiplayer option. However, no matter how many attempts and different times I tried, I never got to experience this feature. Before I headed out to the next city, I checked out the computer to see my prize inventory. I needed more Karnage Points, so I headed out to show this city what kind of monster I really am.
Let's talk about the graphics and sound. When playing VR, it's always fun to see what art style is used and the cell-shaded style here works really well and is visually appealing to the eyes which is very important. This type of style allows for the game's destruction to not only look more impactful, but immersive by providing that sense of scale as you as the monster to everything around you. There is just something about picking up people and vehicles and feeding them into your mouth so that you can grow, that just adds to the fun. With the sound, you will hear a wide range of sound effects from helicopters and planes above as they are shooting at you to just hearing the people's screams as you are reading what they have to say. You do feel like you are in an action movie of your own imagination.
There are a few things I would love to see. First, more people playing multiplayer. I would love to have experienced this and the idea just seems like it would work very well. Second, more monsters. When you go to your nightstand in the bedroom, you get to see the different figures of the monsters that you can select to become once you have unlocked them. It would be great to see a hand full more or maybe mix-matching different cosplay parts and selecting different monster abilities to make up your own monster creation. Third, just more cities to rampage through. And finally, more platforms. It would be fun to see Block Buster on other platforms such as Steam VR and PlayStation VR2 with cross-platform support.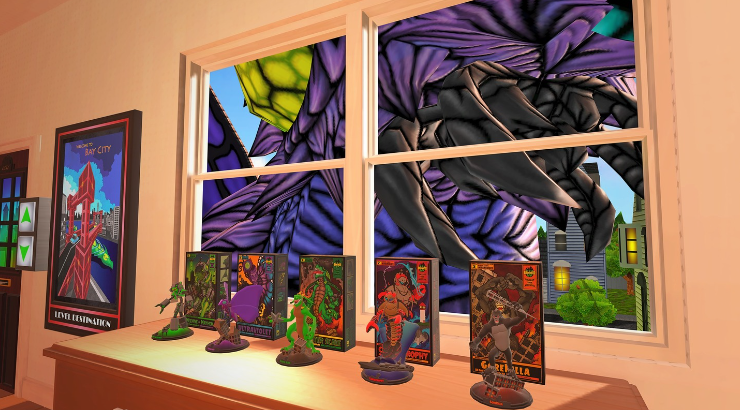 Block Buster allows us to let our inner child come out and bring back the imagination we had in a safe and fun way on a playground of destruction. It shows that no matter the age, we can be young at heart without a second thought. In times when the world around us seems to be going downhill, isn't a good thing to try to remember how we used to be and keep on to that innocence we all have inside instead of letting the world try to define who it thinks we should be?
Block Buster is out now for Quest 2/Pro on the Oculus Store.
To learn more about Happy Kamper Pictures, please visit their site, like them on Facebook, follow them on Twitter, and subscribe to their YouTube channel.
Also, check out the Block Buster interview.
In case you missed the trailer, please enjoy. Until next time, I am going to see what kind of monster fun I can do.