Think about some of your favorite outdoor activities that you wish you could do right now. What would they be? Maybe going to the beach? Maybe playing your favorite sport? Maybe it's just being in your favorite vacation spot? For some, being in the water being able to scuba dive, and going into a different world where they are the visitor is the best activity. All of these and more are well respected and should be explored as we never know what may become our newest favorite thing to do. So when I heard that developer, Triggerfish Games, was making a game about being able to free dive, snorkel, and even scuba dive, I wanted to know more. So I reached out and Managing Director, Joby Wood was happy to talk about their newest game, Bodies of Water, and also talk about Virtual Reality.

_____________________________________
Interview with Managing Director of Tigerfish Games, Joby Wood
_____________________________________
Welcome to THE VR DIMENSION. Would you please introduce yourself and what you do at Triggerfish Games?
"My name is Joby Wood and I am the Managing Director here at Triggerfish Games."
Growing up, what were some of your best memories of gaming, and what was that one VR moment that hooked you into VR?
"Some of my best early memories of gaming include playing some great games on the early consoles like SNES and Megadrive, as well as some earlier arcade games like Super Ghouls and Ghosts and Space Harrier which had a hydraulic chair and some awesome music as well!"
You have a game coming that recently was released called Bodies of Water. What can you tell us about it and some of the activities the players will get to partake in and how did the idea for it come about?
"The main activities included in this game are:- Poolside Scuba Diver Training, Bayside Snorkeling and Freediving, Cliff Jumping, Luxury Beach Diving, Open Water and Night Diving, as well as Wreck Diving! The idea for this game actually came about a very long time ago (20 years or so) when I was on holiday and was able to train myself up through the PADI system all the way up to assistant instructor! However, it is only really now with VR that we feel that we can do the sport actual justice."

So you get to learn how to scuba dive and snorkel in the game?
"That's right, although I must say that it is not a 100% accurate representation of professional Scuba Diving, I do think that it is close enough to give the player a very real sense of what the sport actually is and can be like."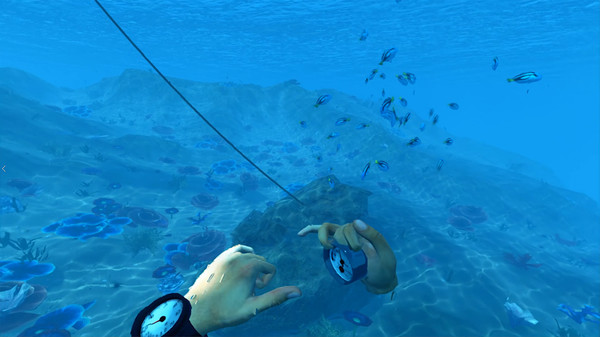 Players will also be able to enhance their diving skills and find hidden treasure. What can you tell us about the different equipment and how does the player earn the money to upgrade their equipment?
"Basically the game starts off in the Hotel Swimming Pool and the player must undertake basic training there in order to learn how to use the Snorkel, Fins and Scuba Tank as well as the BCD (Buoyancy Control Device) System. However, once the training has finished and you arrive at Sunrise Resort in the morning, you will have no equipment at all, to begin with, and so must explore the surrounding areas to find what you will need to do in order to progress further!"
One of the activities that kind of caught my eye is Night Diving. Being that the ocean can be a dark place, are there any chances of some unwanted creatures that the player will come across and could possibly attack like sharks for example?
"The Night Dive is actually one of our favorite parts of the game, and we believe provides the player with a very real sense of what an actual Night Dive can feel like! There are some sharks in the game, but without giving too much away I can say that we have tried our very best to be as realistic as possible, so as long as you don't bother them too much then they shouldn't really cause you too much trouble :)"
What can you tell us about the control mechanics in the game?
"We believe that the control system that we have in place is a very good, fast, and responsive one, which is best suited for a seated VR experience. Also, when Scuba Diving the player must control their own buoyancy via the BCD in order to achieve the desired movement and response that they want whilst being submerged / underwater."
Was there ever the idea of adding a social so players could dive with friends?
"This is something that we would really like to have implemented at some point, and is something that we will definitely be considering for a sequel!"
Were there any technical challenges when creating Bodies of Water for VR that you were not expecting?
"This game has actually been very challenging for us to create technically, whilst also trying to give the players a very real sense of what it is actually like to experience Diving in a variety of different conditions underwater. VR does have its limitations as you know, however, we really have tried our very best to go that extra mile this time and push things just that little bit further!"
How fun was it trying to capture the right sounds for the water and the diving? Were there some sounds that took additional attempts to get to make sure they were just right?
"It was a lot of work trying to get things right, but we are very pleased with how the music and sound effects have turned out, and we do think that they actually suit the game very well!"
What have been the top three things you learned when making Bodies of Water that you will carry with you?
"This is our first VR game so we have learned a very great deal actually (too many to count) but most of all we have learned just how much fun developing in VR can be! Also, UE4 and The VRExpansion plugin really have proved invaluable on this journey :)."
Do you see Bodies of Water coming to other platforms such as Oculus, PlayStation VR/2, and/or Viveport in the future?
"This is certainly something that we would really like to see happen and will be looking into at some point in the near future."
Do we know the date when the game will release on Steam?
"Bodies of Water VR has actually been released today, so it is now available for purchase on Steam!"
If you entered a door into THE VR DIMENSION but with the only caveat of not ever being able to return, but you could be anyone from any time period. Who would you be, from when, and how well do you think you would do at Sunrise Resort and scuba diving?
"I would like to come back as Jacques Cousteau, and I am sure that he would do very well at Sunrise Resort, with his very well-known love and passion for underwater life and Scuba Diving!"
With the content for VR continuing to dive to new levels, what would you say to someone as to why they should experience Bodies of Water?
"If you would like to try something a little different and relaxing, but yet still a great deal of fun, or if you feel that you are in need of a beach type holiday, but you won't be able to get away anytime soon, then we really do believe that we have just the right game for you in Bodies of Water!"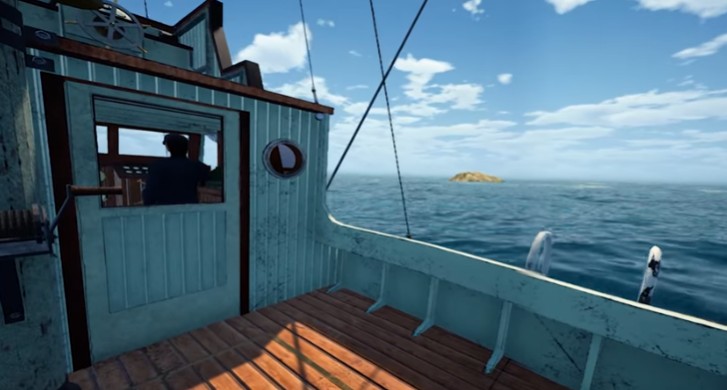 I really want to thank Joby for taking the time out of their busy day to give us a closer look at Bodies of Water and for also talking about Virtual Reality.
Bodies of Water is out now on Steam.
To learn more about Triggerfish Games, please visit their site, like them on Facebook, and subscribe to their YouTube channel.
Also, check out the Bodies of Water review.
In case you missed the trailer, please enjoy.