Tabletop role-playing games have been around for decades allowing friends to get into their creative minds all while being able to play something they all had in common and loved. From the roll of the dice to the character sheets to even the books that contained the rules, everyone had a role that they enjoyed playing. But as time grew, so did the technology and the reimagining of the genre. But has developer Resolution Games, brought the best version of its tabletop RPG? Let's find out with Demeo for the PlayStation VR2.
Demeo is a cross-platform cooperative adventure for up to four players that recreates all of the magic and camaraderie of gathering around a tabletop with friends to do battle against the forces of evil. But before you go in fighting whatever evil may come your way, there are a few things that you will want to be aware of. First, you will want to make sure you have your favorite place to sit. Second, if you have some friends laying around, grab them. This is a cross-platform game and you can play in non-VR, so anyone from the PC to Quest 2 to PlayStation can play, so no excuses. Third, if you don't have any friends laying around, don't worry, there are plenty of people who are more than happy to play. So you can always make new ones. Fourth, make sure those Sense controllers are charged as you don't want to face the Rat King and perish because you forgot to charge them. And finally, get ready to have some fun. With all that said…let's continue.
I wanted to do things a little bit differently here. I reviewed Demeo for the Quest 2 and now that the game is out for the PlayStation VR2, I wanted to look at things from a different perspective. But before we get into that, let's talk about the game itself. When you first start, you are given a brief description of what is going on, but I am not going to spoil that for you. When the Tutorial start, you are shown the basic movements such as zooming in and out, moving around the table, as well as how the movement within the game works. Each turn, you have two action buttons. You do have a limited amount of space that you can move around in so you will want to keep that in mind. Interacting with doors, chests, and other objects will count as one of your action points. The die that you use has three different faces. If the die ends up on a sword, that means a hit, a double sword means a critical hit, and a skull means you missed, which means you can actually hit your own team. Rotating your hand will reveal the cards that you have. Cards range from health to potions to attacks. So this is part of where the strategy comes in. Knowing the enemies on the table, their health, yours and your status, as well as the cards that you have. Each game will consist of three levels. The object of the first two levels is trying to find the key and then attempting to head for the exit gate. The last level has you trying to defeat the main boss of the book that you are playing.
Now that we have the basics of the basics, it's time to really get into the game. Your menu gives you quite a few options. You can have a Skirmish, do a Quickplay session, join or host a game, and if you need to go through the Tutorial again, you have the option as well. Depending on your selection, you can select from any one of the books to join the adventure. Book I – The Black Sarcophagus, Book II – Realm of the Rat King, Book III – Roots of Evil, Book IV – Curse of the Serpent Lord, and Book V – Reign of Madness. You also have the choice of a random adventure. Once you have selected the adventure, it's time to select your hero:
Sigrun – The Guardian, Zedokar – The Sorcerer, Kai – The Assasin, Alin – The Hunter, Bard – The Singer, Uhrak – the Barbarian, and Oana – The Warlock.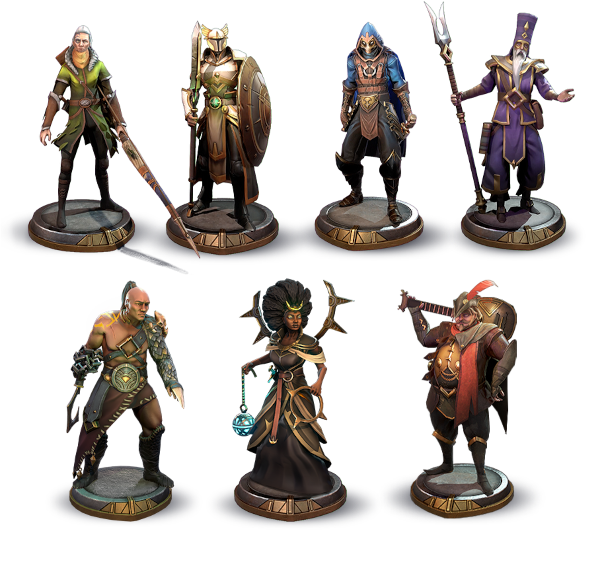 Sure you could play Demeo all by yourself controlling the characters, but the real fun, and what makes Demeo really shine, is the online multiplayer. From hosting your own game to joining a game already in session. Other players are represented by different cosmetics which you can unlock the more progress you make. Every session I joined was full of passionate players who are more than willing to help those that are new to those just sitting and talking about everything just because they can. And what is really interesting is not just the different platforms everyone was playing on at once, but just hearing the different accents from around the world. I really did have so much fun listening to someone from England and Australia at the same time and we were just able to talk about everything from technology to the game itself. You just never know who may join and what you may have in common. That is until enemies started to pop up and attack me and as I was about to die, my newfound friends revived me and we continued on our adventure.
When looking at the graphics I wanted to really see how the PlayStation VR2 version stacked up against the other platforms. One thing I really like about playing Demeo is when it's not your turn (as you don't want to hold up the game) just get as close as you can and see the amount of detail that you can make out. From picking up the different heroes or enemies and holding them right up to your face looks as crisp as can be. Even looking around the basement and seeing the old-style T.V., furniture, and there is something about Bastion, but that is a different story for a different time. With the sound, I used the Pulse 3D Audio headset, and wow. Does the sound using this headset with the audio tuning that was done is very impressive. From hearing the enemies attack, arrows flying, to the music that is just right for the battles, everything was as good as I hoped it would be.
If there is anything I could wish more from Demeo would be more adventures and characters introduced in the future. But some might be asking what about competitive PvP. Yes, I agree. That's why Demeo Battles are coming in 2023, which is already going to add to the fun and chaos that can be had. Other than that, I do hope that the Heroes Hangout mode does come to PlayStation VR2. With this mode, you and up to three other players can hang out, play music, read the latest from Discord, and so much more.
Demeo brings the best version to the table thanks to the PlayStation VR2 features and shows how much fun you can have from those games that we played together, even with being from different parts of the world. It brings the visuals, the sound, and the fun all while setting that bar for the genre. But it also shows us that many of us go through life just trying to find those that we can call friends. Sometimes it is an easy thing to achieve and sometimes we get ignored and it becomes harder than it should be. But when we have the opportunity to meet the ones that were unknown to us just a moment ago only to possibly gain those friendships that could be for life, isn't that when we should roll the die and take the chance?
Demeo is out now for the Quest/Quest 2/Quest Pro & Oculus Rift/S on the Oculus Store, the Pico Store, PlayStation VR2, and Steam VR, as well as for non-VR on the Epic Game Store and for PlayStation 5 on the PlayStation Store. A review code was provided.
To learn more about Resolution Games, please visit their site, like them on Facebook, follow them on Twitter, follow them on Instagram, and subscribe to their YouTube channel.
Also, check out the video review…
In case you missed the trailer, please enjoy. Until next time, I am going to see who else is playing.